/ Source: Forbes Traveler.com
With fall as apple harvest time, tracking down the best fresh apple cider is a tasty seasonal pursuit. "In most apple-growing regions of the world today, the term 'cider' means a beverage made from the juice of milled apples that has been fermented with yeast, like grape wines. Only in North America is fresh or sweet cider a popular drink," according to pomologist Ian A. Merwin at Cornell University, "The best ciders are made from a blend of many varieties: some with lots of acidity, others high in sugar, and some that impart desirable flavors and aromatic qualities to the cider. Apples that are typically high in sugar, such as 'Golden Delicious', 'Fuji', 'Gala', 'Golden Russet', 'Gold Rush', 'Jonagold', 'Red Delicious', and many others are wonderful sweets."
The entire family can fall into the flavor of sweet apple cider at hundreds of distinctive cider mills around the United States. In rural towns, among rolling hills and woodlands—from the Cascades in Washington State to Midwestern Michigan and merry New England, autumn is the perfect time to tantalize your taste buds while quenching your thirst with the golden nectar. Check into these locales where cider mills rule.
Centered around a restored 1890's farmhouse, the White Mountain Cider Company in New Hampshire's Mount Washington Valley not only offers the chance to watch apple cider pressing and sample freshly squeezed juice but also features a contemporary restaurant with New England cuisine and a cocktail bar both helmed by Culinary Institute of America grads Scott and Teresa Stearns.
One of the few mills open and producing sweet cider year-round in New England, Cold Hollow Cider Mill in Waterbury Center, Vt., is open seven days a week to get your juice fix. Started in 1974 by Eric and Francine Chittenden, descendants of Vermont's first governor, the ambitious couple set out and succeeded in creating a wholesale cider production facility and popular attraction. Where else can you see a place that uses 7.5 million pounds of apples pummeled into cider the old-fashioned way, with a "rack and cloth" press built in the 1920's? (It's only fair to acknowledge John Irving's book "The Cider House Rules" was set in Maine but his Oscar-winning screenplay was filmed around here in Vermont, forever immortalizing the cider house in our collective consciousness.)
On the 145-acre family-run Cider Hill Farm in Amesbury, Mass., you can pick up to 50 varieties of apples; watch them get graded and cold-pressed into cider. In a beautifully restored, 150-year-old dairy barn that's now the Farm Store, savor fresh fruit and luscious cider donuts along with apple pie and other treats.
The saying: "A sip is worth the trip!" applies perfectly to Hacklebarney Farm Cider Mill, conveniently located an hour west of New York City in Chester, N.J. Around 1860, Robert D. Pitney, the maternal great-great-grandfather and namesake of the current farm manager, purchased approximately 150 acres of farmland that today boasts 350 apple trees of 23 varieties, some of which are well over one hundred years old. Using authentic oak "rack and cloth" presses slowly gives virtually sediment-free cider from Labor Day to Columbus Day.
With 7.5 million apple trees in production in 2008, it's no wonder that Michigan has the apple blossom as its state flower and is known as cider central. The Michigan Cider Makers' Guild represents dozens of the top producers. "We want to preserve a heritage," said Richard Koziski, Guild member and owner of the century-old Dexter Cider Mill. "Cider has been a favorite American beverage almost back to the Mayflower. It's an important part of our history. We'd like consumers to appreciate this rich American cider tradition and link it to the present." Guild members combine artisanship with the latest in safety standards and quality control measures that achieves delicious results.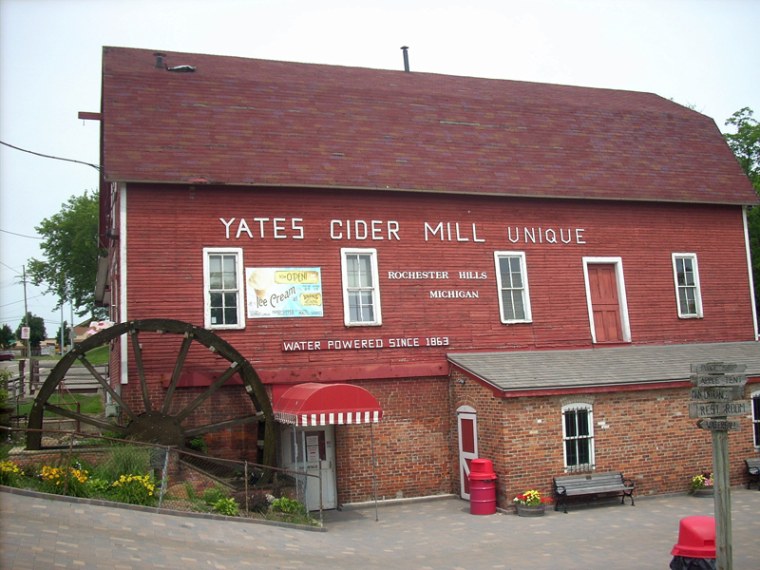 For a unique water-powered Michigan cider mill, check out Yates Cider Mill in Rochester Hills, less than an hour north of Detroit. Since 1863, Clinton River waters have cascaded over the Yates dam, which supplies the "current" to power the mill. Its 26-inch turbine-driven, double-table press can produce 300 gallons of fresh cider per hour. Watch cider being made from just-picked apples to luscious liquid; then purchase the fresh cider; don't skip the mill-made cider donuts, caramel apples, fudge and other goodies.
Each autumn for the past century or so, the old-fashioned cider mill on the 80-acre Amish farmstead belonging to the Kuhns family has cranked into action producing apple cider. Today, that mill is just one part of Amish Acres—a heritage resort in Nappanee, Ind.—where not only can you enjoy fresh-made apple cider but also experience the simple lifestyle of the Amish people through guided tours, restaurants, crafts, demonstrations and musical theater.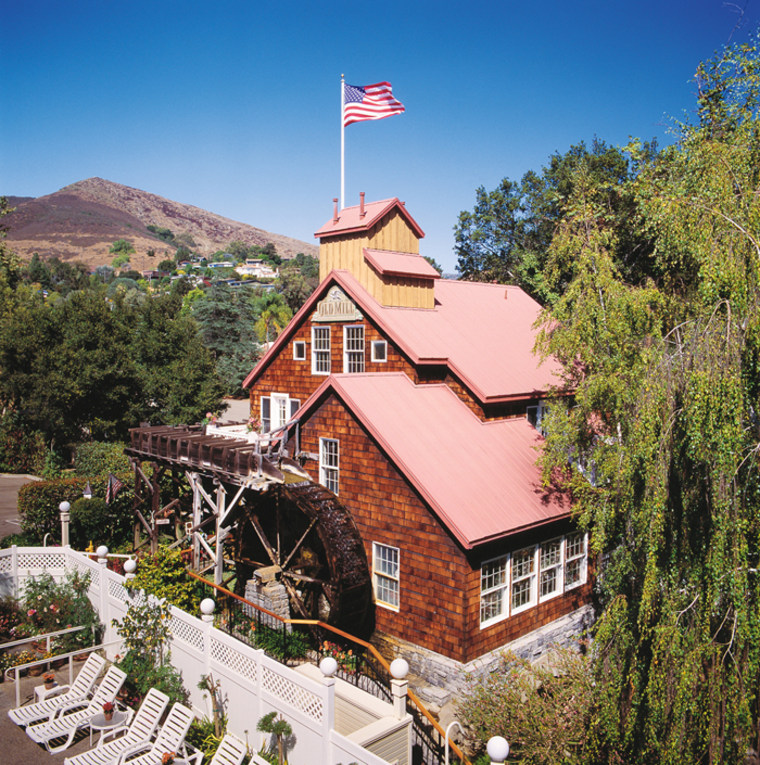 Tom and Shelly Schierman pressed and bottled their first jug of apple cider in 1977 when they founded Louisburg Cider Mill in a rural Kansas hay barn. They note, "We buy our apples from commercial growers, mostly just north of us here along the Missouri River from about St. Joseph to Waverly. The apples arrive in large wooden crates weighing about a thousand pounds apiece. It takes about 36 apples to create one gallon of apple cider. Today, the renovated, classic, old hay barn and its attendant 80 acres is still where we press our apples and has become the hallmark of our business."
Ever wanted to stay overnight in a cider house? Make it a luxurious reality at the Apple Farm Inn's Millhouse Suites in San Luis Obispo, Calif. The millhouse is an exact replica of an old working gristmill from the turn of the century, complete with the soothing sounds of cascading water over the wooden wheel. Located on the beautifully landscaped grounds of this popular stop between Los Angles and San Francisco, the ground floor of the Millhouse has a gourmet shop offering ice-cold cider (made from nearby Chadmark Farms apples), hand-dipped ice cream, cheeses, sandwiches and local wines. The top floor shelters two Millhouse suites each with king-size four-poster beds, fireplaces, and private balcony hot tubs.
Many have long advocated that "an apple a day keeps the doctor away" and now numerous medical researchers have substantive proof of the adage. One of them, Dr. Eric Gershwin at the University of California-Davis School of Medicine has confirmed, "We discovered how the unique mix of nutrients found in apples and apple juice can actually improve health, starting at the cellular level—protecting cells from the type of damage that leads to heart disease and age-related cancers." How fortunate that the pursuit and consumption of apple cider's golden goodness is not only an autumn rite but also health enhancing—assuring cider mills will continue to rule!