After a euphoric two-hour massage, you sip a hibiscus tea, slip out of your plush white robe, and float out of the spa. Stepping outside, you inhale deeply. Immediately, your lungs fill with polluted air. A nearby jackhammer smashes your piece of mind. And a bike messenger nearly runs over your foot. So much for serenity now ... or ever.
To truly recover a sound mind and body, you need equally sound surroundings. So we dug up 10 remote spas that combine nature and nurture. Even better, their deep commitment to sound environmental practices ensures that the beautiful surroundings will stay that way for future generations of your children's stressed-out children. From the Atlas Mountains of Morocco to the seaside cliffs of California, a higher consciousness is available to even the most extravagant of spagoers. Now that's what we call a happy ending.
For a complete slideshow of the World's Best Eco-Spas, click here.
1. Machu Picchu,
The spa: UNU Spa at Inkaterra
Green peace: Few places on earth are as spiritually whole as Machu Picchu—or as physically fragile. The Inca Trail is overtrodden, the Andean rain forests are being depleted, and more than 200 indigenous species are endangered. The UNU Spa at Inkaterra, an 85-room hotel a single day's hike from the ruins, addresses these earthly problems as it tends to its visitors' souls. The 12 forested acres play host to more than 160 species of birds, one of the world's most extensive collections of orchids, and all botanicals used for UNU's spa treatments. The spa is 100 percent carbon-neutral, meaning that all CO2 emissions it produces are offset by a combination of renewable energy—in this case, hydroelectricity—and reforestation projects that protect 30,000 acres of rain forest. The spa treatments draw on Andean ingredients and ideas: Soothe your feet after a long hike with a treatment of natural mint and mountain lemon. Or mellow out in a candlelit Andean sauna, a eucalyptus hut in which stones from local rivers are heated to produce steam. Also on the menu is face massage using serpentine, an Andean gemstone believed to help one retrieve ancient wisdom. Sure, it's a heady doctrine, but chances are, after arriving at the cloud forest, meandering through the wild orchids, and pondering the mysteries of the ancient Incas, things will start to make sense.
Signature treatment: The two-hour Inka Purification uses the stimulating effects of the coca leaf (yes, that coca leaf) in the form of oils, masks, and creams to detoxify and improve blood circulation ($105).
Inkaterra Machu Picchu
Tel: 800 442 5042
Doubles from $274
2. , Wyoming
The spa: Chill Spa at Hotel Terra
Green peace: Ski resorts like to play it green with their fresh pine smell and outdoorsy types wearing plaid. But the nasty truth is they've taken a serious toll on the environment: Think diesel-run lifts and mountainsides clear-cut for ski runs. The Teton Village's Hotel Terra is trying to change that way of thinking. Its modern glass and granite design complements the glory of the adjacent Teton Mountains so beautifully that you'd never guess most of those gleaming materials (including steel, concrete, and roof shingles) are actually recycled. From the lobby's low VOC (volatile organic compound) carpets all the way up to the rooftop spa, the eco is in the details. The robes are organic cotton, the hangers bamboo, and the handmade spa products are all organic. Behind the scenes, chemical-free cleaning supplies and biodegradable garbage bags keep up appearances, and a filtration system collects water runoff, purifies it, and slowly releases it back into nature. These efforts have made Hotel Terra one of the few hotels in the nation to secure the U.S. Green Building Council's LEED certification. So refill your reusable bottle at a water station, sit back in the spa's plein air saltwater hot tub, and take in the panoramic view of the majestic landscape that your stay is helping to protect.
Signature treatment: The medicinal herb arnica, grown organically, infuses both the massage oil and scrub used as part of the Restore treatment, which focuses on invigorating fatigued muscles ($255–$310).
Hotel Terra
Tel: 800 631 6281
Doubles from $229
3. , India
The spa: Amanbagh
Green peace: Set in India's arid Aravalli Hills, Amanbagh's pink sandstone palace houses 40 sprawling suites with domed ceilings and private courtyards set amid aromatic eucalyptus trees. At first glance, the only thing green at this ultra-luxurious resort are the bathtubs, cut from a single slab of emerald Udaipur marble. But there's more eco-consciousness here than meets the eye. The $600-a-night villa you're staying in is swept with brooms made from local grass and fallen palms. Recycled tea, flour, and rice sacks act as trash receptacles, and food scraps are donated to local pig farmers. Five acres of pesticide-free grounds supply much of the food, including free range chickens. As for the spa, it's dedicated to ayurvedic and reiki treatments—which both focus on holistic healing and imbue indulgence with a sense of balance. Ayurvedic massages, for instance, release deep-seated toxins for elimination through the body's natural processes. The therapists themselves play a central role, living on the grounds that they carefully maintain, and growing vegetables and flowers in a garden irrigated with purified wastewater.
Signature treatment: From threading to henna body painting, Indian beauty regimens abound, but go for the Reiki ($76), to help you get in tune with all that "spiritual energy" you lost on the unending flight over.
Amanbagh
Tel: 800 477 9180
Suites from $600
4. Imlil,
The spa: Kasbah du Toubkal
Green peace: The Kasbah du Toubkal is run by Mike and Chris McHugo with the help of the local Berber community, an innately eco-friendly crew. The brothers converted the home of a feudal official into the lodge in 1995 to give travelers access to its awe-inspiring perch at the base of North Africa's tallest peak, Mount Toubkal. Upon arrival, you'll hike 15 minutes through apple, cherry, and walnut groves to your room, while your luggage is taken on a fuel-free mule ride. Exquisite local touches like rose water to cleanse your face and hands and addictive mint tea enhance the welcome. The authentic hammam here is as much a cultural experience as it is an indulgence, with a steam room and cold plunge pool perfect for relieving trek-sore muscles. At night, wood-burning fires and candles supply the glow, curbing light pollution and making it easier to see the stars. The hotel adds a five-percent per-guest surcharge to help fund a community hammam, irrigation systems, and a village telephone booth. The environmental community has taken notice, giving the hotel numerous awards, including one for responsible tourism from the Moroccan Ministry of Tourism.
Signature treatment: After a long trek through the steep slopes, nothing soothes your muscles better than a hammam steam amid the quiet of untouched nature.
Kasbah du Toubkal
Tel: 33 5 49 05 01 35
Doubles from $230
5. , California
The spa: Post Ranch Inn
Green peace: The Post Ranch Inn sits on 100 acres along the storied Highway 1, but only ten percent of those acres have been developed. The rest of the land is used for preservation programs for indigenous species like the red-legged frog and California condor. The part of the land that is developed barely looks it. "Biostructure" architecture blends buildings into their environment, such as cliffside guesthouses with hill-shaped roofs covered in flowering sod (which helps reduce the loss of heat) and outdoor hot tubs carved right into granite boulders. Tree houses are built on stilts to protect the fragile roots of redwoods and oaks, and heating and cooling units switch off when doors are opened. The spa uses active organic ingredients in its oils, body butters, bath salts, and skincare products, some solar-infused with the fragrance of local flowers and all containing medicinal herbs, minerals, and natural fruit acids found on site. The hippy dippy spirit is alive and well with shamans on call for "illumination," "soul retrieval," and "divination." Or you can just chill in your rustic-luxe accommodations, which belie all preconceived notions of an "earth-friendly" compound. Being green is no sacrifice when you're getting an in-room massage beside your own private fireplace.
Signature treatment: Pollinating honey from Post Ranch flowers, a resident beekeeper and her 18 hives supply the main ingredient for the spa's soothing facials ($125).
Post Ranch Inn
Tel: 800 527 2200
Doubles from $550
6. Enniscorthy,
The spa: Monart
Green peace: Green may be among the first things that come to mind when you say "Ireland," but it's rarely the eco kind. Hotelier Liam Griffin set out to change that in 2005 when he opened the country's first destination spa. Spread over 100 acres of, yes, green woodlands in County Wexford, Monart reintegrated every tree felled for construction back into the design. An energy-management system monitors light and heat in every room via photocell sensors that detect the time of day outside. Local timber chips are burned for warmth and electricity, cutting oil out of the equation. And the oil used in cooking is recycled into biodiesel fuel. But none of that gets in the way of the spa's mission of relieving stress (you can also book a bespoke program focused on weight loss, detox, or anti-aging). A salt-steam grotto softens the skin and improves respiratory function; a caldarium overlooking a waterfall has dry-heat that promotes relaxation. Two saunas, an aromatic eucalyptus steam room, a hydrotherapy pool, and a mud chamber round out the spread.
Signature treatment: The Dry Flotation beds inflate and cocoon around you like a water bed and give you the feeling of weightlessness ($75). The spa claims a one-hour treatment provides the therapeutic equivalent of 15 hours of regular rest.
Monart
Tel: 353 53 92 38999
Packages from $387 per person for a weekend stay
7. Styria,
The spa: Rogner Bad Blumau
Green peace: Channel the old European tradition of a holiday dedicated to bathing at the quirky Rogner Bad Blumau spa, which appears to have grown from the grassy hills that cover and envelop it. Inspired by well-known Austrian architect Friedensreich Hundertwasser, whose biomorphic work has been compared to Gaudí's, the property is a Seussian wonderland of green (as in eco) roofs, spires, and brightly painted facades. The hub is the central, circular spa known for its milk, saffron, and honey treatments, though the series of outdoor baths are equally popular. Water for the restorative treatments comes from the Vulkania curative spring; known as the warmest and most highly mineralized source in the region, the water self-purifies through its high carbon-dioxide content. Hundertwasser believed in "life in harmony with nature," so electricity and heat for the spa is derived from the same healing waters, using geothermal technology. Operating solely on green energy has the same effect as removing 2,700 cars from the streets each year. A portion of each night's stay is donated to a World Wildlife Fund project to protect almost 100,000 acres of Amazonian rainforest. In spite of all these earthly concerns, the hotel's playful design keeps the mood both light and relaxing.
Signature treatment: During the relaxing Blumau Sound Massage, a therapist places brass bowls on the body and then hits them to create resonant vibrations deep within ($130). Live instruments are played for a polyphonic experience.
Rogner Bad Blumau
Tel: 43 3383 5100
Doubles from $365
8. La Fortuna de San Carlos,
The spa: Tabacón Grand Thermal Spa Resort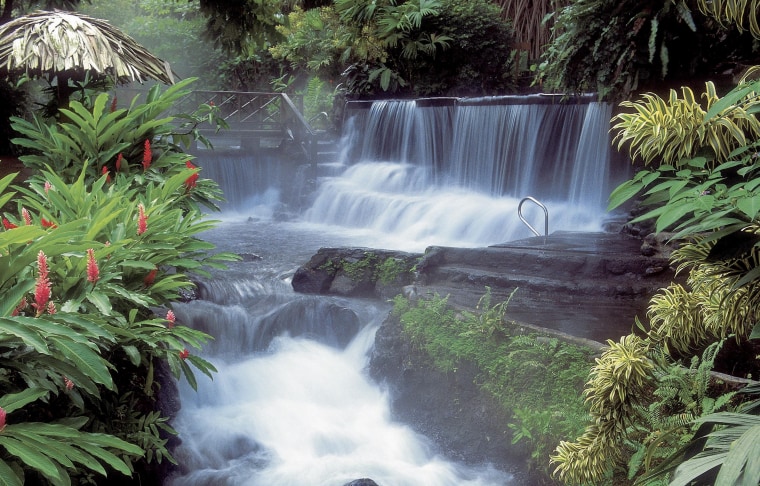 Green peace: It's hard not to think about the environment when you awaken each morning in a rain forest beside mineral springs in the shadow of a volcano. Tabacón uses that ecological trifecta to its advantage: All treatments are performed in outdoor pavilions amid the privacy of dense greenery to a real-life soundtrack of rushing water, twittering birds, and howler monkeys. The spa includes locally grown coffee, sugar, coconut, and chocolate in some treatments, but its main focus is on mud. The near-endless supplies of naturally warm, mineral-rich volcanic goop has long been favored by locals to soothe aches, improve circulation, and soften skin; the spa incorporates it into soothing massages and body wraps. The on-site springs provide additional therapy, relaxing muscles and boosting oxygen flow through the skin. The mineral-rich waterfalls and pools are kept warm naturally—anywhere from 80 to 104 degrees—courtesy of the active Arenal Volcano. That same water ends up in all of the showerheads and taps on site, eliminating the need for artificial heating systems. All outdoor and guest-room lights have low-energy bulbs and operate via sensors, so they click off when not in use. Tabacón hopes that these initiatives—combined with the development of hydroelectric power systems and the planting of trees to offset emissions—will allow it to be carbon-neutral by next year.
Signature treatment: The 75-minute Tabacón massage begins with a series of bends and stretches to regulate energy flow and concludes with a volcanic mud massage ($160).
Tabacón Grand Thermal Spa Resort
Tel: 877 277 8291
Doubles from $260
9. Vabbinfaru, Maldives
The spa: Banyan Tree Maldives Vabbinfaru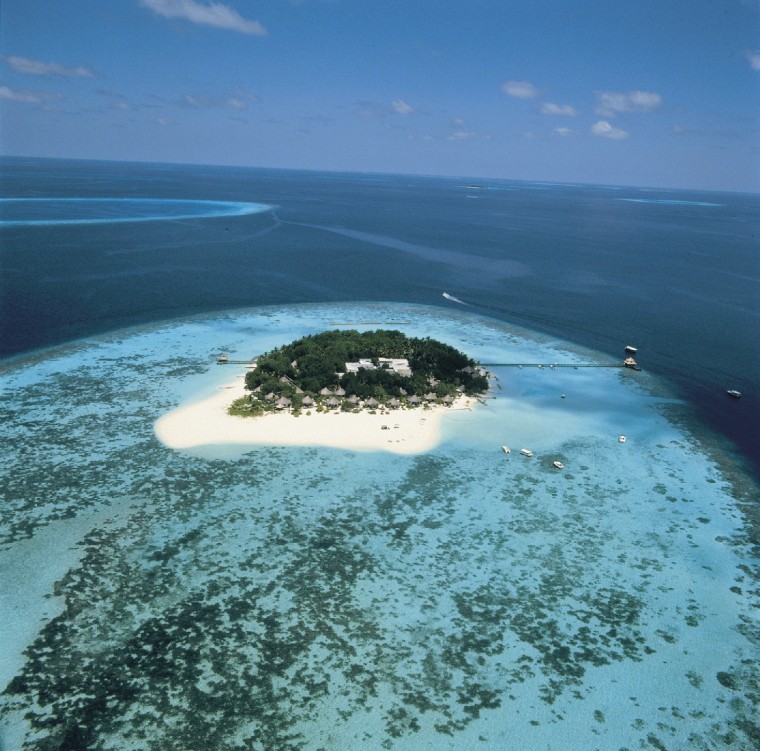 Signature treatment: The Javanese Lulur, a 17th-century pre-wedding practice, starts with a deep-tissue massage followed by a turmeric scrub and cool yogurt splash for the skin ($205).
Banyan Tree Maldives
Tel: 960 664 3147
Villas start from $1,050
10. Chichén Itzá, Yucatán,
The spa: Yaxkin Spa at the Hacienda Chichen Resort
Green peace: If the body is a temple, Yaxkin can help you worship it. Seeking to reunite your soul with nature, this holistic center located just a five-minute walk from the world's most famous Mayan site is devoted to health and healing through earthy elements. Native wild Melipona honey, cacao, avocado, and aloe vera are parlayed into toxin-ridding treatments believed to invigorate one's spirit and body. After a hike through Chichén Itzá, have another religious experience with a steam in an ancient zumpul-che, or sweat bath, inside a sacred cave. The spa's owners approach the environment with an equal sense of reverence. Processed waste becomes fertilizer, and used kitchen water nourishes plants in the jungle. The recycling extends to the building itself: Conquistadors built the hacienda in the 16th century using old stones from a Mayan temple. More modern eco-advances include biodegradable cleaning and laundry products—safe for the underground well—and décor that mixes in reclaimed furniture. Even the souvenirs are environmentally friendly: popular wood carvings are made from a special grove of gumbo-limbo trees that the hotel then replants. Recycle, renew, and check the bird refuge.
Signature treatment: A warm raw-sugar and cacao-butter massage and a brushing of chocolate and coconut oil make the Kakaw ritual good enough for the gods, though it might leave you feeling a bit like a human Almond Joy ($120).
Hacienda Chichen
Tel: 877 631 4005
Doubles from $165