/ Source: The Associated Press
Israeli Prime Minister Ehud Olmert and Palestinian President Mahmoud Abbas sat down together Tuesday night, possibly their last meeting before the Israeli leader leaves office, making a final push to forge a peace agreement by the end of the year.
The talks came a day before Olmert's Kadima Party chooses a new leader in a process that could put peace efforts on hold for months. Olmert says he will resign over corruption allegations after the Wednesday ballot, though he could remain in office until next year if his resignation leads to new national elections.
Olmert and Abbas have met regularly since last November, when they renewed peace talks and pledged to try for an accord by this January.
The two sides had opposing views of progress in advance of the meeting, which began at an unusually late hour at Olmert's Jerusalem residence because of the Ramadan Muslim holy month daytime fasting ritual.
Progress on main issues
Olmert told a parliamentary panel that significant progress has been made on all the main issues except sharing Jerusalem, according to a participant, citing borders, security and Palestinian refugees. The participant spoke on condition of anonymity because the Monday session was closed.
Olmert spokesman Mark Regev said Olmert feels the January target is still attainable, and "what is required is decisions from leaderships on both sides ... both creativity and flexibility."
But other Israeli officials, including Vice Premier Haim Ramon, are pessimistic. Ramon said this week he did not expect an agreement this year or next year.
Palestinians, too, are taking a gloomy view. Negotiator Saeb Erekat said Tuesday that "there are still gaps on all issues," adding the Palestinian insistence on a comprehensive solution. "Either we have an agreement on all issues or no agreement," he said.
Internal Palestinian violence in Gaza Tuesday between the ruling Islamic Hamas and an outlaw clan underlined a basic problem facing Abbas and Olmert — Abbas rules only the West Bank. His Fatah forces were expelled from Gaza by Hamas last year. Israel believes no accord can be implemented until Abbas regains control of Gaza.
The overnight violence, which left 11 dead and more than 40 wounded, showed the extent to which Gaza has become a difficult to rule armed camp of competing forces.
Two bystanders, including a boy, were among the dead in the clash.
Violence continues
Machine gun fire and explosions were heard around the Gaza City neighborhood of the Doghmush clan, notorious for links to both militant and criminal groups. Members of the clan were responsible for kidnapping a British Broadcasting Corp. journalist last year.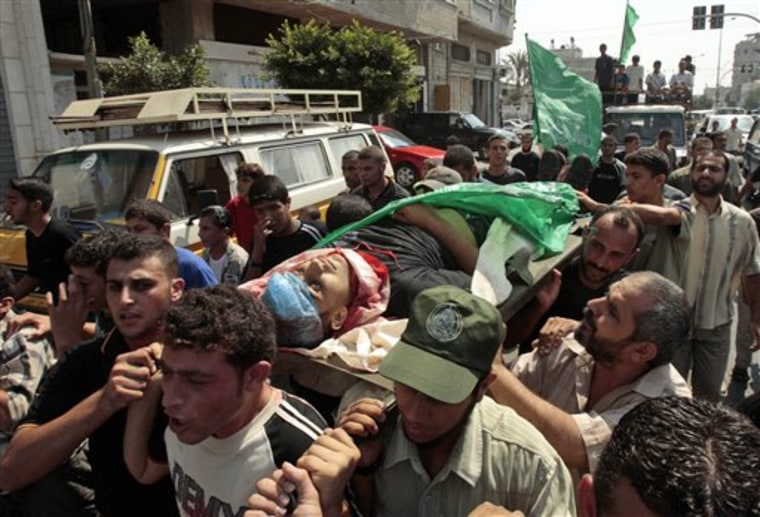 Two years ago, they were involved in a cross-border raid in which an Israeli soldier was captured and two others killed. The soldier is still being held, and Hamas is demanding release of hundreds of Palestinian prisoners in exchange for him.
The fiercely independent and widely feared Doghmush clan includes gunmen close to Fatah, as well as members of Islamic militias that have been allied with Hamas.
Hamas launched the assault shortly after midnight, hours after a member of the Doghmush clan killed a policeman. The fighting erupted after the clan refused to turn the man over, said Interior Ministry spokesman Ihab Ghussen, and continued for about nine hours.
Eight members of the family and one policeman were killed, along with the two bystanders, he said.
The internal fighting was the deadliest in Gaza since early August, when 11 people were killed in a Hamas-Fatah clash.