/ Source: The Associated Press
The swelling Rio Grande flowed over a levee Wednesday, sending water cascading onto the golf course and some ranch land in this dusty-turned-muddy West Texas border town.
The levee had not failed, said Presidio County Attorney Rod Ponton, but an area on the eastern end of Presidio was turned into a chocolate-brown reservoir marked by partially submerged trees, bushes and power lines. No homes appeared to be immediately threatened.
A levee broke across the Rio Grande in neighboring Ojinaga, Mexico, where Presidio Mayor Lorenzo Hernandez said homes and other buildings have been inundated with up to 10 feet of water.
Officials in Presidio, a town of 5,000 people about 250 miles down river from El Paso, have been watching the Rio Grande for nearly two weeks. Heavy rains and water releases from the flood-swollen Luis Leon Reservoir in Mexico pushed the Rio Grande over its banks, filling wide channels between the earthen levees on both sides of the border.
By late Wednesday morning the river level had dropped slightly and Presidio officials were being told that water releases from the Luis Leon had been slowed, Ponton said. But he added that the city could remain threatened for several days after record water levels filled the wide channels between earthen levees on both sides of the border.
"These levees are not designed to be dams," Ponton said. "The water pressure could find a weakness."
School also a shelter
Low-lying parts of Presidio are under mandatory evacuation, but schools remain open even as the elementary school serves as a temporary shelter for about 80 displaced residents.
Ponton said if the levee does break, low-lying parts of the city, including hundreds of homes, would be gradually swamped.
"If it does go it could be the same effect as in Ojinaga," Ponton said. "But we're just talking about water gradually rising up ... making homes uninhabitable and roads impassable. It would rise slow enough that people would be able to leave."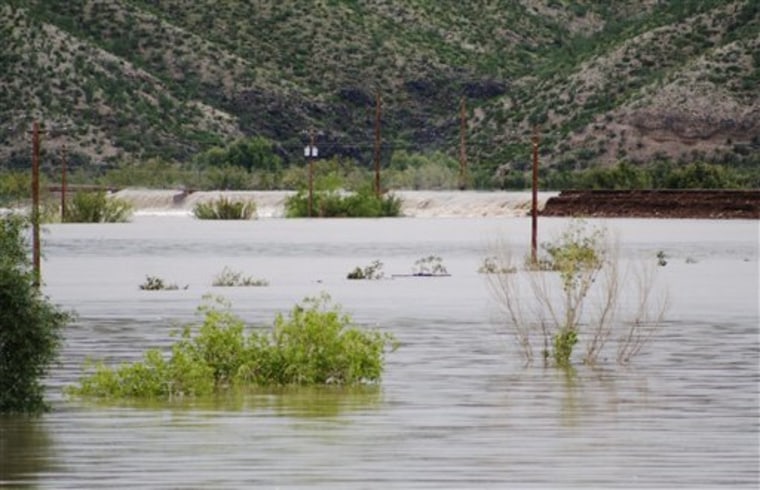 The flood threat had prompted officials in Presidio to go door-to-door urging people to leave. They made the same plea from a helicopter. U.S. Customs and Border Protection officials also shut down the international bridge connecting Presidio to Ojinaga.
Earlier this week, officials said the evacuation affected about 500 people in the Presidio area.
Presidio Police Chief Marco Baeza said a few older residents living in low-lying areas have opted to stay.
"One said, 'I've been here 58 years and nothing's happened before and nothing's going to happen now,'" Baeza said.
Not Ike related
The recent rains and flooding aren't related to Hurricane Ike, which hit hundreds of miles to the east.
In a related development, the U.S. Border Patrol said Wednesday that it had located a plane that had been carrying the U.S. and Mexican heads of the International Boundary and Water Commission that had disappeared Monday with four people on board.
The agency, which maintains the border levees on the Rio Grande, which seperates the two countries, said all four of those on board were dead.
The Border Patrol said it found the plane's wreckage in a rugged section of the Sierra Madre Mountains in Mexico, about 20 miles northwest of Presidio.
The flight had left to see the flooding situation.