If a week long canoe trip deep into the wilderness along Canada's Yukon River sounds like a great vacation, just remember that it usually involves packing a week's worth of essentials — even a roll of toilet paper and a shovel.
For many, that's a little too rough of an outdoors experience. Great River Journey, however, is a new tour company created by Whitehorse, Yukon, resident George Asquith to give travelers a more luxurious option. During an eight-day, 370-mile tour of the Yukon, guests ride in heated riverboats and stay in premium accommodations, like a newly built lodge that recalls a turn of the century homestead or tented cabins with claw-foot bathtubs.
Best of all, no shovel is required.
Asquith's company, which launched this summer after six years of planning, is the latest tour operator to cater to well-to-do travelers who want to experience nature — but with creature comforts like plumbing, heating and a full-size bed.
"The adventure experience is so much broader," says Shannon Stowell, president of the Seattle-based Adventure Travel Trade Association (ATTA). "The backpacker still exists but doesn't define the market anymore."
The rise of "soft adventure"
The shift that Stowell cites is evident at destinations across the world. Longitude 131, a well-appointed resort in the Australian outback, offers luxury camping and access to the Uluru-Kata Tjuta National Park, where guests can go on guided tours of rock domes and desert waterholes. To minimize discomfort, each tent is equipped with air conditioning and a private bathroom.
Similarly, Emeryville, Calif.-based tour operator Mountain Travel Sobek offers an eight-day hiking tour of the Czech countryside. One five-mile jaunt ends with a wine tasting at an 18th century Italian château. Participants stay at small, elegant hotels throughout the trip.
Nadia Le Bon, Mountain Travel Sobek's director of special programs, has noticed a trend toward "soft adventure" in her 25 years with the company. Some clients, she says, will have never camped before but want to climb Mt. Kilimanjaro.
"There is a new crop of people who are not as savvy around adventure and camping, and their needs are a little higher," says Le Bon. To make them comfortable in a rugged setting the company sends porters who carry walk-in tents, cots and mattresses.
The concept has been referred to in recent years as "glamping," or glamorous camping, but the rise of luxury in the outdoors extends beyond just the traditional camping trip. The same approach has been applied to fishing, whitewater rafting, cycling, walking, hiking and multi-sport trips.
Tracking the trend
In a survey conducted last year, ATTA asked more than 120 tour operators to rate their offerings as one of four categories: budget, moderate, premium and luxury. The premium and luxury categories accounted for 55 percent of the responses. In 2006, when premium had not yet been added as a category, only 32 percent of tour operators considered their offerings to be luxury.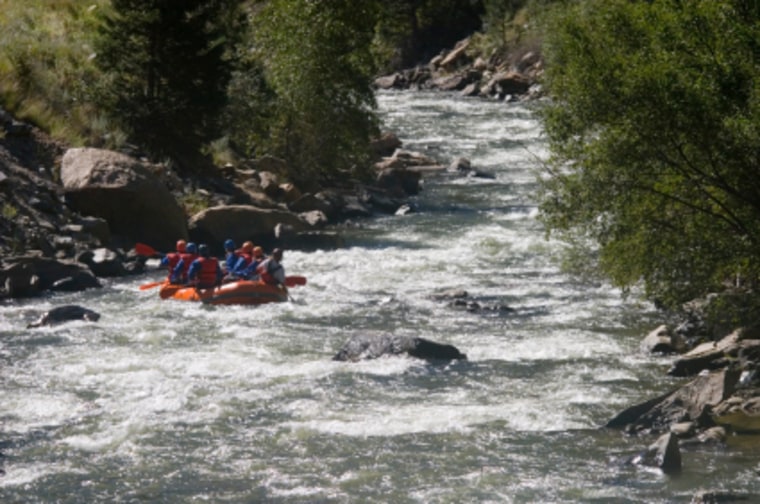 Along with surveys such as these, Stowell's own experiences hint at a shift toward high-end outdoor experiences. While in the rural Chinese province of Guizhou, Stowell recently met with local entrepreneurs in the early stages of developing a high-end eco-lodge for those interested in the area's rock climbing, caving, rafting and hiking.
He also just returned from a four-day stay at Pousada Maya, a small lodge and spa in the Brazilian town of Alto Paraíso. While there, Stowell explored the waterfalls, tree canopies and canyons of Chapada dos Veadeiros National Park. The lodge's rooms are outfitted with a refrigerator, air conditioning, and a television, and each morning guests are served fresh fruit and local cheese bread.
Both Stowell and Le Bon agree that baby boomers are largely responsible for the popularity of these types of trips. With diminished physical abilities but a desire to experience nature, members of that generation gravitate to comfortable wilderness experiences. The steep prices — tours can cost thousands of dollars without airfare — also aren't prohibitively expensive for boomers with deep pockets.
"They're not shying away from adventure," says Stowell, "and they're thinking, 'Why should I lay on the rocks if I can stay in a nice resort?'"