/ Source: Forbes Traveler.com
Ghastly wall-to-wall carpeting. Archaic shower-tub combinations draped with flyaway plastic curtains. And predictably unimaginative continental breakfasts of withered pastries and artificially flavored "fruit beverages" served in pebbled plastic tumblers.
It's no surprise that being faced with passing the night in yet another forgettable airport hotel is the scourge of business travelers. And who could blame them? Underwhelming compared to their stylish downtown cousins, airport hotels had become the sclerotic bête noire of the industry.
But now, as posh trappings and upgraded amenities become standard fare across the board, the lowly, downtrodden and oft-maligned airport hotel, too, is getting a much-needed facelift. In fact, according to projections by Bjorn Hanson, a head analyst who recently retired from the hospitality division of PricewaterhouseCoopers, airport hotels rank second behind luxury hotels in the estimated $5.5 billion that the industry spent on capital investment on existing properties in the U.S. in 2007.
Those figures are welcome news to jaded business travelers like Scott Norvell, whose many stays at subpar run-of-the-mill airport hotels encapsulates the sentiments of many a hardened road warrior. "I gave up on airport hotels after my last experience in Abu Dhabi," says the Fox News London Bureau Chief. "Frankly, I have yet to find an airport hotel that makes the convenience worth the effort. I'd rather sleep on a sofa in the business lounge if it comes down to it."
And while Norvell may have abandoned hope after his Abu Dhabi experience, there's a good chance a stay at Crowne Plaza Changi Airport in Singapore could alter his outlook. Opened in May 2008 to the tune of $84 million Singapore dollars (roughly U.S. $57 million), the Crowne Plaza's artistic twisted metal façade, sultry outdoor tropical pool, natural lighting and direct access via covered walkway to Changi's Terminal 3 make it an exercise in both decadent modernity and pure convenience.
Says Singapore businessman Ronald Chan, who stayed at the Crowne Plaza for pleasure as part of a Father's Day surprise from his wife and kids, "It's really unexpected and very nicely designed—not what you expect from an airport hotel. Someone really took pains to make this hotel different."
Chan, who travels across Asia frequently for work, says he admired energy-efficient touches in the hotel's design, including the elimination of the need for a nightlight in the bathroom thanks to a savvy design that lets light from the outside corridor filter in. And while all 230 of the hotel's rooms are air-conditioned, Chan liked the feel of the hotel's open-air corridors, overflowing with exotic foliage and flowers and leading from the elevators to the rooms. "It felt like a tropical resort."
Elsewhere in southeast Asia, the Pan Pacific Kuala Lumpur International Airport Hotel, linked by skybridge to the terminal from its location next to the airport control tower, is another inviting airport hotel. Business travelers staying in one of 441 rooms and executive suites appreciate amenities such as the outdoor pool, lighted tennis court and indulgent sauna and steam facilities that prepare you for yet another a trans-Pacific haul.
Over in Europe, London's Stansted Airport is home to a raft of low-cost carriers. Opened in summer 2004, the Radisson SAS is a three-minute walk to the terminal at Stansted. Staying here is particularly handy for travelers with late-night and early morning departures. And the hotel's perks make it a swish example of the new generation of slick airport hotels.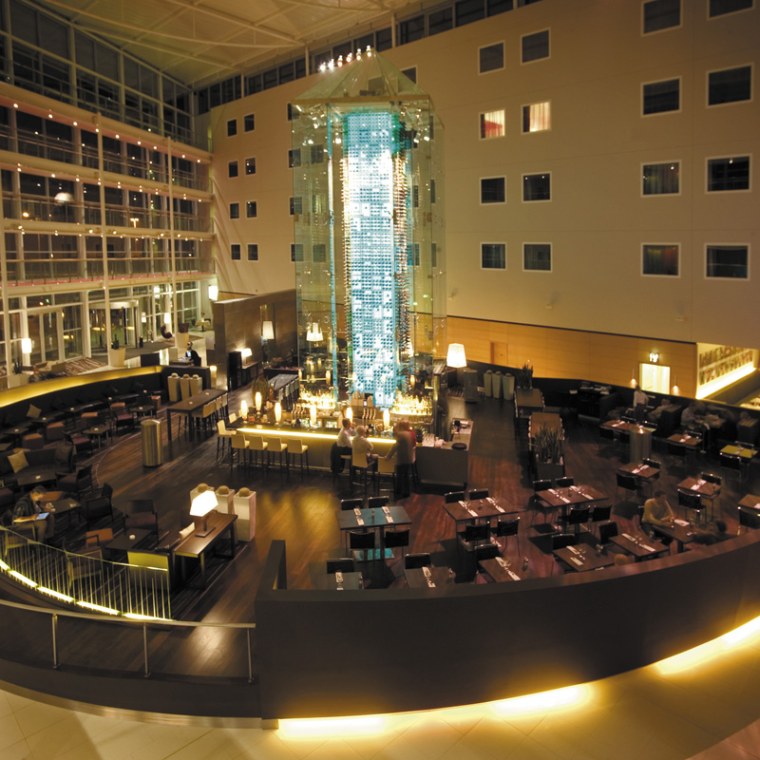 "Four distinct food and beverage outlets, design-led bedrooms and full meetings and fitness facilities ensure that this hotel is a cut above [the rest]," says general manager Tim Cordon. "The hotel's centerpiece is a 13-meter-high wine tower which holds 4,000 bottles of wine obtained each evening by 'wine angels' who fly on cables to retrieve your choice."
Airborne angels aside, the biggest news in recent airport hotel openings on the greater London aviation scene came on July 31, 2008, at Heathrow, a little more than four months after the Queen herself presided over the opening ceremonies of the airport's new Terminal 5. As the terminal suffered growing pains, the five-star Sofitel London Heathrow, directly connected to Terminal 5, offered road-weary travelers smooth sailing.
Themed locales in the hotel include "Antarctica" at reception, where a water feature cascading onto floodlit blocks issues an instant calming effect. Scores of exotic trees in the hotel's Zen Garden are equally bliss inducing. And beds in the uber-luxe rooms and suites—with pillowtop mattresses, duvets and pillows, billowing in down—are a nonstop ticket to cloud nine. The Imperial Suite boasts three bedrooms and Europe's first Swarovski Crystal bathroom, where crystals, limestone and wood combine for a seductive effect.
Sofitel isn't the only hotel chain with airport outposts to recognize that, in order to attract new customers, appearances have to be spiffed up and guests showered with amenities once reserved for resort properties. That includes everything from top-notch penthouse suites with butler service and spa treatments to luxuries such as fully functional fitness centers with saunas and swimming pools—all of which are on offer at Kempinski's Munich Airport location. The five-star property, designed by the well-known Chicago-based architect, Helmut Jahn, is resplendent in futuristic steel-and-glass and conveniently located within a few steps of both terminals 1 and 2.
An arch-modernist airport design ethos continues in the Netherlands at Schiphol Airport, where the newly opened citizenM Airport Hotel Amsterdam Airport delivers affordable luxury in the form of free wireless Internet, LCD television with free movie channels, rainforest shower heads and oversized king beds in every room (all of which are the same)—all within a few minutes' stroll of one of Europe's busiest airports.
Since the hotel's June 26, 2008, opening, Sudhir Sand, a Dutch businessman in the recycling industry, has stayed at citizenM three times enroute to Greece and other European destinations. "I've stayed at the Sheraton, a deluxe hotel at Schiphol, in the past, and spent between 160 and 240 euros per night," says Sand, adding that he paid 79 euros for a room at citizenM and was far more impressed. "We're given budgets in my company for a much larger amount than 79 euros, but any employee in my company would rather go to citizenM."
"The rooms aren't extra big, but the bed is one of the most comfortable I've slept in, the shower had a lot of pressure, and isn't that really all you want—a nice shower and nice bed—when you travel for business?" Sand also praised the sleek, contemporary design of the hotel's public spaces. "There's a great bar where you can take a coffee, rooms with chaise lounges where you can sit and read these amazing art books and lifestyle books they have—it's all just very minimally designed, and very beautiful."
Wall-to-wall windows in each of the hotel's guest rooms brings in plenty of natural light, and an electronic "mood pad" allows guests to customize the mood by adjusting the blinds and incorporating colored lighting effects, digital art (projected on the TV) and ambient music.
Slightly less futuristic but impressive in its own right is the Grand Hyatt, integrated into Dallas-Fort Worth International Airport's equally new $1.4 billion Terminal D: a sprawling two-million-square-foot structure that brings a touch of European élan to the world's third busiest gateway. The posh 298-room glass cube spreads over 12 floors with rooms done up in earth tones and rigged out with flat screens, pillow-top mattresses and separate shower and soaking tubs. Experts say it is these very luxuries and other well-appointed features that most frequent travelers now expect, be they wrapped up in a brand new or renovated hotel.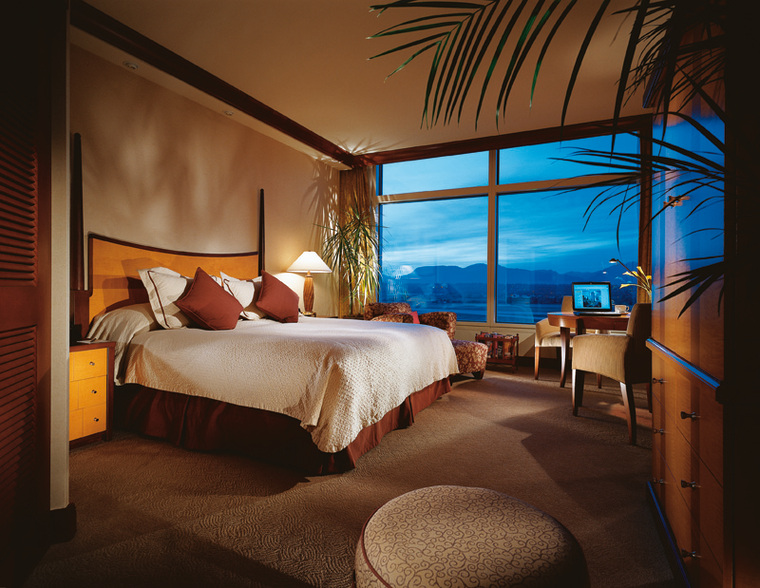 According to Jan Freitag, vice president of Global Development at Smith Travel Research, a leading information and data provider for the hotel industry, there are currently "20 or so airport hotels in the planning stages, including upscale or up-market properties," across America.
This trend is explained by "the high occupancy and also by the good rates that can be achieved" at airport hotels, says Freitag. "The occupancy rate for airport hotels [from the beginning of 2007 through October of 2007] was 71.4 percent," he explains. "That's a very healthy occupancy rate when you compare it to non-airport hotels," where it was 65.1 percent.
For frequent travelers, who vote with their overnight stays and make up a disproportionately higher share of customers at airport hotels (some 70 percent), seeking out those luxe amenities once they disembark from either a red-eye or a transcontinental voyage has become par for the course. Bookings resulting from flight delays and flight cancellations certainly figure into that statistic. But the convenience of upscale fly-in/fly-out facilities is the paramount motivator. After all, ensured luxury and comfort make it all the easier to wake up on the right side of the bed wherever you land.