/ Source: Forbes Traveler.com
It's one thing for the overworked, hyper-wired parent to indulge in a vacation of mindless novel reading on a poolside chaise. But why waste a child's mind when you have the opportunity to stoke her gray matter with language lessons, putting tutorials and soufflé baking? Sandcastles can wait.
In today's climate of resume-building beginning in fifth grade (if not earlier), many parents want more than sun and sand in a family vacation. Travel providers are eager to oblige with unique, educationally oriented activities for the little ones that don't require shipping them off solo to an academic summer camp.
"In addition to family bonding, my clients want to explore specific interests when they travel," says Ashley Ganz, owner of Artisans of Leisure, a tour operator in New York. She has arranged drawing sessions with anime artists in Japan and lessons in hieroglyphics in Egypt. "But they want to keep it fun. They don't want a lot of time in museums."
Lest they be confused with summer school, learning vacations for kids carefully target children's leisure interests in topics such as animals, music and sports. On board the Regent Seven Seas cruise ship Mariner this summer, kids choose either fun and games or conservation education devised by Jean-Michel Cousteau. Dodgeball on the paddle tennis court drew more players, but for the dozen or so science geeks who showed up to watch whales, look at plankton under a microscope and learn navigation with a sextant, it was the highlight of the voyage.
Time away from home presents an opportunity to introduce kids to new pastimes like tennis and golf, especially when both sports can now be easier for teaching the next generation. At Horseshoe Bay Resort Marriott just west of Austin, Texas, the new Andy Roddick Kids' Courts are sized down—60 feet instead of the standard 78—for 10-and-unders who are taught with larger racquets and depressurized balls. On Hawaii's Big Island, the new nine-hole kids course at the Mauna Lani Resort lays out smaller fairways.
Novelty holds a great attraction for children, who can also try polo playing in Argentina or flying falcons in rural England. Intrepid parents can even put the kids behind the wheel of a miniature Land Rover at Gleneagles resort in Scotland on a course much like the one designed for their parents—though it may produce a backseat driver. "My favorite moments are when a child who has already completed the Junior course corrects dad on the grown-up version, with, 'Dad, you need to keep your thumbs out of the steering wheel!'" says Emma Ford, director of the off-road program at Gleneagles.
Junior foodies addicted to the Food Network can enroll in cooking schools like the one at England's Le Manoir aux Quat'Saisons offered by two-star Michelin chef Raymond Blanc, who plays to his seven-to-16-year-old audience with an entire afternoon devoted to desserts.
Learning vacations aren't just for acquiring new skills, but also polishing emerging ones. William and Mary King of Riverside, Conn., took their two children, ages eight and 11, to the posh Bitter End Yacht Club on Virgin Gorda in the British Virgin Islands last spring where the young sailors, who race on Long Island Sound in the summer season, prepped for regattas to come. "Our kids got a jump start on the summer season through a combination of daily sailing, fun racing and several instructional lessons," says Mr. King, who praised the level of training at the resort. "Best of all, the kids had loads of fun."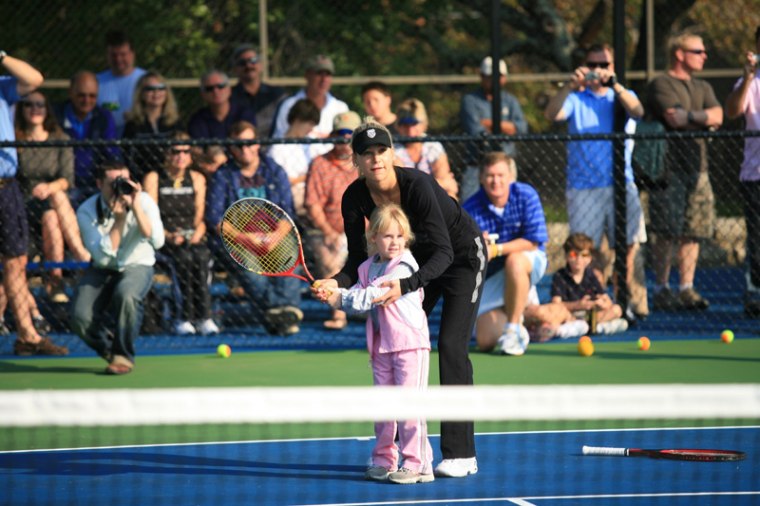 While toddlers and younger children are largely happy wherever there's a playground or pool, notoriously hard-to-please teens are the target of songwriting sessions with a Nashville Grammy winner offered by the Loews Vanderbilt Hotel, as well as a hands-on session with a Manhattan DJ arranged by the trendy Gansevoort Hotel in New York.
Tapping their inner groove doesn't mean you're raising a club circuit DJ. Exposure and enrichment is the aim, not professional training. Leslie Overton, general manager of Absolute Travel, a high-end agency in New York, and her two children, aged four and nine, recently returned from Vietnam where they learned how to fish in the traditional style with nets and baskets. "They're not going to come back to the States and become fishermen," she says, "but they like being active participants in the culture."
When it comes to kids, say travel planners, small doses are best. An hour or two can be plenty. Then it's sandcastle time. "There's stress to the idea of spending a half day learning calligraphy," says Overton. "What parents think is a great idea isn't always so for the kids."