Even occasional air travelers have learned there's not much you can do when weather, mechanical breakdowns and unexplained dilly-dallying by the airlines leave you stuck at the airport for a few extra hours. Hanging around on the ground when you want to be up in the air can definitely be irritating, but I've discovered that sometimes the line between a well-mannered traveler and a downright obnoxious one can hinge on the presence of an amenity or two in the airport.
With that in mind I scoured the more than 350 exhibits at a major airport conference held in Boston last week. I nodded politely during sales-rep raps for products I still don't understand the need for and I made note of the pointed questions airport decision-makers asked. I filled a tote bag with glossy brochures and free pens and I came home with a list of products, amenities and services well-mannered travelers can look for and, in some cases, just hope for, on their next trip. Here are a few that stood out:
Good to go
A big "ick" for air travelers these days is the condition of airplane lavatories. Sadly, many airport restrooms aren't much better. It's impossible for even the most conscientious cleaning crews to keep up with messy passengers during peak flight times and flight delays. So be thankful that more airport restrooms are getting high-tech self-flushing toilets, automated sinks, and hands-free soap and towel dispensers.
Even those ubiquitous hot-air blowing hand-dryers that never seem to get your hands dry are getting a makeover: Hand dryers made by Dyson, the company that created the bagless vacuum cleaner, are now in airport restrooms in Los Angeles, San Francisco, Phoenix, Detroit, Minneapolis, Nashville, Boston and Anchorage. Instead of sucking in questionably-clean air from the bathroom, heating it way up and then blowing back out onto your hands, Dyson's Airblade promises to dry your hands in just 12 seconds by blowing clean, unheated air across them at 400 mph.
Hopefully we'll also start seeing — and sitting on — airport toilets with plastic seat covers that change automatically. Nine years ago, Chicago's O'Hare International Airport installed intriguing self-changing Sani-Seats in most restrooms. The entertaining amenity is extremely popular with female travelers and there are even a few YouTube videos marveling about it. A similar product now on the market, the Hygolet Sanitary Toilet Seat, has now been installed at Iowa's Des Moines International Airport, Alabama's Montgomery Regional Airport and a few others. (The folks exhibiting the Hygolet also market a disposable, anti-microbial floor runner, which should be popular with travelers who foolishly go sock-less through airport security checkpoints.)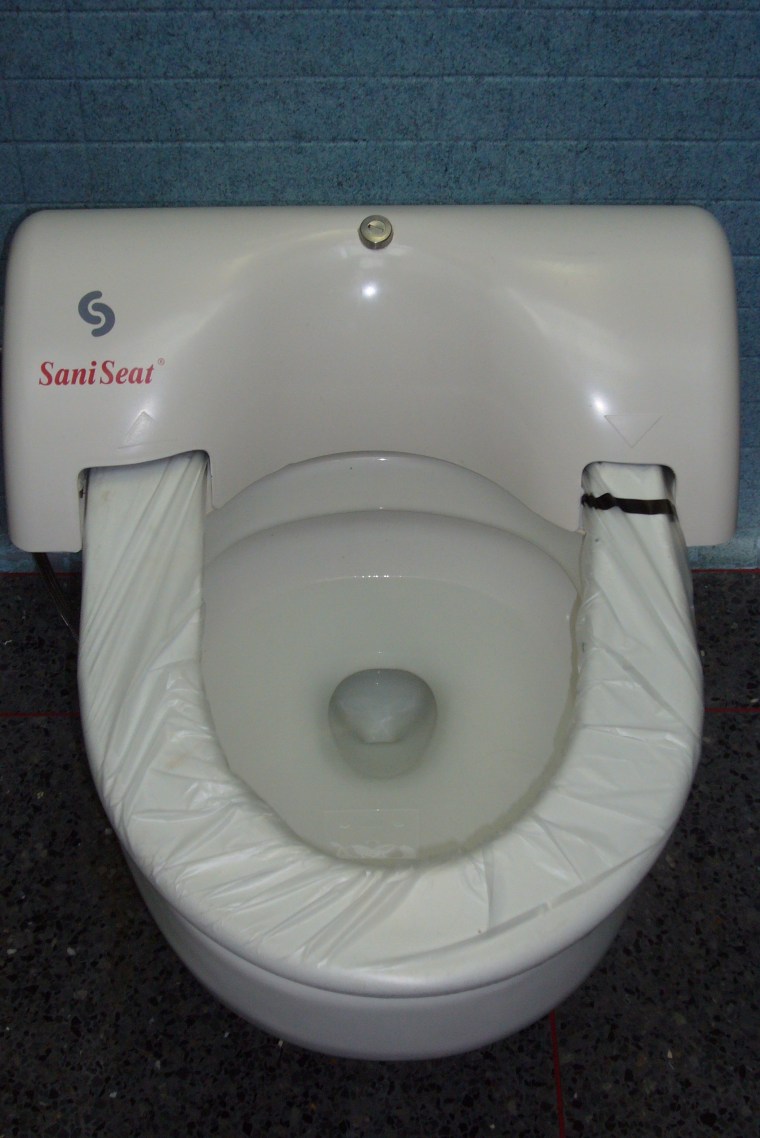 Not on display at the conference, but talked about and of special interest to traveling families, is a gadget called the Step N' Wash. It's a retracting step-stool that pops up from under the sink to allow kids to wash their hands in airport bathrooms without having to get an adult to pick them up and hold them over the sink. So far it's been installed in some airport restrooms in Atlanta, Salt Lake City, Boston, Orlando, Cincinnati, Tallahassee and Louisville.
Germ-free, but not bored
It's great that airports are helping well-mannered travelers stay healthy and clean when they're on the go, but how about some entertainment?
I'm happy to report progress on that front as well.
The folks at Boingo, FreeFi Networks, Wandering WiFi and several other companies continue to battle in an attempt to bring wireless Internet service to airports across the country. In many cities, network speed, security and the issue of free vs. pay-for-use service is still being debated, but the bottom line for travelers is that just about every airport will soon have some sort of wireless Internet service available.
Spending the average 93 minutes of airport "dwell" time checking your e-mail and surfing the Web can be entertaining, but eventually (let's hope) you'll actually be leaving the airport and getting on a plane. In-flight Wi-Fi is still a ways off for most airlines, so you may want to bring along a DVD or some other form of electronic entertainment.
Your options are expanding there as well. For years, In-Motion Entertainment has been renting and selling DVDs and DVD players at more than 30 airports around the country. Now you can also rent DVDs (for $1) from airport redbox vending machines being installed at airports, stop at a Hudson Group airport store to buy an inexpensive Flexplay "disposable" DVD that's viewable for just 48 hours, or simply download a movie, game or some other digital content onto your laptop from one of the new Fadow gate-side electronic kiosks.
What's next?
Finally, I had a long chat at the airport conference with Brad Jersey, president of AMI, a marketing firm that matches corporate sponsors with airport amenities. So far they've put together a few airport radio stations and a bunch of food and product sampling events that sound entertaining. Jersey says the company is working on some "secret" events and partnerships that well-mannered travelers should enjoy even more. He wouldn't give me the inside poop, but I'm keeping my fingers crossed for some pin-the-wings-on-the-pilot contests and gate-side classes in onboard etiquette.
Harriet Baskas writes msnbc.com's popular weekly column, The Well-Mannered Traveler. She is the author of the , a contributor to National Public Radio and a columnist for USATODAY.com.