/ Source: The Associated Press
In separate courts on different continents, former Liberian President Charles Taylor and his American son are standing trial on charges of committing atrocities in neighboring West African nations.
The unprecedented father and son trials — one by a U.N.-backed war crimes tribunal in The Hague and the other by a U.S. federal court in Miami — are revealing the savagery of the conflicts in Liberia and Sierra Leone.
In Miami, a witness displays the scars he says came from burning plastic poured onto his skin in Liberia. In The Hague, a mother recounts how rebels in Sierra Leone ordered her to carry a sack containing the heads of her two children who had just been hacked to death.
The cases demonstrate that the days when war crimes suspects could flee and slip into obscurity to avoid prosecution may be drawing to a close.
Stephen Rapp, the U.S. lawyer leading the prosecution of Taylor at the Special Court for Sierra Leone, on Wednesday welcomed the trial of Taylor's son, Charles McArthur Emmanuel, as another step along the road to ending impunity for alleged war criminals.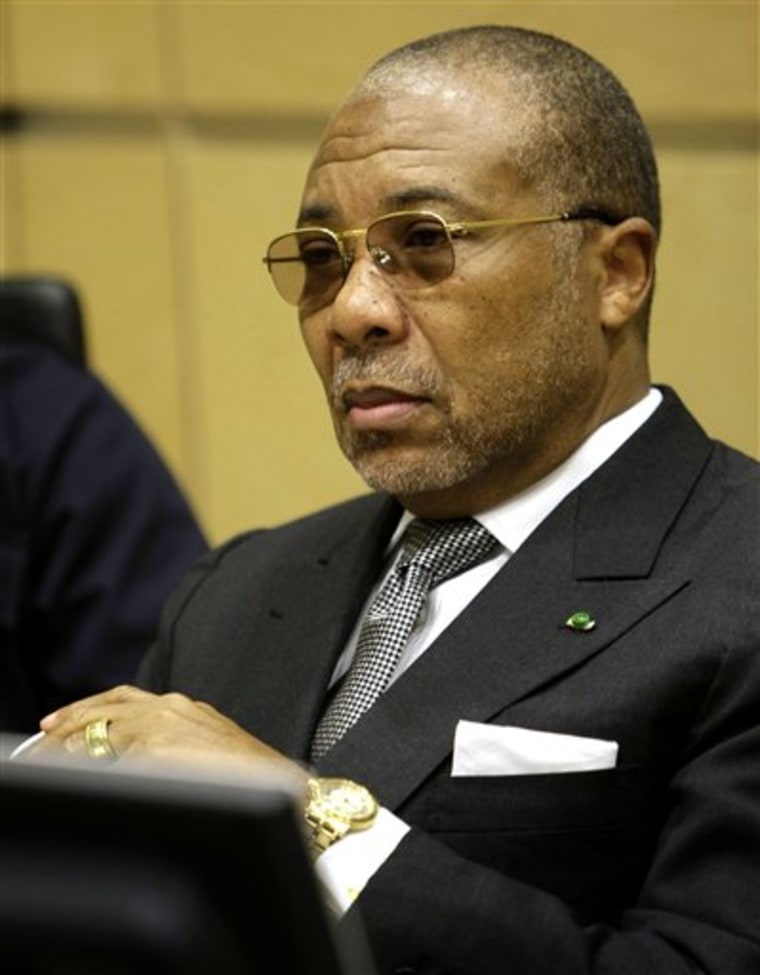 Emmanuel is the first person ever tried under a 1994 U.S. law that makes it a crime for an American citizen to commit torture overseas.
Emmanuel — also known as Chuckie Jr. — was born in Boston and spent most of his life in Orlando, Fla. before moving to Liberia when he was a teenager to be with his father. There, prosecutors say, he led a notorious unit blamed for silencing Taylor's critics.
Taylor meanwhile is charged with orchestrating atrocities by rebels in Sierra Leone from 1996-2002 while he was ruling Liberia.
Not guilty pleas
Father and son have both pleaded not guilty.
National trials such as Emmanuel's send a clear signal that the countries staging them "are not going to be safe havens for war criminals," Rapp told The Associated Press in an interview.
They can also act as a deterrent.
"Many of the people who commit these crimes perceive that if they win they're in the presidential palace for life, if they lose they'll find exile somewhere and live comfortably," Rapp said. "We really want to eliminate that perception that you can get away with these things."
Temporary war crimes tribunals are currently prosecuting cases from the former Yugoslavia, Rwanda, Sierra Leone and Cambodia. The world's first permanent tribunal — the International Criminal Court — has launched cases in Sudan, Uganda, Congo and Central African Republic.
But Rapp said prosecutions by individual countries are just as important.
"These international courts will only handle in the future a relative handful of cases," he said. "One of the most important things countries can do is develop their own ability to prosecute war crimes, particularly of individuals they find in their midst."
Son accused of torture, sodomy
Early witness testimony in Emmanuel's trial, which started Monday, has already exposed U.S. jurors to the kind of horrific claims regularly dealt with in the international tribunals.
Prosecutors say Emmanuel headed the "Demon Forces," an elite paramilitary anti-terrorist unit in his father's Liberian government from 1999-2002. The unit trained soldiers and tortured prisoners, prosecutors said.
Former prisoner Rufus Kpadeh testified Tuesday that detainees were forced to sodomize each other as Emmanuel laughed.
"I want the world to know what happened to me so it will not happen again in the future," said Kpadeh, who rolled up his tunic sleeves to show jurors scars from where he was burned with flaming-hot plastic.
Defense attorneys argue Emmanuel's accusers are fabricating the stories for financial gain and political asylum.
Journalist expected at both trials
Only two witnesses were expected to testify at both trials, Rapp said. One has already testified under a pseudonym at the Taylor trial and the other, Liberian journalist Hassan Bility, is expected to testify at both trials about being tortured in Liberian prisons.
At the Taylor trial, prosecutors are trying to establish a pattern of brutality by rebels who they say were led by Taylor. They are calling victims and former officers under his command to tell tales of executions, cannibalism, torture and disfigurement.
On Wednesday, Osman Jalloh told judges that rebels hacked off his right hand — such amputations were a hallmark in the Sierra Leone conflict.
And in some of the most harrowing testimony since Taylor's trial started in January, a woman identified as witness TF1-064 said Tuesday she was forced into a house and had to listen as her two children and other members of her family were hacked to death outside.
Rebels then ordered her and another man to carry a bag containing the victims' heads to another village where they were dumped in a pit of water.