/ Source: Forbes Traveler.com
This year, storm season in the United States was a particularly active one, with more than 1,000 twisters and countless storms that churned, crashed and flashed across the country. But not everyone in Tornado Alley—roughly defined as the vast landscape between the Rockies and Appalachian Mountains—was running away. Some weather-crazy storm chasers actually rushed toward Mother Nature's worst, clamoring to get an up close and personal look at the pulse-pounding action.
"There are a lot of adrenaline junkies out there," says Roger Hill, a Denver-based storm chaser of more than 22 years. "A lot of people are just fascinated by severe weather." He should know—for more than 11 years, he has been leading groups of them on storm-chasing vacations organized by Silver Lining Tours, a company he co-owns with fellow chaser David Gold.
Silver Lining is one of several companies that, for a few thousand dollars, will take you on the ride of your life, tailing twisters and tempests through Tornado Alley in a vehicle equipped with high-tech equipment. You'll get closer to the action than you ever could—or should—on your own.
Hill has seen interest in storm-chasing vacations explode over the past few years, with weather junkies from all walks of life—and from all over the world—signing on. In fact, if you want to join a 2009 tour, you'll need to sign up now, as most companies' offerings are filling up fast. If you're new to the experience, prepare to be awed, especially the moment you see a tornado from less than a mile or two away.
"You can hear the roar, you can feel some of the wind, and you can see the debris flying," Hill says. "The first time you see a big, violent tornado up close, it's a life-changing experience. The power is amazing."
Though it sounds scary, it's clearly not enough to scare away customers. Gregg Potter, lead meteorologist and president of F5! Storm Chasing Safaris, says at least half of that company's business comes from repeat customers. "Some people come back for a sixth, even a seventh or eighth time."
Tours range from a few days to a few weeks, and cater to a variety of interests. If you're really curious about how wild weather forms, for example, you can take an educational storm vacation, such as Silver Lining's Northlands Lecture Tour or Tempest Tours' F5 Classroom Tour. Almost all storm tours include a little education on weather and chasing storms, but these go more in-depth, with detailed lessons and workbooks in addition to actual storm chasing.
What's the fun of seeing a tornado if you can't prove you were there? Shutterbug storm chasers should sign up for a photo tour that focuses on photography and includes expert instruction from professional weather photographers. If comfort is your main concern, F5! Storm Chasing Safaris offers luxury storm tours with smaller groups and cushy Suburban SUVs. And if your schedule is flexible and you like to fly by the seat of your pants, several companies have an on-call option, where customers sign up to be notified of last-minute mini-chases via email, just a few days before a storm is set to hit. In addition, some companies can arrange private, custom excursions upon request. The price tag for any tour usually covers the vehicle, guide and hotels, but not airfare or food.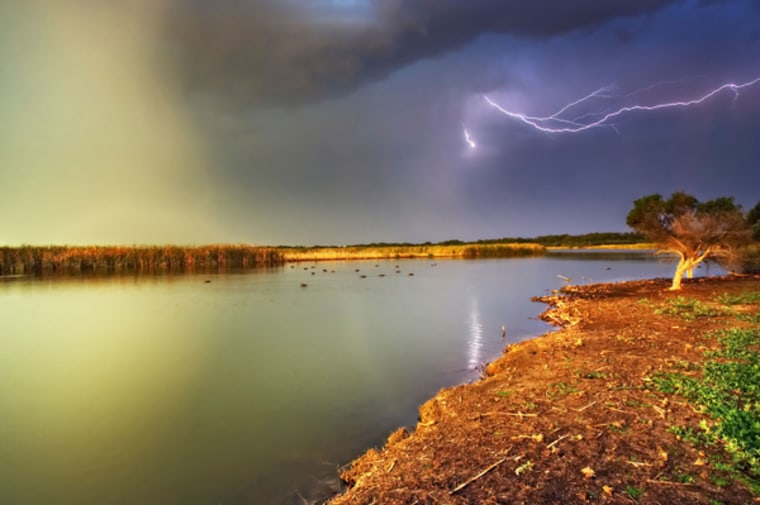 While increasingly sophisticated technology such as mobile broadband internet and satellite radio has heightened tour guides' ability to find the best storms, not all groups get to see a tornado. Roughly speaking, you have a 50 to 70 percent chance of encountering a twister, say the tour operators. "You might have one tour that sees 10 and the next might not see any," Potter says.
Increase your odds by booking your trip during prime tornado time (May and June), taking longer expeditions and researching potential tour companies beforehand. You can also head to Canada and even Australia, where storm-chasing vacations are also on the rise. But there's no guarantee—after all, unpredictability is one of the things that makes the tours exciting in the first place.
What you can count on is meeting new people, taking in gorgeous landscapes and experiencing some killer weather systems up-close. Virtually all witness some kind of severe weather, and most get to see the biggest, baddest supercell thunderstorms—the kind that can produce baseball-sized hail and 80-mile-an-hour winds.
"Everyone wants to see a tornado," Hill says. "It's the ultimate prize, but it should be the icing on the cake."