/ Source: The Associated Press
The sky was clear that morning, the wind light. Steve Fossett took off alone from hotel magnate Barron Hilton's ranch about 70 miles southeast of Reno in a blue and white stunt plane with orange stripes and blue sunbursts on the wings.
It was supposed to be a short pleasure ride before lunch.
The two-seater was Hilton's, but Fossett could fly anything. He had circumnavigated the globe without refueling, had flown around the world in a balloon. Two months earlier, he had been inducted into the National Aviation Hall of Fame.
"I'm hoping you didn't give me this award because you think my career is complete," he said at the time, "because I'm not done."
Just over a year after the 63-year-old Fossett vanished during his jaunt from the Flying M Ranch, a lingering mystery has been solved, with discovery last week of his plane's wreckage and possible remains in the wilds of California's Sierra Nevada. He slammed into a mountainside at about 10,000 feet and probably died instantly.
But a larger question remains: What caused such an accomplished aviator to crash in a place he knew well, on a fine September day?
What went wrong?
Finding the answer may take many months. On Friday, investigators from the National Transportation Safety Board began hauling debris from the crash site by helicopter. They plan to reassemble the plane at a Sacramento warehouse piece by tiny piece to look for mechanical failures. Gathering archival weather records, including winds, clouds and turbulence for the day of his flight, also is not simple, officials said. With luck, radar data will help determine Fossett's path and pinpoint the time of the crash.
For now, speculation runs the gamut. Ralph Obenberger, undersheriff of Mono County, Calif., thinks Fossett might have run into unexpected weather. He remembers large storm clouds over the peaks around Mammoth Lakes on Sept. 3, 2007.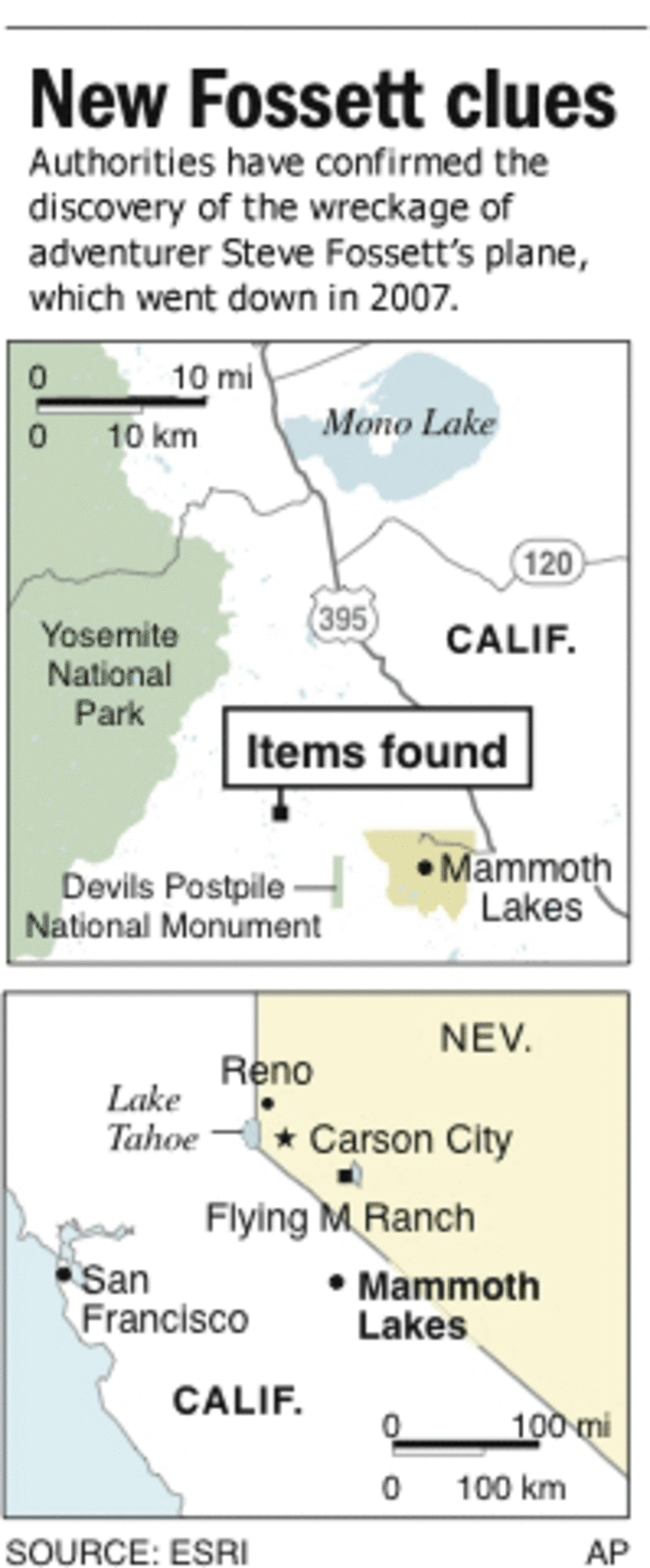 But Bill Manning, the director of Mammoth-Yosemite Airport, said that day was generally clear and calm in the Mammoth Lakes region. He wondered whether Fossett ran into other trouble.
The high Sierra is always a dangerous and unforgiving area to fly, he said. There's little room for error, he reasoned, for pilots who like to fly low and slow, "yanking and banking" through the region's spectacular granite peaks and canyons.
Joe Sanford, the undersheriff of Lyon County, Nev., had more ideas.
"There are so many things that could have gone wrong," he said. "Was it a medical problem? Did the aircraft fail? He had flown that aircraft before but not a whole lot. Did he know the area? The wind shears, the down drafts? Did he just get into a compromised position where he couldn't get out?"
Massive search efforts
Sanford had obsessed about Fossett since he disappeared. So had many others. The hunt for the Chicago multimillionaire adventurer who set more than 100 world records in hot-air balloons, gliders, jets and boats had become an almost mythic quest.
Searching for Fossett cost millions of dollars, occupied crews of dozens for weeks at a time and spanned more than 24,000 square miles. A Nevada state audit called the effort to find Fossett "the largest search-and-rescue effort ever conducted for a person within the U.S."
The first week, the small air force of planes and helicopters scouring the Sierra spotted eight uncharted crash sites, some decades old, suggesting it might also take years to find Fossett's plane. Sanford fretted publicly that it might never be found.
But crews never stopped looking. Just weeks before Fossett's plane was found, 28 searchers spent three weeks trekking through brutal terrain in a Nevada mountain range.
The Fossett wreckage was found in the Inyo National Forest, about 65 miles from the Flying M Ranch and 7 miles from the resort town of Mammoth Lakes. It took a hiker on a day trip to stumble upon the first clues that would lead to the wreckage, just before another snow season would have buried them until spring.
Preston Morrow had hiked from Mammoth Lakes to Devils Postpile National Monument, a grueling 3 1/2-hour trek, when he decided to step off the trail to hunt for an abandoned mine. Scrambling down loose rocks on a steep mountainside, he saw documents encased in plastic and 10 loose $100 bills.
The name on the cards — James Stephen Fossett — meant nothing to him. But the next day, Morrow showed his find to co-workers at a Mammoth Lakes sporting good store and learned what he had found.