/ Source: The Associated Press
In October 2006, a longtime loyalist of Sen. Ted Stevens called him up with a big problem: The FBI, he said, was breathing down his neck about a makeover of the senator's mountain cabin.
Stevens responded by cautioning the friend, Bill Allen, that they "ought to lay really low right now" and "stick this out together."
Unbeknownst to the veteran Alaskan lawmaker, Allen had already agreed to work with investigators and secretly tape their phone calls — evidence made public for the first time Monday at Steven's corruption trial.
Stevens, 84, is charged with lying on financial disclosure forms to conceal more than $250,000 in cabin renovations and other gifts from Allen and his oil pipeline firm, VECO Corp.
On tape, the senator tells his old drinking and fishing buddy he's worried about the appearance of wrongdoing and even warns that they might be under surveillance.
"I think they're probably listening to this conversation right now," he says.
"We might have to pay a fine and spend a little time in jail," he continues. "I hope it doesn't come to that."
But Stevens also repeatedly asserts his innocence.
"I don't think we've done anything wrong," the senator says in one conversation. "I'm not afraid of them at all."
While the senator exudes defiance on tape, Allen sounds downtrodden.
"I'm sorry this whole thing is happening," he tells Stevens at one point.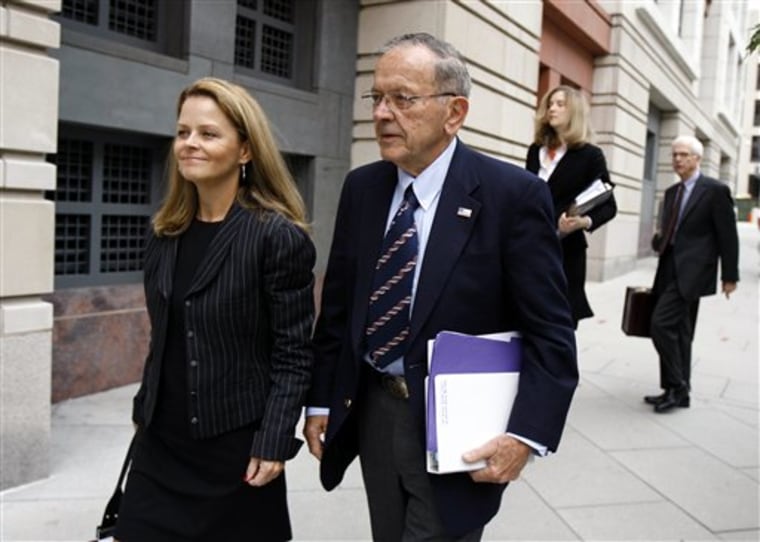 The audiotapes were played for the jury during testimony by Allen, who pleaded guilty to bribing state lawmakers and agreed to testify against Stevens in exchange for immunity for his family and a possible break at sentencing.
There are no bribery charges against Stevens — a point that defense attorney Brendan Sullivan sought to drive home on cross-examination of the government's star witness.
"You never sought to bribe Sen. Stevens, did you sir?" he asked.
"No," Allen replied.
Allen testified last week he ignored requests by Stevens to send him bills for work by VECO employees who helped remodel the home, claiming a mutual friend told him the senator made the requests only to cover his tracks. Stevens says he asked Allen to oversee the project while he was in Washington, but insists he sought to pay all the bills and had no idea his friend was absorbing most costs himself.
Allen admitted Monday he added some features like gaudy Christmas lights and a stainless steel grill without checking with Stevens first.
"It was too much," Allen said of the lights. "I shouldn't have done that."
The witness testified that he didn't always pay close attention to the project. But he told jurors it was ultimately his responsibility.
"What's the old saying? The buck stops here?" he said.
Earlier Monday, U.S. District Judge Emmet G. Sullivan ordered the government to file a formal response at the end of the day to repeated defense claims that prosecutors intentionally withheld evidence favorable to their client. In an initial filing late Sunday, prosecutors wrote, "Contrary to all of the theatrics and hyperbole from the defense, no one has attempted to hide evidence or hold back any discoverable item."
Stevens, a patriarch of Alaska politics for generations, hopes to clear his name with an acquittal before voters go to the polls next month to vote on whether to return him to a seat he's held for 40 years.