/ Source: The Associated Press
For farmer Malcolm Holm, water now is just like a new shovel or tractor — he has to buy it.
The amount of water he is allowed to take from nearby Murrumbidgee River has dwindled to nothing for the past three years because of Australia's crippling drought. And so, except for rain he can catch and store himself, he needs to buy water for his 1,000 acres at Finley in New South Wales state, where he grows crops to feed his 600 dairy cows.
"It's no different to buying a ton of grain or a ton of fertilizer," Holm said. "It's just another commodity."
In the world's driest inhabited continent, there is simply not enough water to go around, and households, cities, industries and agriculture all demand their share from stressed reservoirs and rivers. So Australia's irrigation planting sector relies on a unique trading system to make the most of every drop.
What began as a localized trade within states is now an active national market that shares water along hundreds of miles of river systems used by thousands of farmers. And with the drought, the trading of water is picking up pace.
"Trading activity is certainly strengthening over previous years," said Mark Siebentritt, operations manager of Waterfind, the nation's largest water broker. Water is traded mostly through independent brokers who bring sellers and buyers together and who know the myriad rules in the heavily regulated market. "During drought we're seeing a lot of water moving around."
Waterfind says more than 28 billion gallons of water are traded each year along the Murray-Darling river system. Waterfind turned over $893 million worth of water in 2006-07, up 20 percent over the previous year as prices rose and some license holders realized their allocation was worth more to them as cash.
Water entitlements bought, sold
In Australia, water is managed by state governments through entitlements awarded to urban and rural areas and industries. Sixty percent goes to agriculture.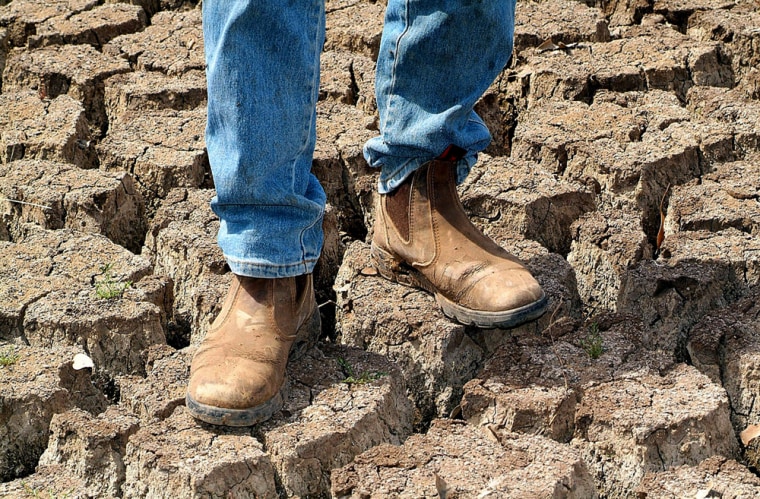 An entitlement, or license, gives the owner an ongoing right to a share of water from a river system. The amount can fluctuate at any time depending on how much water is in the country's rivers and storage areas.
But years of drought have left rivers and storage basins at low levels and water evaporating away in the heat. Allocations the last few years have been low to nonexistent — Holm and others in the Riverina got nothing this year or the two before.
In the water market, license holders buy or sell their allocations to others along the river system. Most of the trading is done in the Murray-Darling Basin, Australia's Mississippi-like river system that stretches for thousands of miles (kilometers) across four states, from the high Australian Alps in the east to its sandy delta in the south. Along the way, vast amounts of water — more than half of all the water used in Australia, according to the government's National Water Commission — are diverted or siphoned off to support everything from hydropower to oranges, wine grapes to cotton, wheat to sheep.
Other places have water trading markets — Chile, South Africa, California — but Australia's is the largest and the most heavily regulated.
The National Water Commission says the trade "allows scarce water resources to be transferred to their most productive uses," and makes up for years of overallocations by state officials who took no account of the downstream effects.
The system has existed for 20 years and in the past, the trade has helped planters struggle through one or two difficult seasons. But nearly a decade of drought has pushed many planters into a financial hole from low harvests and high costs of seed, fertilizer and, now, water.
As in any market, supply and demand drive the water price. A megaliter of water — about 264,000 gallons or enough to fill an Olympic-sized swimming pool — costs about $400. When shortages were at their worst last year, the price was nearly $960 per megaliter.
Holm said his property needs about 2,000 megaliters a year. Last year, Holm bought 500 megaliters to keep the farm going. When prices hit a high last October, he calculated it was cheaper to buy feed to grow it and sold off some of his allocation at a profit.
"In essence, what the water trade does is make irrigators really focus on the economic value of their water and using it more efficiently," Holm said. "If you can't produce a good crop for the cost of the water, you're better off selling it to someone who can. If the figures add up, you buy it."
Holm is anxious. The price right now is too high for him and he is watching his pastures die while he waits for a turn in the market or a drop of rain.
The federal government says the Murray-Darling system is in crisis because of overuse and has launched a sweeping 10-year, $10.5 billion plan addresses rural and urban water shortages. It spends nearly $2.4 billion a year buying water entitlements to pump back into the rivers.
Earlier this month, the federal and New South Wales governments bought Toorale Station, a 225,000-acre water-sucking cotton farm in the state's dry north, for $19 million and announced it would be turned it into a national park. By doing so, Toorale's water annual entitlement of roughly 20 gigaliters — or 1,000 Olympic pools — would be returned to the Darling River.
Critics say even that is a drop in the ocean.