/ Source: Forbes Traveler.com
"A once-in-a-lifetime experience that sets a new standard for over-the-top luxurious hotels. This is a masterpiece. If you want to see what living like a billionaire is like—just once in your life—stay here."
"In 35 years of hotel design and visiting, this is the best hotel experience I have ever had. Such a wonderful location and such wonderful service—it was a magical experience. I was heartbroken to leave."
"Truly one of the most beautiful spots—and hotels—in the world. What more can I say?"
These are just three of the many comments we collected from the Forbes Traveler 400 board of travel experts who determined the 2008/2009 list of the world's top luxury hotels. You're just dying to know which hotel they're talking about, right? Well ... to paraphrase the Bard, there's the rub.
When we first published this groundbreaking list two years ago, we broke rank from the other travel magazines and Web sites that place great emphasis on mathematically ranking the best hotels in the world. Statistically speaking, the only way to make such a claim is to ask several thousand people for their opinions. The world's best hotels, then, are often ranked by a sea of anonymous Web surfers.
Turning to the crowd is good for certain tasks. When you can't remember the capital of Belarus, ask everyone on the bus. Someone will probably remember it's Minsk (a fifth-grader, no doubt). But when picking the right hotel means the difference between an unforgettable trip and an unforgiving spouse, shouldn't you ask people who stay in luxury hotels once or twice a week—not once a year?
So, from a wide variety of industries, we assembled a board of 79 luxury-travel experts. Arianna Huffington is a renowned author, publisher and one-time California gubernatorial candidate; her fellow board member, Todd English, is a celebrity chef and restaurateur. Adam Tihany is a noted interior designer and architect who's responsible for several high-profile hotels around the world; Tony Wheeler co-founded Lonely Planet, publisher of the eponymous guidebooks.
We were fortunate to have Erik Blachford, current CEO of TerraPass and former CEO of Expedia, opine alongside Peter Greenberg, noted travel writer and "The Today Show's" travel editor. And if anyone knows about luxury hotels, it's Matthew Upchurch, CEO of Virtuoso, a consortium of upscale travel agents, and Aaron Simpson, group CEO of Quintessentially, a global concierge service for discerning travelers.
We asked our board members to rate nearly 800 highly regarded four- and five-star hotels in seven categories (click here for more about the methodology). Because new hotels need time to find their rhythm, we omitted properties less than two years old; and, we didn't include hotels that are undergoing major renovations. Our experts were promised anonymity so they could speak freely, and they had nothing to gain from any of the hotels they praised (or criticized). We then took the top-rated 400 and commissioned reviews from professional travel writers who have first-hand experience with the hotels (and did not receive complimentary stays during their visits).
The result is the Forbes Traveler 400, a rundown of the world's best hotels, spread across six continents and presented geographically. Because these are world-class hotels that would rank mathematically close to one another, we do not rank them on this list. Take Italy, for example. The boot was second only to the United States with the most hotels on the list, and the winners include the 16th-century Villa D'Este on Lake Como, which according to our board "sails on in its own wonderful world" thanks to the "sophisticated, fine dining" and "beautiful gardens." On Capri, the terrace at the Grand Hotel Quisisana is "the place to watch the world go by for early evening drinks," while in Rome the St. Regis Grand Hotel boasts the "best concierge in Italy," Three exquisite hotels that offer three different experiences.
For your next visit to New York City, do you want Old World elegance? Then stay at the Ritz-Carlton Central Park, described by one board member as "the best 'European boutique' hotel in New York City, with the best barman in the city." Or would you prefer a modern, trendy vibe? Consider the Mandarin Oriental, New York, a "stunning property" with "wonderful" rooms and a "fantastic spa." And we've reviewed all of them in-depth, so you know what to expect.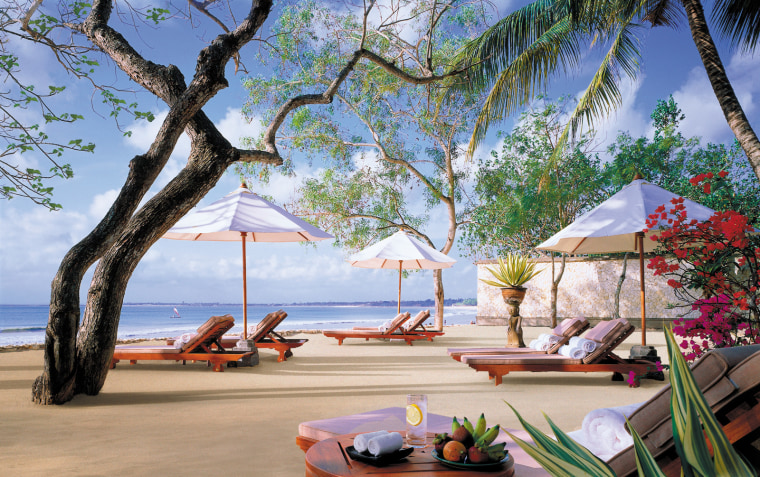 And therein lies ... the value. The Forbes Traveler 400 is more than a horse race between the world's best hotels. It's a valuable resource for trip-planning. Our reviews are comprehensive, up-to-date and as bias-free as we can make them. For every hotel, we reviewed the rooms, service and overall experience, and also presented the particular highlights that define a property. Having a personal butler, for example, isn't necessary for some travelers; they want to know about the Michelin-starred restaurant or world-class spa.
Four hundred hotels. Four hundred reviews. Four hundred vivid snapshots of the world's finest destinations. Welcome to the 2008/2009 edition of the Forbes Traveler 400.
And for the record, the comments up top describe Burj Al Arab in Dubai, Bushmans Kloof Wilderness Reserve & Retreat in South Africa and Hotel du Cap Eden-Roc on France's Cote d'Azur—presented in alphabetical order, of course.