The first thing I noticed about the T-Mobile G1 Android phone right out of the box is that it pretty much looks like all the other black-slab, touchscreen phones that are trying to emulate Apple's iPhone.
But it's what's under that black slab that really counts. And Google, the force behind the Android software that powers the phone, has done a good job of making it one of the easier-to-maneuver touchscreen smartphones I've seen.
It's not as fluid and simple to use as the iPhone. But it's going to be a popular alternative for those who don't like Apple's device and/or who don't want AT&T as their wireless carrier. (The company is the only one in the United States that sells the iPhone.)
The T-Mobile G1 goes on sale Oct. 22. At $179 (with a two-year contract), it's $20 less than the lowest-priced iPhone. That cost is in the ballpark for smartphones, which represent a growing share of the cell phone market.
There are two basic data plans. The first is $35 for unlimited use, including text messages; the other is $25 a month, and includes 400 text messages.
T-Mobile's least expensive voice plan is $29.99 for 300 minutes, so if you choose the budget route, you're looking at about $55 a month for the phone. AT&T users pay a minimum of $69.99 a month, including 450 voice minutes, for their iPhones, and text messages are extra.
T-Mobile won't be the only wireless carrier to have phones running Android, but right now it's the first.
Google's everywhere
The G1 is a good option for a non-business user, who doesn't need the complexity and intensity of either the Windows Mobile operating system or Research In Motion's BlackBerry. (Msnbc.com is a joint venture of Microsoft and NBC Universal.)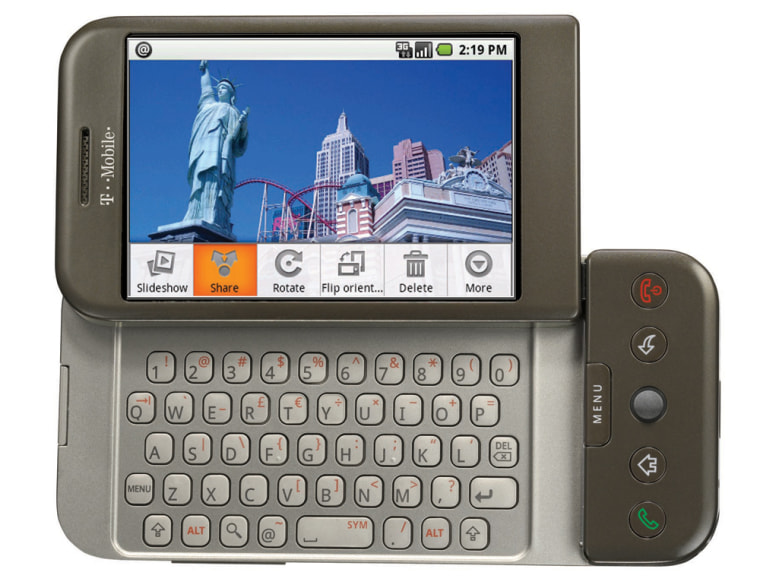 There's no mistaking Google's presence on the phone, which includes Google Search, Google Maps, Gmail e-mail, Google Calendar, and YouTube (which Google owns).
Google Talk for instant messaging is there, too, but so are AIM, Windows Live Messenger and Yahoo! Messenger. Instant messaging is responsive and easy on the phone,
While the G1 has a handy "Gmail" icon on its home screen, ready to go — and easy to set up — it doesn't include Microsoft Exchange Active Sync software, which synchronizes with a PC for e-mail, calendar and contact info. That's something Apple added to the iPhone in recent months.
T-Mobile senior product manager Randy Meyerson says Active Sync is likely to be added down the road, offered by a third-party software developer in the Android Market. The market is Google's rendition of the iPhone's App Store, which lets users download software programs, from games to location-based services, directly to their phones. (More on that later.)
"Based on the amount of interest in Microsoft Exchange Active Sync, we have some expectation that someone will be meeting that need in the not-too-distant future," Meyerson said.
Web browsing is pleasant
In the meantime, he said, there's Outlook Web access. And Web access in general on the G1 is pleasant and relatively fast, even on a 2G, or second-generation, wireless network.
T-Mobile is still building its 3G, or third-generation, network, which can more quickly and easily handle larger applications like Web surfing and video. The company says it will have 3G in 28 metropolitan areas by the end of the year. (To learn more about the phone and which areas have 3G coverage, check T-Mobile's G1 Web site.)

Even on a 2G network, the Web-browsing experience — as one would expect with Google behind the effort — is quite attractive on the G1's 3.2-inch screen (the iPhone has a 3.5-inch display). Web pages are rendered realistically and quickly.
It's not as good a quality as on the iPhone, but it's much better than some other fine smartphones, including the Samsung Instinct and the new HTC Touch Diamond, a smaller slab phone with a touchscreen.
Includes slide-out keyboard, trackball
HTC is also the manufacturer of the G1, which, at 5.6 ounces, is heavier than either the iPhone (4.7 ounces) or Touch Diamond (3.8 ounces). The G1 — 4.6 inches high, 2.1 inches wide and .62 of an inch thick — is a little kludgier than either of those phones. But it also includes a slide-out QWERTY keyboard, as well as a trackball, for those who don't like a touchscreen-only device.
And while having three ways of accessing the phone offers more options, it also means more fiddling around, remembering which tool to use and when, going back and forth between the screen only and screen and keyboard. (I know, I know — complain when there aren't choices, then complain when there are.)
It's probably something that gets easier with practice, but does not have the uniform ease of the iPhone's finger swipe/touch approach, with all roads leading back to one button on the phone.
While the G1's QWERTY keyboard is good, the keys are small, even for little fingers, and in some ways, it elicits the same frustrations as using the iPhone's on-screen keyboard.
Less chance of slab-and-slide
One of the G1's physical attributes I like the best is its slight curve at the bottom. Slab-phone users know the sinking feeling of having the phone wedged at their ear, chin and shoulder, only to have it slip, regularly testing one's reflexes for grabbing it before it drops.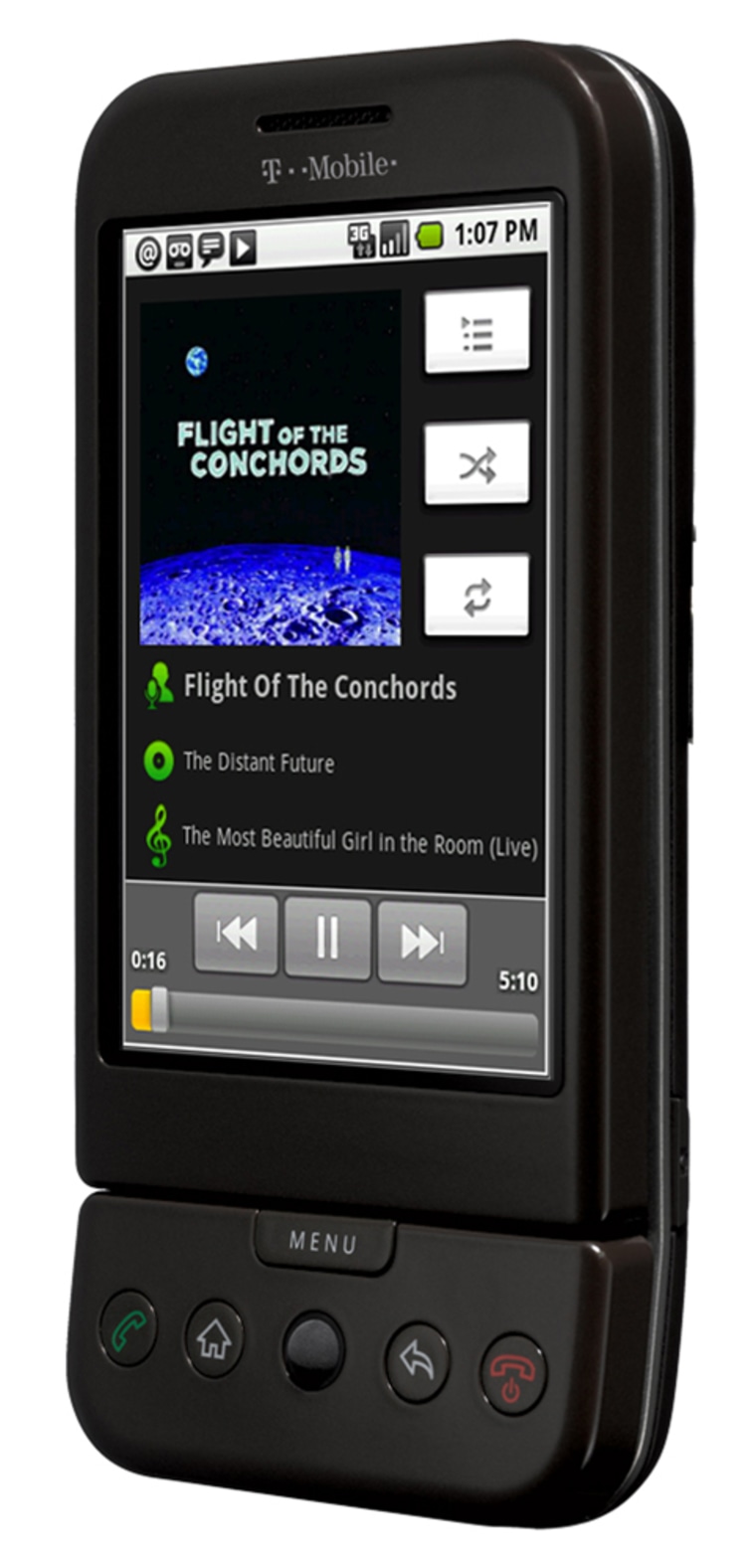 The G1's "flip curve," as I've dubbed it, decreases the chances of that happening.
"We like it because it telegraphs to the world very clearly this is a phone, and it protects the screen and trackball from unintentional damage when you turn it over and rest it on a surface," said Meyerson.
Among the features the G1 has that the iPhone does not is being able to copy-and-paste text, as well as including a voice-dialing program. (There are iPhone add-on programs for voice dialing, available through the App Store.)
The G1 has a 3.2-megapixel camera; the iPhone a 2-megapixel camera. Neither phone can capture video, but both include YouTube clips for viewing.
Watching those clips hasn't been a great experience for me on the iPhone, and I found it to be even less so on the G1, with clips coming across more slowly and choppier than on the iPhone using the 2G network.
The Android factor
What does set the G1 apart from all other phones is Android, its open-source operating system. That means that anyone who wants to can write programs for the phone, and those programs will be made available.
That's in contrast to Apple's stance with the iPhone. The company must approve software programs written by developers before those programs can be a part of the App Store.
Depending on your viewpoint, a lack of restrictions could mean a flourish of innovation and creativity, or result in programs and software conflicts that cause a phone to go bonkers or crash. Even with Apple's oversight, some programs among the thousands approved so far for the iPhone have led to problems or crashes.
There won't be thousands of programs available when the G1 goes on sale. There may be only 50 or so. But many, many more are expected in the months ahead.
For the immediate future, programs will be free to download. Those in Apple's App Store are a combination of free and paid.
If you're a die-hard BlackBerry, iPhone or Treo fan, the G1 — and Android — may not move you. But if you're looking for a phone that is fun, spunky and relatively easy to use, it's definitely worth considering.