/ Source: The Associated Press
Mexican officials are trying to persuade Americans to visit Ciudad Juarez, touting the city in a new billboard campaign as a "land of encounters." But on the northern side of the border, that sounds like a cruel joke.
More than 1,100 people have been killed this year in Juarez, population 1.5 million, in a drug-related bloodbath so staggering that the city has been declared off-limits to U.S. soldiers looking to go bar-hopping; the public hospital in El Paso, Texas, is seeing a spillover of the wounded; and residents on the American side are afraid to cross over to visit family, shop or conduct business.
"We all like to make money, but the money I was making isn't worth it," said Fernando Apodaca, who spent at least one day a week for the past 18 years working in Juarez as an auto industry consultant. After his Cadillac Escalade sport utility vehicle was seized in a carjacking last month, Apodaca vowed he wouldn't go over the border again.
"I had a gun to my face. There's no law over there," he said.
Juarez, situated just across the Rio Grande from El Paso, has had more murders this year than New York and Chicago together had in all of 2007 — and those two cities have seven times the population of Juarez. Last weekend alone, Juarez had 37 killings.
Violence coincides with drug offensive
Juarez has always been a rough town, but one where many Americans felt safe enough to play, shop and work. Violence began to mount early this year after Mexico's president launched a national offensive against drug lords.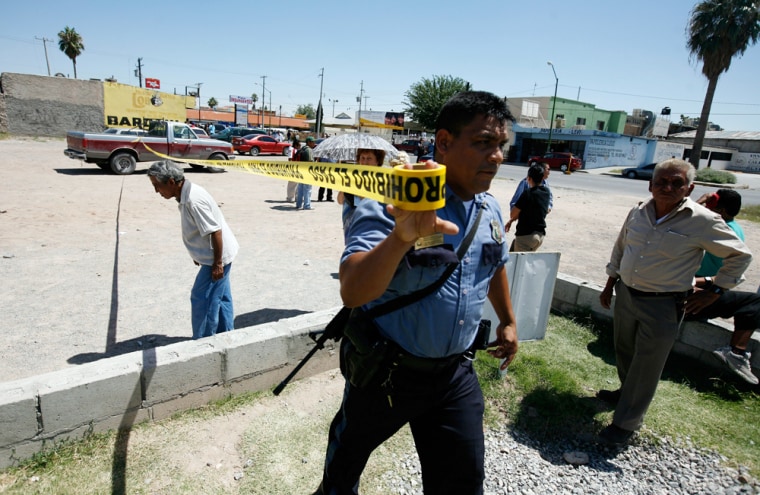 Initially, the bloodshed involved drug cartels fighting each other. Then, military troops, law enforcement officers and government officials became major targets.
Assassinations have become more brazen and more and more innocents have been killed. Masked gunmen stormed a drug rehab center in August and killed eight people. Six men were gunned down last weekend at a family party. A 12-year-old girl was shot and killed in June while riding with two men targeted by hitmen. The second-in-command of the Juarez police department was killed in a hail of more than 50 bullets near his home in May.
Armed robberies, carjackings and kidnappings for ransom are also rampant.
"The government isn't in control, and that makes for a very dangerous situation," Tony Payan, an expert on border crime at the University of Texas-El Paso. "Anyone at any time can commit a crime and anyone at any time can become a victim."
Shooting victims seen at El Paso hospital
While the bloodshed hasn't yet spilled over to the American side, the violence is costing El Paso, a city of about 600,000 where only 17 homicides were reported in 2007.
Dozens of shooting victims, several of them U.S. citizens or legal residents, have been treated at Thomason General Hospital — the only facility for 250 miles that is equipped to handle such patients — at a cost to local taxpayers of more than $1 million.
The hospital has had several lockdowns because of fears that hit men would realize a victim was still alive and cross the border to finish the job — something that has happened in hospitals on the Mexican side.
Soldiers at the Army's Fort Bliss are no longer allowed to travel to Juarez, whose nightclubs were once a popular place to party.
Mexican Consul General Roberto Rodriguez Hernandez said the number of visitors crossing into Juarez from El Paso this year is down about 20 percent. "Business has been off because we lost the students on weekends, and the soldiers," Rodriguez said.
Businesses in Juarez are shutting down or cutting hours because of both the violence and the drop in visitors.
Travel advisory issued
The U.S. State Department issued a travel advisory on Tuesday, warning Americans of daylight shootings at shopping centers in Juarez and suggesting applicants for U.S. visas at the consulate in Juarez not pay in cash to avoid getting mugged while in line.
Rosa Flores, 30, has lived on both sides of the border and used to travel to Juarez twice a month to visit family with her 9-year-old son and 11-year-old daughter. With killings on the rise this summer, she insisted the children not play video games or listen to music in the car so they could be alert for gunfire.
Flores said her aunts gave her practical advice: If she hears shooting or sees gunmen, she should put her car in park, duck and wait for the gunfire to stop.
"You don't know when they are going to just stop and shoot," Flores said. "You just don't know."
She has not been back with her children since two deadly shootings took place within 10 blocks of a relative's house while the family was visiting.
"It's sad that I can't take my kids to see where I grew up," Flores said.