Mention Alaska and people's eyes light up. America's last frontier offers some of the most spectacular natural scenery anywhere and there's no better way to experience Alaska's Inside Passage than from the deck of a cruise ship.
Onboard Holland America Line's Oosterdam the seven-day "Alaskan Explorer" itinerary from Seattle offers the best of the Inside Passage including the amazing Hubbard Glacier. It's a dream destination for many families, but can it pass muster with the most finicky traveler of all — the teenager? The answer is a resounding yes.
Family friendly Oosterdam
Traditionally a line catering to older clientele, Holland America has made great strides in recent years to appeal to families and cruisers of all ages. Indeed, the word is out. I observed hundreds of families sailing together during my late July trip. In fact most families had teens in tow, which was a great relief for my two teenage daughters.
With Oosterdam, Holland America attempts the difficult trick of melding traditional elegance with a modern touch, and mostly succeeds. Throughout the ship extensive use of crystal, marble and inlaid woods adds traditional elegance. Conversely the ship's layout offers a more modern ambiance with numerous public areas that feel like private clubs or lounges; it's easy to forget you're aboard an 82,000-ton vessel because it never feels crowded.
Launched in 2003, Oosterdam is the second in the series of Vista-class ships and is scheduled for a huge makeover next year. The ship will enter an extensive dry dock from April 2-23, 2009, which will include the latest Vista Class upgrades. The transformation will include 34 new guest staterooms, the addition of an Explorations Café, a larger Pinnacle Grill restaurant, the addition of a new Pinnacle Bar and increased seating in the Lido Restaurant.
Currently, Oosterdam's 1848 passengers will find comfortably appointed staterooms that run the gamut from 170 square feet to two Penthouse "Verandah" Suites measuring 1,312 square feet. Eighty-five percent of the ship's staterooms have ocean views and 67 percent feature private balconies. All staterooms provide the line's "Signature of Excellence" premium amenities of plush Euro-top Mariner's Dream beds, deluxe bathrobes, plush Egyptian cotton towels, flat panel TVs, DVD players, make-up mirrors with halo lighting, massage shower heads and hair dryers.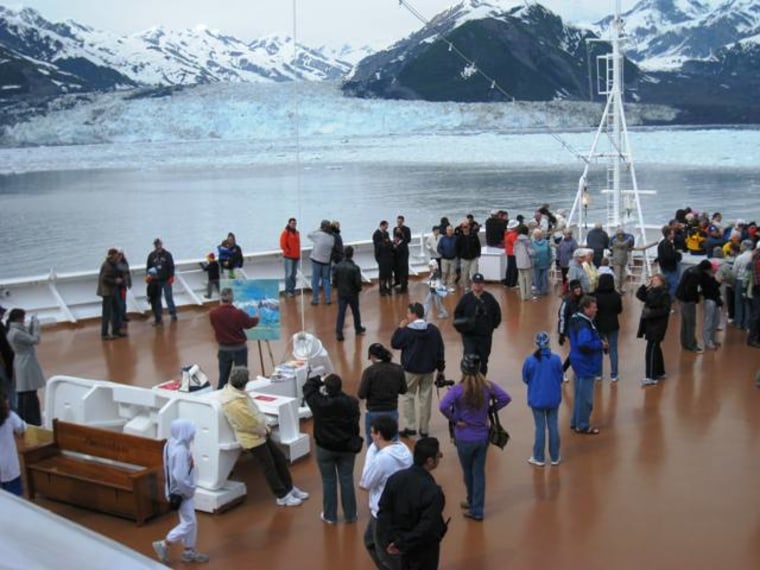 The massive two-level Vista Dining Room is the main dining room onboard and offers an enjoyable atmosphere with attentive service. When traveling with teens it's often difficult to get everyone ready in time for assigned dining times. Thankfully, Holland America recently introduced 'As You Wish' dining in the main dining room. This innovative program allows guests to choose from the best of both worlds; either traditional pre-set seating and dining times, or a completely flexible dining schedule.
Casual dining options include the Terrace Grill near the pool which offers hot dogs and hamburgers and the Lido Restaurant with multiple serving stations and attractive seating areas for breakfast, lunch and dinner. There's also a 24-hour Italian eatery, a great option for ravenous teens craving a late night snack.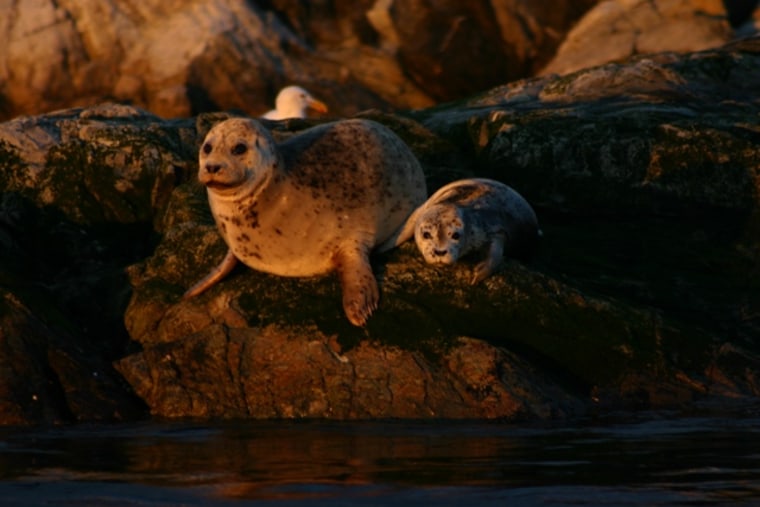 Parents wanting to escape to a more intimate dining experience can dine at the Pinnacle Grill at the Odyssey Restaurant, with its bright white linens and striking Bvlgari place settings featuring fine Pacific Northwest specialties and wines — dinner is $30 per person, lunch is $15 per person.
Family-friendly shipboard entertainment is highlighted by a Las Vegas-style production in the 867-seat Vista Show Lounge. On selected nights there are alternating shows that include a stand-up comedian and magician — a big hit with kids of all ages. Rounding out the entertainment are a movie theater, shops, arcade, piano bar, disco, casino and sports bar.
Another popular recreation venue is the Culinary Arts Center with its demonstration kitchen. Complete with flat panel TVs around the room, it shares space with the cushy Queen's Lounge and typically two free cooking demos are hosted per week. Another innovative activity spicing up standards like ballroom dance lessons, trivia games, and wine tastings, include a self-guided iPod tour of the ship's art collection. During Alaska sailings Holland America adds little touches like an onboard naturalist, an in-residence artist. The line even serves thick Dutch split pea soup to passengers watching the Hubbard Glacier calving and sending showers of icebergs into the sea.
The Greenhouse Spa and Salon offers an abundant menu of spa treatments along with an appealing hydrotherapy pool and lounge area; it's a perfect place to de-stress from a day of hard of Alaskan sightseeing with the family. Those wishing to keep fit will appreciate the well-equipped gym and exercise classes. Athletic teens are welcome to use the equipment; however, a parent must accompany them.
Heading to the outside decks, the mid-ship pool area on the Lido deck offers a retractable roof, a great option when sailing Alaska's cool climate. For guests wanting to get in touch with their inner polar bear there is an additional pool at the stern, where the pool and deck chairs are privy to the open sea and the ship's wake.
Club HAL offers bright play areas for kids ages 3 to 12 with dedicated youth coordinators that run full days of events for each age group. Teens like to be with their own kind so Holland America created The Loft area. Akin to an artist's loft in New York City with a comfy living-room setting it comes equipped with TV, video games, dance floor, juice bar, jukebox and karaoke, along with computers that have Internet access. Typical activities throughout a cruise may include a special dinner in the main dining room, a free night in the video arcade, attending a show, movie or dancing in the disco.
Excursions without the bore
Teens have a low threshold for boredom so it's important to find excursions that are high energy. When planning the Alaska excursions I let my daughters pick the tours – it was the smartest thing I could have done.
In Sitka we kayaked along the shore while bald eagles rode the winds above and sea lions popped their heads quizzically out of the water. In Victoria we took an evening Orca whale watch tour where we watched several pods of whales feed on salmon. As great as those tours were, two flightseeing tours ended up being the most memorable.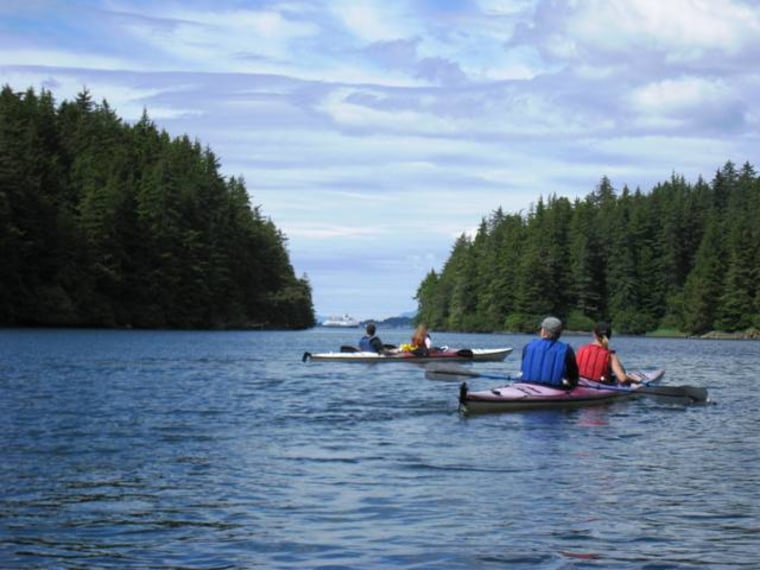 In Juneau the kids chose the Taku Lodge floatplane tour. The historic lodge originated as a hunting and fishing camp in 1923. The three-hour tour included 50 minutes of flying time that included amazing views of five glaciers and a salmon bake at the lodge. During our lodge tour we had the added bonus of a lengthy visit by three black bears who came to lick the grill after the salmon bake.
Another highlight was the flight tour of Misty Fjords National Monument from Ketchikan. This 2.3 million-acre area is home to some of Alaska's most dramatic scenery with sheer granite cliffs, waterfalls, river valleys and lakes. The 90-minute flight buzzed around the mountains and fjords and landed in a gorgeous lake where we stepped out onto the pontoons to take in the sights and smells of this gorgeous place.
Months after the cruise my teens are still talking about their Alaska experience. Getting close to the whales, bald eagles, bears, and majestic glaciers was an amazing family experience. Add to that the convenience of doing it all from a cruise ship, which afforded great amenities along with activities that forged new friendships. The cruise may be over but the memories will linger on.
Sound off! Do you have a comment, an idea, a complaint or a problem for Anita to solve? and you might find yourself in her next column. And check out her blog, .