/ Source: Forbes Traveler.com
A truly American institution, the neighborhood bar is a cherished part of the United States' national identity, the Yankee answer to the British pub.
The local joint with quality brews, a dart board and a regular clientele is downright ... well, beloved. Think of "Cheers," or Moe's on "The Simpsons," or even Archie Bunker's joint in the latter seasons of "All in the Family." But even without the fiction, there's historic fact to back up the argument: The Continental Congress first assembled its delegates in 1774 at Philadelphia's City Tavern.
The best neighborhood bars have storied pasts that give them their distinction. Boston's Bell-In-Hand Tavern claims to be America's oldest continually operating tavern — it opened in 1795 and only shut down for Prohibition (though the Green Dragon Tavern, tucked away on tiny Marshall Street, was the meeting place of the Sons of Liberty and has even more history behind it). Meanwhile, the bar at Hollywood's Musso & Frank Grill once functioned as a Hollywood local with Orson Welles, F. Scott Fitzgerald and Ernest Hemingway as regulars. In more contemporary times, the staff of Tony's Baltimore Grill in Atlantic City quietly turned a corner bar just off the Strip into the home of some of America's best pizzas.
What exactly is the appeal of the classic neighborhood bar? According to Philadelphia Daily News beer columnist Don "Joe Sixpack" Russell, it's "one of the hallmarks of a livable city, where a good, stiff drink provides the necessary lubricant for friendly, open conversation. With all the distractions in life — work, computers, TV, personal challenges, etc. — it's refreshing to have a place where you can just talk with friends and strangers, or just get lost in your own thoughts. A great bar is real, an honest reflection of a city itself — both the good and the bad."
Although a feeling of community and some non-drinking entertainment (television, billiards, games) are essential for a classic neighborhood bar to thrive in today's world, there can be few other constants. In Philadelphia, McGlinchey's is a crowded downtown watering hole with a minimalist menu of hot dogs and chili where professors from the nearby University of Pennsylvania sit next to construction workers and bike messengers at a circular bar. In New York City, PJ Clarke's is one of the city's most famous watering holes — and still functions as a neighborhood bar while also drawing in tourists eager to see where Jackie Onassis chowed down on hamburgers with John-John and Caroline.
But the classic bar is an endangered species. In America's wide suburban expanses, the chain restaurants have taken hold, forcing local punters to down their drinks in identical oversized eating establishments. Meanwhile, urban drink connoisseurs are increasingly patronizing fancier lounges or faux-dive bars where burgers with a beer and a shot aren't on the leather-bound menus. Although there are notable exceptions to this rule, it seems the older watering holes, in this case, are the best.
There is, however, hope. On AMC's popular television show "Mad Men," the employees of the fictional Sterling-Cooper agency make a ritual of booze-fueled lunches at PJ Clarke's. The Pabst Brewing Company, now the largest American-owned brewery with InBev's purchase of Anheuser-Busch, has recently reintroduced their iconic Schlitz brand to bar taps throughout the Midwest. Even the august James Beard Foundation recently nominated Chicago's Tufano's Vernon Park Tap as one of "America's Classics."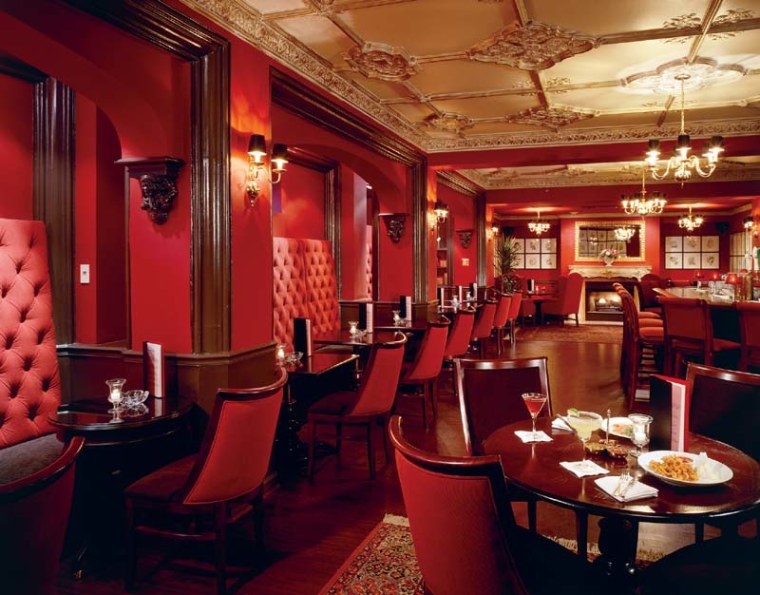 What it all comes down for all of these bars is a certain combination of tradition, location and current patrons. While both PJ Clarke's and Farrell's are located in New York, the two draw vastly different crowds. One serves as a busy after-work stop for the beer- and burger- starved financial elite; the other, as a watering hole for the police officer/firefighter set. The Bell-In-Hand has reinvented itself, appropriately enough for university-filled Boston, as a college bar with live music and karaoke.
In Don Russell's words, "there is no better way to discover and appreciate a city than by bellying up to the bar and hoisting pints with the locals in a neighborhood joint." The following bars and taverns are all great places to do just that.