The South Seas are all about fantasy islands. Think of the mutinous Fletcher Christian falling head over heals for Polynesian femme fatales. Or Gauguin going native on Tahiti. Or Marlon Brando dropping out on his very own tropical atoll. Even reality-show survivors have come to know the charms of gorgeous white-sand strands, palm trees and turquoise lagoons, with plenty of fish in the sea, fruit on the trees — and maybe just a little bit of rum to wash it all down.
That's the dream offered by posh island hideaways like the Bora Bora Lagoon Resort and Le Meridien Bora Bora in French Polynesia, albeit with modern touches like overwater bungalows, wireless internet, al fresco spas and private plunge pools. Oh, what the boys of His Majesty's Bounty could have done with all that.
But the other hotels and resorts on the Forbes Traveler list of the 10 best hotels in Australia, New Zealand and the South Pacific — as determined by the Forbes Traveler 400 board of experts — offer up a much different whimsy. All are far removed from the Bora Bora vibe. When it comes to hotels, this is one of the world's most diverse regions. There are upscale urban abodes and rustic wilderness lodges, über-hip beach pads and bygone country inns that look as if they were transported lock, stock and every gin-and-tonic from jolly old England.
On Australia's Gold Coast, Palazzo Versace is Donatella Versace's first venture into the world of sleep. Not surprisingly, the décor is just as glam as her frocks and fashion accessories — like those high-backed lavender chairs in the Le Jardin bar, with their voyeuristic views of whoever happens to be swimming in the pool right outside. The over-the-top marble lobby would do Vegas proud; it's about as far as you could possibly get from Crocodile Dundee's down under.
Contrast that to Lilianfels resort and spa, which verily floats in the Blue Mountains west of Sydney. The country home of Sir Frederick Darley, the white-wigged chief justice of New South Wales, the rambling Victorian manse has been transformed into a classy and comfortable highland escape by the Orient-Express hotel group. With its meticulously preened English gardens, roaring fireplaces and high tea on the verandah, the resort is a throwback to the days when Australia was a far corner of the British Empire, and the Blue Mountains the outer edge of western civilization.
It's yet another quantum leap to the Park Hyatt Sydney and its waterfront location opposite the famed Opera House. The elongated avant-garde architecture and dockside location transform the hotel into a pseudo cruise ship permanently moored in one of the earth's most dramatic locations. Aiding and abetting the maritime illusion is a "top deck" with swimming pool, lounge chairs and array of flags that flutter in the harbor breeze.
New Zealand offers a different kind of escape. With its tartan motifs and blazing hearths, fly fishing and deer hunting, Huka Lodge near Lake Taupo feels more like the Scottish Highlands than anything one would expect to find in the antipodes. And the guest book reads like a who's who of British notoriety — everyone from the Queen and countless lords and ladies, to the members of Pink Floyd and Monty Python.
Blanket Bay resort, near Glenorchy, boasts more of an Alpine vibe, a sleek stone-and timber lodge enveloped by snow-capped peaks in a part of the South Island that served as one of the dramatic backdrops for the "Lord of the Rings" trilogy. Less than 30 miles from Queenstown, the lodge is also perfectly placed for snowboarding, bungee jumping, heli-skiing, jet boating and other adrenaline-pumping sports.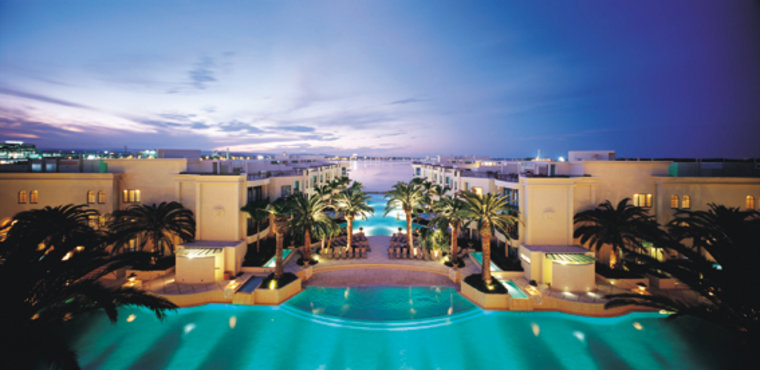 Ironically, the best desert island escape on our list isn't even Polynesian. It's an Aussie outpost called Lizard Island, located at the very northern most tip of the Great Barrier Reef, a place so remote you can only get their by private plane or boat. Although primarily renowned for its scuba and sports fishing, Lizard is also an ideal place for getting away from it all along secluded beaches and jungle trails where yours are likely the only footprints. "Not like anywhere else," said one of the Forbes Traveler 400 experts. "Simple but perfect. I wanted to stay forever."
You could easily say that for all of the hotels and resorts on our South Pacific list.