/ Source: Forbes Traveler.com
Sustained economic growth has its cultural benefits—among them a high volume of international travelers and, consequently, a large number of world-class hotels. At least that's one way to look at this year's list of the world's 10 top hotel cities, as determined by the Forbes Traveler 400 board of experts, who rated nearly 800 of the world's finest hotels on the basis of their rooms, service, decor, cuisine, public areas, recreational options and, of course, location.
All 10 entries on this year's list have ranked among their region's most powerful cities at some point in their history. Not surprisingly, all ten also developed sophisticated, increasingly globalized cultures—and world-class accommodations.
At the apex, we find London, with no fewer than 14 separate entries on the Forbes Traveler 400 list. Not surprisingly, the majority of the British capital's finest hotels are within a 30-minute stroll of Buckingham Palace, and walking distance from many of the cultural and historic highlights of the city. Many were founded while the British Empire was at its peak, so the sense of royal legacy lives on in each one.
Claridge's, founded in 1898, was described by one Forbes Traveler expert as "feeling like the center of Britain," and indeed, it has long been used by royals for private family parties. The Ritz, founded in 1906, has served its world-famous afternoon tea in the Palm Court to royalty from King Edward VII to HM Elizabeth, the Queen Mother, while The Goring, founded in 1910, was characterized by one Forbes Traveler board member as "the best of British tradition." The Goring is just steps away from the Royal Mews, and it has practically served as an adjunct to Buckingham Palace itself; the infant Prince Charles's own Christening Cake was even prepared by The Goring's pastry chefs.
Just slightly further down the list, at fourth place, we find Paris, with seven entries on experts' list. As with London, all seven are located just a short walk from the city's cultural cornerstones and many, like the Ritz Paris (founded in 1898) and the Plaza Athénée (founded in 1911) were constructed during a period of great prosperity—when France trailed only England in global economic might. Fortunately, the hotels have retained their character through the years. The suites in the Ritz were lauded by several Forbes Traveler 400 experts, and the Plaza Athénée's makes other Paris five-star hotels look "simply stuffy by comparison," according to one respondent.
If economic power is a predictor of luxury lodging, it's only logical that the second- and third-place cities on the Forbes Traveler 400 list are America's two great economic capitals: New York, with 12 of the world's finest luxury hotels, and Los Angeles, with eight. In addition, San Francisco tied for seventh place with five properties, giving just three cities in the U.S. a total of 25 of the world's greatest hotels. Not surprisingly, these entries are often more than a century younger than their British counterparts. Shutters on the Beach, near Los Angeles, opened in 1993, while New York's Trump International Hotel opened in 1997 and San Francisco's St. Regis Hotel is not yet three-years-old.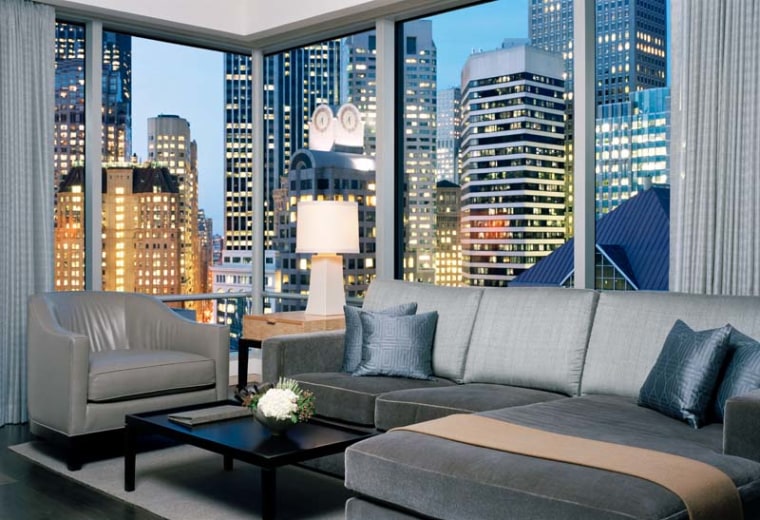 Though America may boast a large number of luxury hotels, there's no ignoring the aspect of overseas ownership, in particular from the rapidly growing Asian economies. Raffles L'Ermitage in Los Angeles, for example, is owned by the namesake Singapore organization; San Francisco's Campton Place is owned by the Taj group of India; and Hong Kong's Peninsula and Mandarin Oriental hotels each show up in two American cities. (Not surprisingly, Hong Kong itself tied with San Francisco on the list.)
Bangkok is famous for its top-notch luxury hotels, thanks to Thailand's early and aggressive development of modern business and tourism infrastructure. With the exception of the independently owned Sukhothai, its top hotels are owned by larger hotel groups such as the Four Seasons, the Peninsula and the Shangri-La. In Dubai, on the other hand, nearly all of the best properties are homegrown, including the world-famous sail-shaped Burj Al-Arab, the wave-shaped Jumeirah Beach Hotel and the neighborhood-sized Madinat Jumeirah.
Rome and Venice, whose historic empires created the magnificent sites now regularly brimming with tourists, round out the list, with five entries each. But given the clear relationship between economic power and luxury accommodation—and given the ever-increasing ambition of Dubai's planned construction—it might be prudent to expect new properties from hard-charging Dubai to begin eclipsing older properties elsewhere, just as Dubai itself is starting to claim tourism dollars from the world's more classic destinations.