How favorable is the environment for Democrats in the final days of the 2008 campaign? One indicator: They have a chance to win a Senate seat in Mississippi, where no Democrat has won a seat since 1982.
The Democratic Senatorial Campaign Committee has spent $7 million here, according to Sen. Roger Wicker, the Republican candidate whom the DSCC is trying to beat.
DSCC spokeswoman Hannah August said Wednesday that the committee has spent only $5 million so far on defeating Wicker.
The National Republican Senatorial Committee has spent nearly $3 million on television ads in the Mississippi race.
GOP allies, including the U.S. Chamber of Commerce, are also buying lots of local ad time to criticize Democratic challenger Ronnie Musgrove, the state's former governor, who is seeking to unseat Wicker.
Republican Gov. Haley Barbour appointed Wicker to replace Trent Lott, who took early retirement last year to become a lobbyist.
How good a chance does Musgrove have?
Even Republicans acknowledge that he has one significant advantage: As a former governor, he has statewide name recognition, while Wicker, who has only been a senator since Dec. 31, used to represent a congressional district in northeast Mississippi and isn't well known statewide.
There's been a scarcity of independent polling in this race. Not privy to the campaigns' own data, it's difficult to know if Wicker is in terrible jeopardy, or if the DSCC is simply succeeding in a game of getting Republicans to spend money on this race that could be better spent defending GOP incumbents in Minnesota, North Carolina and other states.
Campaigning Wednesday in Amite County and Pike County, two Republican-leaning areas in southwest Mississippi, Wicker gave an understated performance. There was no sense of urgency in his voice, though his words were dire.
'Control of the future of this country'
"This is a race that has taken on national implications," Wicker told a crowd of about 30 people in the drug store on Main Street in Liberty, Miss. (population: 676), just north of the Louisiana state line. "It's a race for control of the future of this country."
"Every left-wing group you can imagine, from Hollywood and San Francisco and New York City have all taken up a collection and sent it to this group, the Democratic Senatorial Campaign Committee. They have come into Mississippi to run their own commercials, mainly negative commercials, distorting my 14-year conservative record in the House and Senate and urging the voters to vote for Ronnie Musgrove."
He added, "Clearly, these left-wing groups see something in my opponent that they like."
In his television ads, Musgrove defends his conservative credentials, saying, "Roger Wicker and I have known each other for a long time, and Roger knows full well that I am pro-life … He knows I'm pro-gun, too. I have an 'A' rating from the NRA. And Roger Wicker knows I'm totally opposed to gay marriage."
One thing they do disagree on, says Musgrove: "Roger wants to keep George Bush's economic policies that got us into this mess. And I don't."
The real goal of the DSCC and its allies, Wicker told the crowd at the drug store in Liberty, "is a 60-vote Democratic majority in the United States Senate, which would be a filibuster-proof majority."
What that would mean, Wicker warned, is that Speaker Nancy Pelosi could get the House to pass an amnesty bill for illegal immigrants and then send it to the Senate where Republicans would be powerless to stop it.
Without revealing his polling data, Wicker implied that he is ahead in the polls.
"There's one thing I know about my opponent Ronnie Musgrove — he plays a good fourth quarter. He's always come from behind to win. He'll have to come from behind if he wins this one …"
In an interview after his speech, Wicker said Musgrove "really doesn't have a volunteer organization, and he doesn't have a ground game. We'll see if you need a ground game to win. As far as we can tell, we have not detected a get-out-the-vote-for-Musgrove effort anywhere in the state. It's all television (advertising), and three-fourths of it is DSCC television."
'The most nervous incumbent'
"If Roger Wicker is that detached from what is happening in Mississippi, then he is in worse shape than we all thought," responded Adam Bozzi, spokesman for the Musgrove campaign. (Musgrove himself was unavailable for an interview.)
"Roger Wicker is probably the most nervous incumbent in the history of Mississippi Senate races because he has a 14-year failed record in Washington and Mississippians know he is part of the problem in Washington," Bozzi said.
He added, "Roger Wicker has been in Washington and things have gotten worse. No solution to gas prices. No solution to immigration. No solution to health care. High unemployment. Gridlock on every important issue. And now a fiscal crisis and a $700 billion bailout."
But Wicker voted against the bailout, arguing that Congress was acting with undue haste.
He said in early October, "We were told two weeks ago that unless we acted immediately, within hours the sky was going to fall. Well, the sky didn't fall. Even so, we have rushed this through."
No analyst in Mississippi or elsewhere expects Democratic presidential candidate Sen. Barack Obama to carry this state. But Obama is trying to have an influence here, perhaps trying to help Musgrove.
At the top of the local evening news on Jackson station WAPT Wednesday night, an Obama ad aired — a sign of how much money the Obama campaign has to lavish on the broadcast war, even here in Mississippi.
Measuring the potential Obama effect
Obama will almost certainly perform better than Democratic nominee John Kerry did in 2004, when he got only 39.8 percent of the Mississippi vote.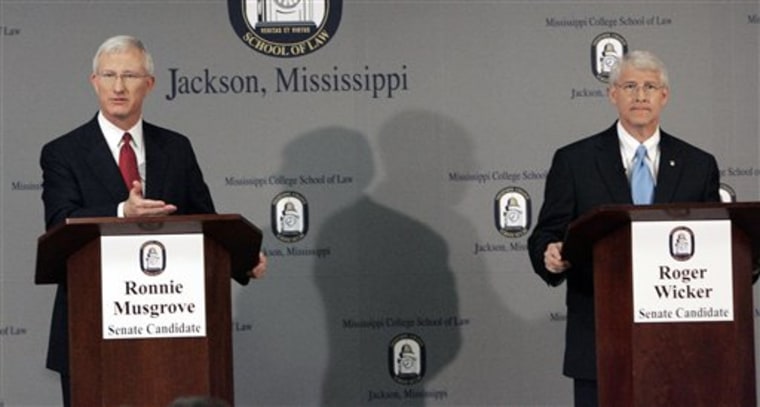 "My theory is if Obama gets 45 or 46 percent of the vote" Musgrove will likely win, said Democrat Ronnie Shows, the former congressman who represented southern and central Mississippi before the 2000 redistricting.
"Ronnie is certainly going to get more white votes than Obama will, I would think," he said. "If he gets the base of the turnout for Obama, I can't see him not winning."
Democratic activist Jaye Espy, who hails from Clarksdale, a town in 70 percent African-American Coahoma County near the Mississippi River, said, "People are very excited. You can't talk to anybody (in Clarksdale) who is not excited. The energy is infectious."
Kerry got 6,805 votes, or 64 percent, in Coahoma County in 2004. Obama and Musgrove should do far better, winning perhaps 8,000 votes in the county, Espy said.
Black voters accounted for an estimated 34 percent of the Mississippi electorate in the 2004 presidential election, according to exit poll interviews. Kerry won nine out of ten of Mississippi black voters in 2004.
If enthusiasm for Obama were to drive the black turnout to, say, 38 percent of the Mississippi electorate, and if almost all black voters were to cast their ballots for Obama and Musgrove, then Musgrove could win the election by garnering as little as 26 percent of white voters.
Reminded that 23,000 new voters had registered since January in predominantly African-American and heavily Democratic Hinds County, the state's largest county, Wicker replied, "I think you'll also see a new voter registration boom in places like DeSoto County which is the fastest growing Republican county in the state. I think Sen. Obama has created a lot of enthusiasm on both sides. A lot of people will turn out to vote for him — and a lot of people will turn out to vote for Sen. McCain — and it'll probably be a wash."