/ Source: Forbes Traveler.com
Dreaming of a steamy, languid tropical escape but looking for someplace a bit more exotic than Hawaii or the Caribbean?  Venture further afield in Southeast Asia, which has a dazzling array of sandy options.  You can easily find luxury, a hint of adventure and even a few spots where the U.S. dollar still holds its value.
Thailand may sound far but consider that the British seem to think nothing of hopping over to that tropical kingdom. It's worth it once you get there: warm hospitality, deliciously spiced food, gentle water, sandy beaches and islands galore.  Ko Phi Phi, or Phi Phi island is still one of the most idyllic. Located just thirty minutes by speedboat from either Phuket or Krabi, people question whether these pretty little roadless isles, immortalized in the film The Beach, are overexposed.  Meanwhile, cleaned-up and considerably less congested since the tragedy of the December 2004 tsunami, Phi Phi Don and Phi Phi Ley (a marine preserve) continue to be a unique hot spot, mixing nubile backpackers with wealthy jet-setters.  There's no debate about Ko Phi Phi's enduring natural beauty: sugar sand set off by turquoise waters and limestone cliffs, healthy coral reefs and multiplying populations of tropical fish.
The emerging country of Vietnam is alive with the electric energy of youth. Half the country is under the age of 25, and willing to forgive and forget the country's troubled past.  And with 2,000 miles of coastline, Vietnam's many beaches beckon.  China Beach is still among the best.  Once a surf spot and escape for American GIs, this generously wide, seemingly endless, historic stretch between DaNang and Hoi An has now been reborn as a tony civilian  destination (it's also home of the priciest resort in all of Vietnam, the gilded Nam Hai).  The combination of South China Sea swell, two UNESCO World Heritage sites and two thriving cities nearby, has made China Beach the R and R capital of Vietnam, but best of all, the US dollar is still strong here.
Indonesia's reputation as an exotic beach destination remains unmarred and sexy Aussies flock here. Coeds prefer the more obvious Kuta Beach, but sexy grown-ups consider Dreamland Beach, an up and coming spot on the Bukit Peninsula, the most beautiful beach in the entire country. About 30 minutes drive from Kuta (and now with impending development, nicknamed "New Kuta Beach"), Dreamland has traditionally been accessed through Tommy Suharto, son of former President Suharto's, abandoned property. Previously, your only options while watching the spectacular sunset were basic pretty basic cafes and local shops, but with the junior Suharto now building a tony new resort, if the beach isn't dreamy enough for you, new gourmet and pampering options are likely to impress.
If you're looking to get off the mainland and totally off the beaten track in Indonesia, Trawangan Gili, the largest of the three Gili islands, is just 25 minutes by ferry off the coast of Lombok.  What makes this island sexy is its unplugged, "Age of Aquarius" vibe. Magic mushrooms are legal for sale, raves on the beach under the moonlight are not uncommon, and you can circumnavigate this undeveloped sandy islet in under two hours and be sure to find a private nook. The natural highs include spectacular snorkeling and dive sights, including the Trawangan Slope off the Southeast coast, Sunset Reef and Shark Point off the West coast, and the appropriately named Jammin' Reef off the south coast.
If you're a fan of the far-flung, you'll have ultimate bragging rights after a visit to Pasir Putih in East Timor. This pretty, pristine deserted beach is located about five miles east of the former Portuguese colony of Dili. Emerging after three years as an independent nation, a visit here is only for the intrepid, like travel in Thailand in the 1960s.
White Beach, a three mile long expanse, located 20 minutes northwest by ferry on Boracay Island from neighboring Penay Island, has exceptionally white, talcum powder-soft sand that's so fine, somehow it never gets too hot for bare feet. Ringed by hip cafes, hotels and shops, this is the see and be seen beach for locals, so its best avoided during Philippine holidays.  Also, with heavy gusts year-round, it's the most popular spot for windsurfing and kiteboarding.  This small bow-shaped isle is only one of 7,000 that make up this island nation, but after dark, the clubs and discos here are legendary.
Emerald Bay, a tiny, private island island off Malaysia's west coast, is home to the sumptuous overwater bungalows of the Pangkor Laut Resort. If you're not a guest there, you can always stop in for lunch, and enjoy what is regarded as the cleanest, best maintained and most beautiful crescent shaped beach and calm, green waters in the whole country.  The exclusivity of the island is what makes it sexy.   You'll be safe and never hassled, whether you choose to just lay out, try your hand at angling for barracuda, or head into the interior of the island for a mini jungle trek.
Who says the temples of Siem Reap is the only reason to visit Cambodia? Follow up that intense cultural high with some down time at Serendipity Beach in Cambodia's version of Phuket — Sihanoukville. A 25 minute flight from Siem Reap or two hours drive from Phenom Penh, Cambodia's main resort town is a collection of very social beaches and little islands, but the crowds are centered along the aptly named Serendipity. Cheap eats, drinks, accommodations, jet skis, and other noisy, boisterous potential high-jinks are the main draw here, though for a nominal taxi ride, you can head a little further on to commune with nature at Ream National Park. And if you're more "flashpacker" than backpacker, check out the scene at the top-rated Sohka Beach Resort.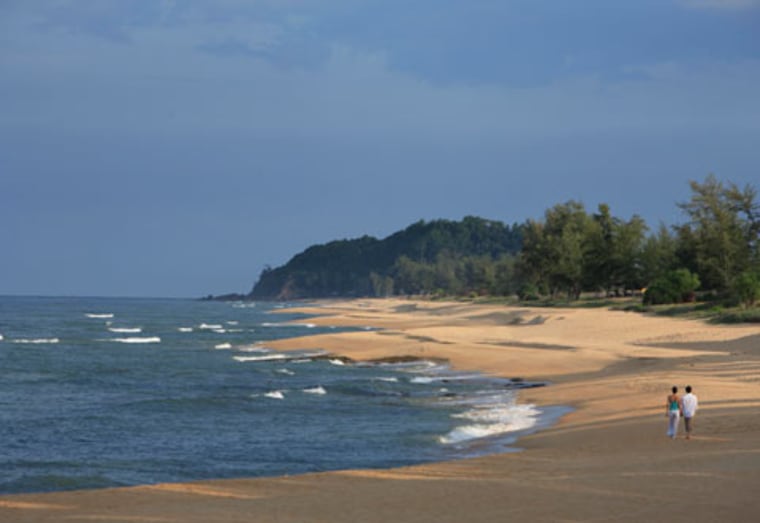 In a country not known for beaches as much as shopping malls and other manmade wonders, Sentosa Island's three beaches are a very pleasant surprise. Palawan is for families, and Siloso is an intense beach volleyball haven. But Tanjong Beach is where the most fashionable urbanites head to lay out on wooden sunbeds (under umbrellas of course, Asians don't tan), elegantly sip cocktails and catch-up on their reading. Couples also gather here at night to stroll along the beach and watch the twinkling lights in the harbour.  Food, bars and of course, shopping options are plentiful, and you might even venture to Underwater World, a magnificent oceanarium with a moving walkway through a clear acrylic viewing tunnel.

Proximity to the city — it's a mere 10-minute drive from Muara — makes Serasa Beach the retreat of choice in the business-minded kingdom of Brunei. One of the wealthiest countries in Asia thanks to its natural oil and gas resources, the high standard of living in the country is reflected here in the landscaped beach park, its modern facilities, and a devotion to recreation. Here urbanites take to the water, jet-skiing, kayaking, windsurfing, regatta sailing, power boat racing, aqua sports training and water skiing. The nearby Serasa Watersports Complex has comprehensive instruction and equipment rentals, and even hosts international competitions, which are very popular with the amped-up crowds, who don't seem much impressed just with the golden sand and crystal clear water.