/ Source: The Associated Press
They still worship in what remains of the little Baptist church not far from this forest town. The church is empty except for the rubble swept neatly into the corners. The sun comes through ragged holes where the mob smashed in the window frames.
On the roof, the crucifix is just twisted metal and broken concrete. It's barely recognizable, and you have to ask to make sure that's what it once was.
Here, prayers are said only in secret.
"We do it without making any noise," said Subhash Digal, holding his four-month-old son on his hip as he stood outside the church, where the smell of burned timber lingered on a warm autumn afternoon. "We don't want these people to know we are inside."
In this corner of the eastern state of Orissa, it's hard to find a Christian who isn't afraid.
Bloody anti-Christian riots broke out here in late August, rampages by Hindu hard-liners that since then have left at least 38 people dead, as many as 30,000 homeless and dozen of churches destroyed. The worst of the violence ended after a week or so, when authorities finally deployed soldiers to set up checkpoints and relief camps.
But nearly every day since then, the trouble has continued: a house burned, a carload of people beaten, a soldier hacked to death. Repeatedly, Christian villagers say, they have been told they must convert to Hinduism. The anti-Christian violence has also flickered across other parts of India, with churches vandalized and Christians attacked in the high-tech hub of Bangalore, the city of Mangalore and the coastal state of Kerala.
India's hidden fragility
In a country desperate to be seen as a stable, democratic world power, the violence is a window into India's hidden fragility, its sometimes-dangerous political climate and the fierce historical divisions buried in its vast diversity.
India is more than 80 percent Hindu but its 1.1 billion people include all of the world's major religions, a caste system of near-impossible complexity, colossal divides of wealth and poverty, and, by some estimates, more than 2,000 ethnic groups.
"If you look at Africa, you don't see this kind of diversity, if you look at all of Europe, you don't see this kind of diversity," said Swami Agnivesh, a Hindu intellectual and liberal social activist. When it comes to India's continued existence: "Sometimes I think it's a miracle."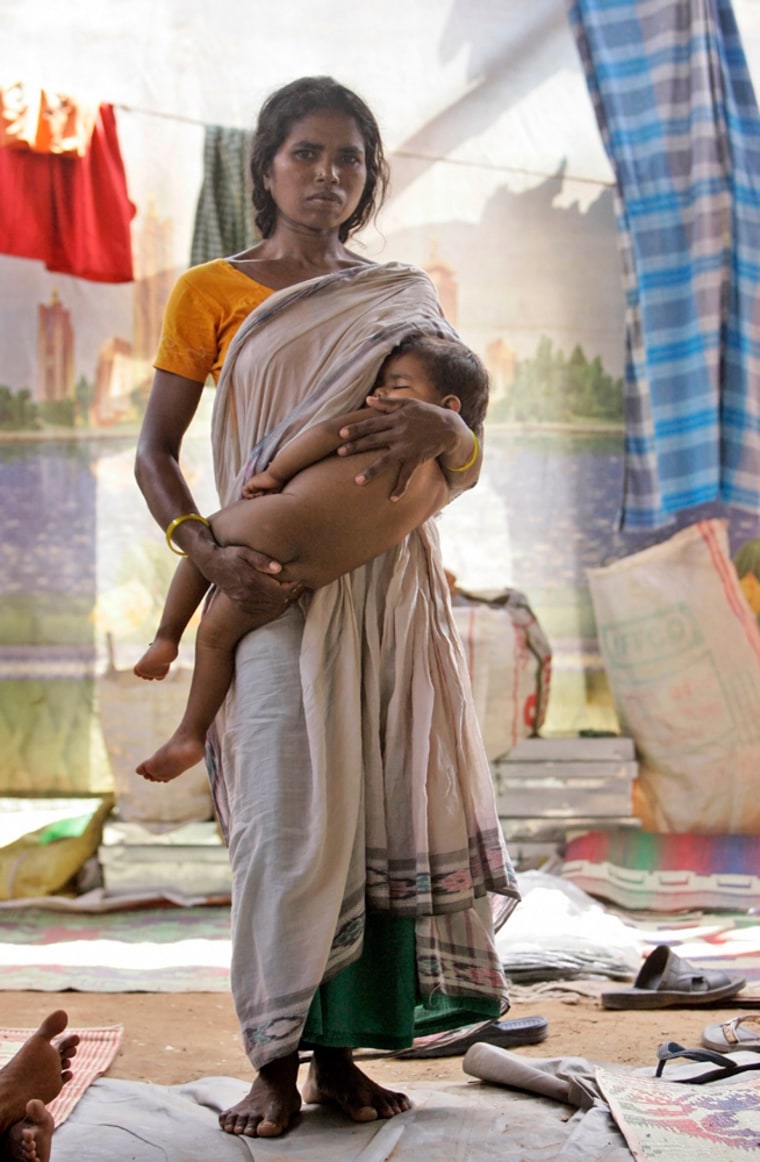 Trouble can seem inevitable. In just the past couple weeks violence has ranged from the northeastern state of Assam, where at least 50 people have died in ethnic clashes, to the central state of Madhya Pradesh state, where three people were killed in religious riots after a Hindu procession passed through a Muslim neighborhood.
Then there is Orissa's Kandhamal district, where widespread trouble began after the Aug. 24 killing of Swami Laxmanananda Saraswati, a hard-line Hindu leader who rose to prominence in the area by advocating that Christian converts return to Hinduism.
Police blamed Maoist guerrillas for the killing, though it's unclear why they would have targeted him.
But Hindu militants quickly turned on local Christians, setting fire to a Christian orphanage and attacking churches and Christian-owned shops and homes. A nun accused a Hindu mob of raping her. At least 32 people have been killed, tens of thousands have fled their homes and thousands are believed still to be hiding in Orissa's thick forests.
The Kandhamal region is a place where villagers tend farms in small valleys circled by humpbacked hills, and where roadside ponds are filled with swimming children and floating lotuses. But it's also a place long cut off by poverty and illiteracy, where electricity is unknown in most villages and the pay for day laborers — the only job most people hope for — is 30 rupees, or 60 cents. That wage is only for men: Women earn 20 rupees, or 40 cents.
Kandhamal has long been a battleground over Christian missionary work among low-caste Hindus and the indigenous people known in India as "tribals." While Christians account for just 2.5 percent of India, their population in Kandhamal has risen sharply in recent decades, reaching nearly 20 percent by the last census in 2001.
Hindu militants say the reason for this is obvious: Missionaries are forcing or bribing people to convert, stealing followers from India's true religion.
'Our culture is being attacked'
"This is a kind of cultural invasion," Gauri Shankar Rath, a top official in the Orissa state VHP, the umbrella organization of Hindu nationalists, said in a telephone interview. "Our culture is being attacked."
Missionaries dismiss such accusations. And conversion does offer worldly benefits: For the low-caste, there's a partial escape from the stigmas of the Hindu caste system. Some missionaries also reach out to followers by building medical clinics and schools.
But as with much of India's violence, the obvious rationale for Kandhamal's bloodshed is really just one tile in a mosaic of discontent.
Much of the bitterness here is rooted in competition between two groups struggling at the bottom of India's social spectrum: the Panas and the Kandhas. The Panas are dalits, the group once known in India as "untouchables," while the Kandhas are tribals. The two have long competed for land, and more recently for jobs and school seats reserved by the government for the disadvantaged.
Over the past 20 years, the Kandhas have largely remained Hindu while many Panas have converted to Christianity, tangling religion into their conflict. Christians — even dalit converts — are not supposed to be eligible for reserved positions, but many Kandhas insist Pana Christian still find ways to get them. The Christians deny the accusation.
Militant group
Then there is politics.
Many of the attacks, victims say, were carried out by the Bajrang Dal, a militant group closely allied to the Bharatiya Janata Party, a Hindu nationalist political party that is part of Orissa's coalition government. The Hindu right-wing has long stirred up religious resentments as a way to shore up its voter base — and Orissa, as people here quickly point out, is expected to hold elections early next year.
"This isn't a war between Hindus and Christians," said Ugrasena Rana, a 32-year-old Hindu from Bujulimendi, a small village where a roaming gang burned down a half-dozen or so Christian homes after the swami was killed. "This is a war between the Bajrang Dal and the people who will not follow their commands."
In some ways, though, the Christians of Bujulimendi are lucky. Their Hindu neighbors have tried to protect them, and many Christian families now sleep in Hindu homes in case the mobs return.
The situation is grimmer outside the ransacked Baptist church, where villagers say their attackers included many people they knew.
That mob, about 50 people armed with knives, swords and clubs, stormed through the village, chanting the name of the Hindu god Ram as they destroyed the church and Christian homes.
Since then, smaller groups have returned repeatedly. There is seldom violence, but they state their message bluntly: convert or die. Eventually, villagers worry, the threat will be carried out.
"What can we do?" asked Digal, the man dangling his baby. "They are trying to force us to become Hindu."
So will he convert?
"I don't know," he said, staring down at the ground. "I haven't decided yet."