Sen. Barack Obama has created such enthusiasm among African-American voters in this year's election that his place on the ballot may help elect Democratic senators in states that the presidential candidate himself seems unlikely to win.

In states such as Georgia and Mississippi, which Obama, the first black nominee of a major party ticket, is unlikely to carry, higher turnout by African-American voters could help the Democrats deliver a big Senate majority — and perhaps even a filibuster-proof majority of 60.
In a fundraising e-mail with the simple subject line "60," former President Bill Clinton urged donors to give Democrats "a filibuster-proof majority to overcome a Republican Senate caucus that is now the most obstructionist legislative body in America's 232-year history."
Clinton's reading of history may have been skewed, but his appeal for 60 is on point here in Georgia, where the former president stopped over the weekend to do a fund-raiser for Democrat Jim Martin, who is challenging Republican Sen. Saxby Chambliss.
Georgia permits pre-election day voting and according to Georgia's secretary of state, 35 percent of the 967,000 early votes have been cast by African-Americans.
As in the Mississippi Senate race, the higher the percentage of African-Americans in the electorate, the better the Democrats' chances of winning the Senate seat here in Georgia. In the 2004 presidential race, African-Americans accounted for 25 percent of the Georgia electorate.
Strategists say that split ticket voting means that Obama could lose Georgia, but Martin could win his race.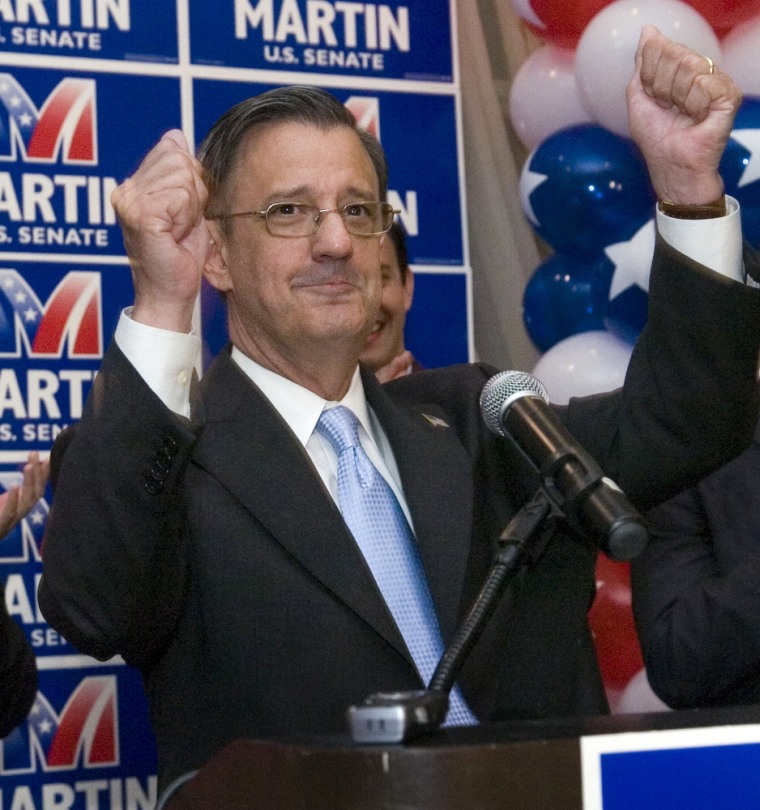 "There are more McCain-Martin voters than there are Obama-Chambliss voters," said one Georgia Democratic strategist.
An appeal for GOP turnout
Meanwhile, Chambliss and his aides seem to be worried that some Republican voters might not show up on Election Day.
"It's so important that we have turnout," Chambliss told about 80 Republican loyalists Friday at the courthouse in Fayette County, a GOP stronghold south of Atlanta. "The other folks are turning out — in record numbers," he said.
The specter of Obama allied with a filibuster-proof Senate majority is beginning to motivate Republicans.
In a warm-up speech for Chambliss at the Fayette County courthouse, conservative Republican Rep. Lynn Westmoreland told the crowd, "If the Democrats get to 60 in the Senate, we're going to be in real deep trouble, because the Senate has been our backstop for some of the shenanigans of (House Speaker Nancy) Pelosi."
Even Martin is wary of the Democrats' 60-seat goal. He wants to be thought of as moderate who would reach across party lines.
Democrats should "only use the 60-vote Democratic majority — if that's what we have — very seldomly and only on those fundamental issues where we need to do something to move this country forward," he cautioned in an interview. "The less often that has to happen, the better for the country."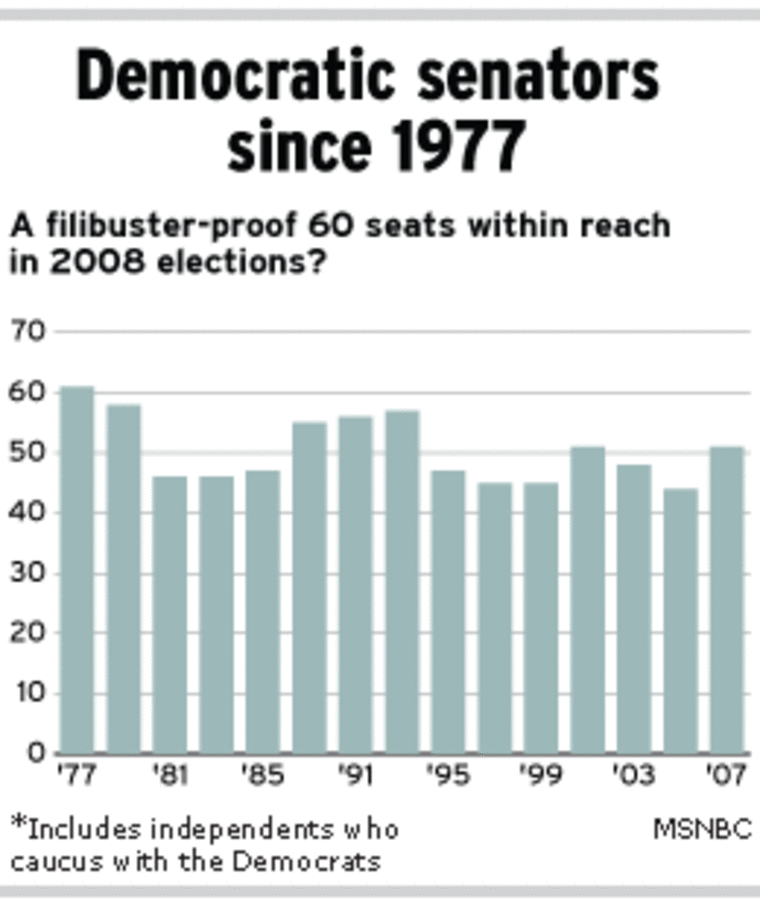 The trend in Cobb County
The Martin-Chambliss battle will likely be decided in the ring of counties around Atlanta.
An increase in black turnout in Cobb County, west and north of the city, will make Obama and Martin more competitive statewide. Twenty-three percent of the county's population is black.
Cobb County Democratic Party chairman David Wilkerson noted this weekend that nearly as many voters turned out in Cobb County for the Democratic presidential primary as for the Republican primary.
Northern Cobb was the bastion of Newt Gingrich when he served in the House ten years ago. The county "has significantly changed" since the Gingrich era, Wilkerson said, partly due to in-migration from other states and from Atlanta. "I think Newt would have a very tough time" in Cobb County today.
In the 2004 presidential race in Cobb County, Bush won 173,000 votes to John Kerry's 103,000. Democratic strategists see Obama winning at least 130,000 in Cobb County this year.
At a Democratic rally Saturday in southern Cobb County, African-American pride in Obama was evident, with most people wearing Obama T-shirts, sweat shirts, hats or buttons.
Although his victories in the primaries proved his appeal to non-black voters, the Obama campaign brochure passed out at the Cobb rally was targeted at African-Americans. "His story is our story," was the cover line on the brochure, with a photo of Obama paternally hugging a young black girl.
But one factor may work to Chambliss's — and John McCain's — advantage in Georgia on Election Day.
'Silent Majority is out there voting'
Some Republicans are pushing back at what they see as the news media's adulatory treatment of Obama.
"I think some of Richard Nixon's so-called Silent Majority is out there voting right now," said Republican activist Neal Shepard in Newnan, Ga., where Chambliss spoke Friday.
"People are very frustrated and angry at the way the media has shoved this candidacy down their throats. I'm upset about it and everybody I talk to is; they feel like Obama has been anointed."
In a day of campaigning by bus in exurban counties south and west of Atlanta, Chambliss's stump speech seemed caught in a bit of time warp with its focus on energy prices.
As Chambliss himself admitted to a breakfast crowd of about 50 people at Butch's diner in Jonesboro, Ga., on Friday, energy was a hot issue four months ago. But gasoline at $2.47 a gallon isn't as powerful an issue as $4 per gallon gas, which the Republicans could blame in part on the refusal of House Speaker Nancy Pelosi (D-Calif.) to consider expanded offshore and other oil drilling.
Chambliss alluded briefly to the meltdown of financial firms, then said to the Butch's diner crowd, "There's another issue out there that I thought frankly would be the number one issue in the campaign this year, that's kind of been moved halfway to the back burner," that is, gasoline prices. "Isn't it unbelievable that today we feel really relieved that we are paying $2.70 for a gallon of gas? There's something not right about that."
Smart strategy on gasoline?
One question for the closing days of this campaign is whether "there's something not right" — strategically speaking — about Chambliss keeping his stump speech so focused largely on energy prices.
In an interview on his campaign bus as it rolled through Fayette County, Chambliss acknowledged that the campaign hadn't proceeded according to expectations.
"Normally my race would have been over by midsummer or late summer" because Martin is "so liberal and so out of touch with the way a majority of Georgians think."
Chambliss said his campaign had been able to tag Martin as a man who was "pro-partial birth abortion" and who voted against making English the official language of state government when he served in the legislature.
Martin said he opposed the abortion ban because it lacked an exception for allowing the operation when needed to guarantee the health of the mother. And the English-only bill "would have put us in conflict with federal law."
Chambliss called abortion and English-only "the hot button issues that are normally present in a campaign."
But, he said, "the problem we had here was the energy issue just consumed and overshadowed those issues" back in June when gasoline was at $4 a gallon. "That's why we felt that energy would be the number one issue."
But then came the Lehman Brothers collapse, the credit crisis, and the Senate's vote for the $700 financial rescue package. Chambliss said some GOP loyalists were angry at hises "yes" vote, but he claimed that now "more people are having great respect for what we did and the reason we did it."
Filibuster an Obama nominee?
If he does win and returns to a Washington dominated by Obama as president, Chambliss may face historic votes in the New Year.
If Obama, as president, nominates a left-of-center nominee to the Supreme Court, would Chambliss filibuster the nomination to try to kill it? "In all probability I would," he said.
But Chambliss ruefully acknowledged might not have that option if the GOP is winnowed down to 40 senators or fewer.
As for Martin, he said he would not have voted to confirm Bush's nominee Justice Samuel Alito, but would have voted for Chief Justice John Roberts.
Reminded that Obama voted against both Alito and Roberts, Martin said he would not be "a rubber stamp for anybody." He added, "I'm a Democrat, I'd support President Obama, I think he'd be a great president."