/ Source: msnbc.com contributor
Microsoft says its "New Xbox Experience," which rolls out Nov. 19, will "change the face of home entertainment for every Xbox 360 owner." It doesn't.
In reality, the New Xbox Experience is more appropriately described as a new menu system. It won't revolutionize your console, but it will improve your experience. Ironically, the most interesting feature about this revamp to a game console's user interface has nothing to do with games. It's about movies.
(Msnbc is a joint Microsoft - NBC Universal venture.)
At the Electronic Entertainment Expo in July, Microsoft confirmed a long-rumored partnership with the online-movie rental service Netflix, promising that this New Xbox Experience would let users stream movies and TV shows right into their living rooms. You have to be a subscriber to Netflix and an Xbox Live Gold member (to the tune of $7.99 a month), but this feature works great — and is a big plus for the platform.
Other than that, though, the New Xbox Experience can seem like a rather shallow one — on the surface anyway.  But dig deeper, particularly when browsing for games and downloadable content, and you'll find a lot of stuff to help you watch more movies and get your game on.
First, let's start with the menu system, which will change significantly come Nov. 19. While the existing "Blade" menu is easy to navigate, secondary items are cluttered and the system is littered with ads. The new interface is much cleaner, and combines many elements from both Sony's PlayStation 3 "Cross Media Bar" and Nintendo's "Wii Channels."
The new menu system arrives via two separate files that take no longer than eight minutes to download and install. The update is surprisingly painless.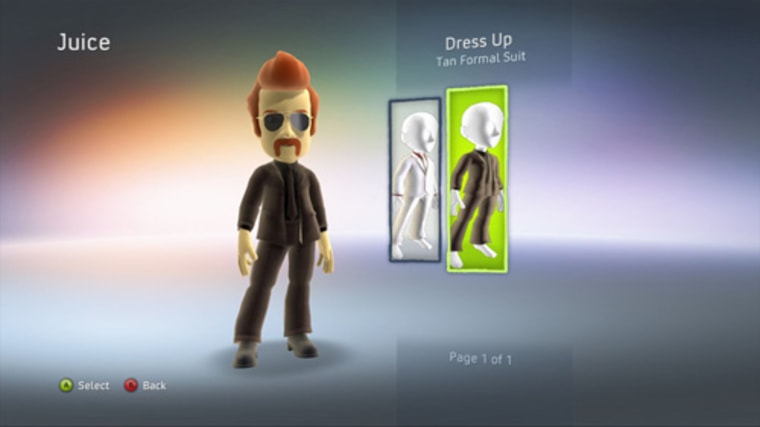 After being presented with a fancy welcome video, you'll be encouraged to create a personalized avatar to represent yourself. These cute, digital doppelgangers look an awful lot like the Miis you create on Nintendo's Wii, something which Microsoft is obviously aware of.
"Avatars are not an original idea, we understand that," says Aaron Greenberg, director of Xbox 360 product management. "But they were around long before Wii."
Whatever the source of inspiration, Xbox avatars are fun, and better-looking than the Miis. But the novelty of creating and sharing avatars has worn off by now. And there's no way to e-mail avatars to your buddies, like you can on the Wii.

The next thing you'll notice about the new Xbox interface is that browsing applications and content has become much more visual, like something you'd see on an iPod.
Menu items are organized into seven categories and can be quickly explored using up, down, left and right commands: My Xbox, Video Marketplace, Game Marketplace, Spotlight, Events, Inside Xbox and Friends. An eighth and temporary "Welcome" category serves as an ice breaker for the new interface and can be turned off in the settings menu, something I did immediately.
When not playing games, you'll likely spend most of your time in both marketplace channels. Greenberg says the new Netflix feature is the one he's most excited about, and I have to agree, given that the existing selection of Xbox downloadable films is more B-movie than blockbuster.
One thing to note: You cannot manage your Netflix movie queue from the new Xbox interface. To do that, you'll need to hop on your PC. But the changes you make to your queue are almost instantly reflected in your movie list on your Xbox. With my laptop in front of me, I added "The Office: Season 4" and "Empire of the Sun" to my queue, and within three seconds, both showed up on my Xbox.
I was surprised by both the speed and quality of streaming Netflix movies. It took two tries for the system to optimize the video quality for my broadband connection, but after that, the videos looked great on my widescreen and never skipped. Nice!
While Netflix is undoubtedly the highlight of the new Xbox Live, I'm pleased to announce that Microsoft has greatly improved the "Game Marketplace." Here, you can browse games in many different ways: alphabetically, by box art, new arrivals, genre and game type (retail, downloadable games, Xbox Originals, demos, etc.). There's also a new "most popular" field, which I found to be the most useful filter for discovering new games.
User ratings are not supported, unfortunately, but the new game detail pages feature everything about a game (screens, box art, descriptions and add-on content) in one convenient place, unlike the current system.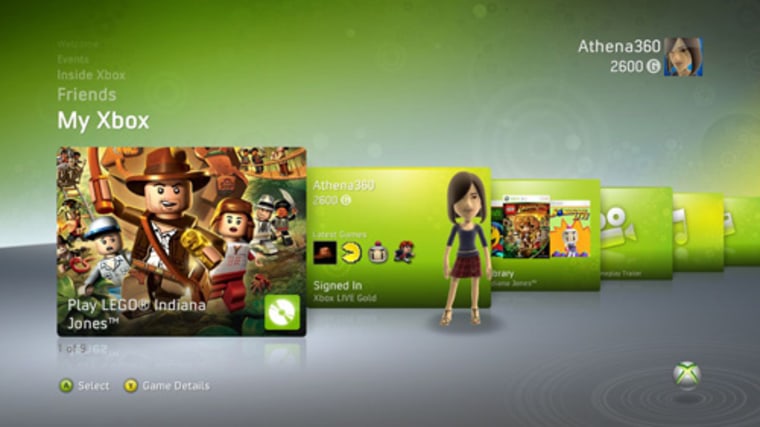 Microsoft has also added a new "Live Party" system that lets you conference call up to eight Xbox Live members and stay connected when switching between different games, Netflix movies and photo albums. Since I was the only one in my friends with this new menu enabled, I couldn't try this feature. Live Party holds a lot of promise, but I'm skeptical about whether it will be used that much by the community.  
Rounding out the channels, "My Xbox" lets players quickly access any inserted discs or downloaded content. You can also futz with your console settings here. Pretty straightforward stuff.
From there, the other categories aren't as exciting. The "Friends" channel lets you view who's online, eavesdrop on what your connected buddies are doing and add new friends. The "Events" channel lists upcoming community meet ups, which appears to be an attempt to herd online players to certain games.  "Inside Xbox" is a promotional channel that teases upcoming games. And "Spotlight" is what it sounds like — a channel that highlights the most notable items from the other six categories.
If you're really in love with the current Blade interface, no worries: You can access a miniaturized version of that menu at any time (even in-game) by pressing the Xbox "Guide" or menu button on the controller. I found my time was evenly split between using the guide menu and new menu, as I like both equally well.
One gripe I have with the new system is that ads are not labeled as such and appear as normal channel items. You can usually spot the units you want to avoid (Uh, Subway sandwich? No thanks), but I got duped into watching something by an incognito ad at least once. (Shakes fist.)
Overall, the new Xbox 360 menu system is faster, more convenient and easier to use than the soon-to-be-defunct Blade system. Will it help Microsoft transform the console into a Wii-like system overnight? Probably not. Will it help them sell more 360s? I don't think so. But it's a welcome improvement just the same, particularly when used to rent digital movies and find new games.