/ Source: The Associated Press
Social issues so volatile that the presidential campaigns sidestepped them will be on the ballots in several states next week, including measures that would criminalize most abortions, outlaw affirmative action and ban same-sex marriage in California, one of only three states that allows it.
In all, there are 153 proposals on ballots in 36 states.
In Washington, voters will decide whether to join Oregon as the only states offering terminally ill people the option of physician-assisted suicide. Massachusetts has three distinctive measures on its ballot — to ban dog racing, ease marijuana laws and scrap the state income tax, a step that could unleash budgetary tumult.
The main presidential rivals, Democrat Barack Obama and Republican John McCain, have rarely made proactive comments during the campaign about same-sex marriage or affirmative action — issues on which the public is deeply divided. Abortion also has seemed like an uncomfortable topic for them at times, although Obama makes clear he supports abortion rights and McCain says he would like to ban most abortions.
But in a half-dozen states, these three issues are front and center.
Same-sex marriage
Florida, Arizona and California have constitutional amendments on their ballots that would limit marriage to a man and a woman. More than two-dozen states have previously approved such amendments, but none were in California's situation — with same-sex marriage legal since a state Supreme Court decision in May and thousands of gay and lesbian couples already wed.
The rival camps view the California vote in epic terms, with the outcome of Proposition 8 having enormous influence on prospects for same-sex marriage rights in other states.
"If we lose California, if they defeat the marriage amendment, I'm afraid that the culture war is over and Christians have lost," said Donald Wildmon, founder of the American Family Association. "California is a big dam, holding back the flood — and if you take down the dam in California, it's going to flood 49 other states."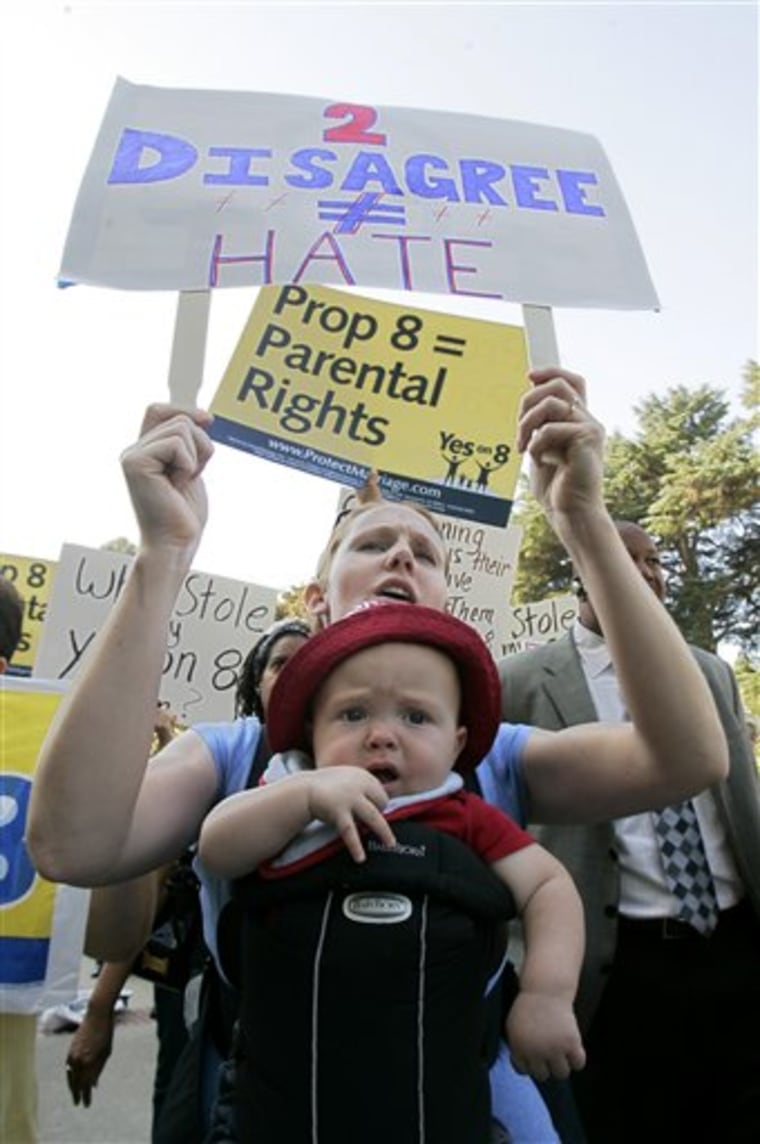 Obama is expected to win easily in California, but the vote on Proposition 8 is expected to be close. Of keen interest to both sides is how churchgoing black and Hispanic voters — in general a pro-Obama constituency — will vote on the ballot measure.
Both Obama and McCain say they oppose same-sex marriage. But Obama, unlike McCain, opposes Proposition 8 and endorses the concept of broader rights for same-sex couples.
Gay rights also is an issue in Arkansas, where a ballot measure would prohibit unmarried couples from adopting or being foster parents. Conservatives backing the idea say it's aimed at same-sex couples, who are able to adopt and be foster parents in most states.
Abortion rights
Abortion is a dominant campaign topic in South Dakota, which has an initiative that would ban the procedure except in cases of rape, incest and serious health threat to the mother. A tougher law without the rape and incest exceptions was defeated in 2006; a recent poll on the new version showed a dead heat.
Colorado has a "personhood" amendment on its ballot that would define human life as beginning at fertilization. It doesn't explicitly mention abortion, but activists on both sides in the campaign view it as a blunt challenge to abortion rights — so blunt that the National Right to Life Committee, Colorado's Roman Catholic bishops and some other anti-abortion groups have declined to endorse it on strategic grounds.
Some of those skeptical of the idea believe it would run aground in legal challenges. Abortion-rights activists contend it would — if approved — potentially lead to the banning of certain types of birth control.
Affirmative action
Colorado and Nebraska have proposals that would ban race- and gender-based affirmative action, similar to measures previously approved in California, Michigan and Washington. The man spearheading the movement, California activist-businessman Ward Connerly, says the candidacies of Obama, Hillary Clinton and Sarah Palin prove blacks and women no longer need affirmative action.
"Anyone who raises $150 million in one month is being judged pretty much on the basis of their political abilities and not on the basis of race," Connerly said of Obama during a debate in Nebraska last week.
Other issues on the ballots