For a long time, Bill Davis thought he was immune to the economy's ills.
Davis made a living as a plumber for almost 20 years. Getting by wasn't always easy because of massive medical bills he's incurred over the years due to a heart condition present since his childhood. But Davis, of Franklin, Tenn., has managed to support his wife and two teenage girls living paycheck to paycheck without outside help. Until now.
First, Davis lost his job installing plumbing in new homes as the mortgage mess stalled new home construction. He quickly resorted to a job doing plumbing repairs, but last month he was laid off again. Davis got to the point where he could hardly afford food, let alone pay for the cable, cell phone and utility bills.
"I had to apply for food stamps to feed my kids," said Davis, 49.
Davis is one of millions of people forced to seek additional government services as a result of the economic downturn, which is expected to be the worst in decades.
"During a downturn, dependency on public services is up," said Nicholas Johnson, an expert on state budgets at the Center on Budget and Policy Priorities. "When joblessness rises, people stay in school or go back to school to get that degree. Enrollment in community college rises, that's a cost to the state. Medicaid enrollment rises as people are losing jobs, wages are declining."
A study by the Urban Institute found a direct link between joblessness and a surge in Medicaid applications during the last recession in 2001: When the unemployment rate rose by 1 percentage point, the number of people eligible for the low-income medical coverage spiked by 1.5 million. The current jobless rate of 6.5 percent is up 1.7 percentage points from a year ago, suggesting 2.5 million more people might be eligible for Medicaid and other programs.
Most of the middle class are already near the brink: Without income, almost 80 percent couldn't pay the bills for more than 3 months, according to a joint study by New York-based research and advocacy agency Demos and the Institute for Assets and Social Policy at Brandeis University in Waltham, Mass.
A survey from CareerBuilder.com concluded that almost half the nation's households are perched precariously on the edge — that without work they would be unable to sustain their way of life, requiring immediate help from family, friends or social services.
Melinda Klamer, 27, was hoping to be financially independent from her parents by now. In May, she earned her bachelor's in history from South Wesleyan College in Central, S.C., and aspired to begin a long career as a teacher.
Klamer, who is a single mom, lived at her parents' house with her daughter, now 5, while she was in college. She later followed her parents to Lecanto, Fla., because she couldn't find work. Citing major layoffs at local schools, Klamer is putting her career dreams on hold to hunt for a job that pays the bills.
Klamer worked part-time at Home Depot during college but now is having trouble finding a  retail job. Last month she was approved for Medicaid coverage, which she previously had relied on only for her daughter's health care. Frustrated over being a financial burden on her parents, she's now thinking about applying for additional aid from the government.
"I've tried my best to avoid food stamps, welfare, but God, it's getting to that point," Klamer said. "I can't have my parents pay for everything."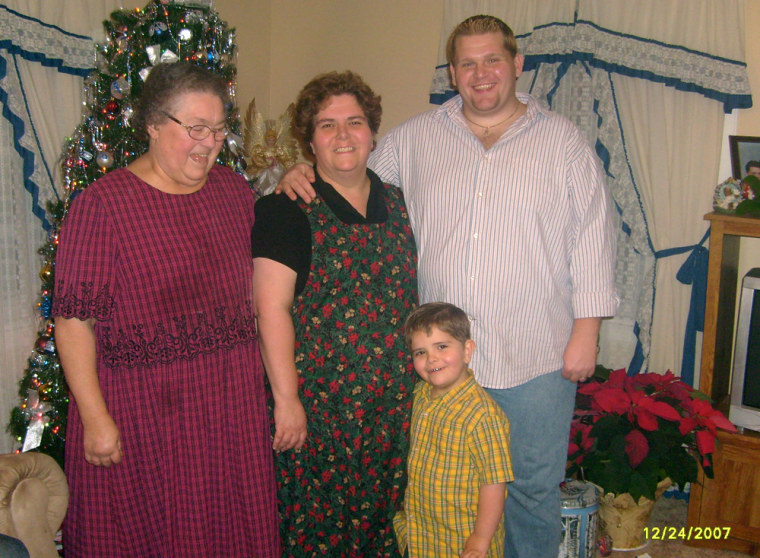 Sandra Cauley of Townsend, Ga., is hanging  onto her job, but she's not sure for how long. Rising gas and food prices already did in her family's finances. Living paycheck to paycheck even before the spurt in inflation, the Cauleys have relied on government aid in the past. She suffers from diabetes and is challenged with major medical expenses. Recently, Cauley, who is a county court clerk, learned that major cutbacks lie ahead in her department.
Her family relies solely on her income. Cauley and her husband, Elmer, decided when their son was just a baby that Elmer would stay home to raise their boy, who's 4 now. Cauley, who holds a bachelor's degree in business, brought home more money than her husband, who had struggled to find full-time work in the food and retail industries.
"My main worry is: I hope I'm not going to lose my job," Cauley said.
After three weeks of searching Davis, the former plumber, found work as a meat cutter at a large grocery store. Problem is, the position pays only $7 per hour at first, compared to his previous $25. That's still not enough to pay the bills. So the family has to prioritize: Cable and cell phone service take a back seat to utilities and food. Davis has also quit taking the medicine to stymie his heart problems.
Davis fears how his money problems will affect his daughters. He's afraid he won't be able to send his oldest girl, who has a stellar GPA, to college. Davis hopes the family's financial woes won't embarrass the girls at school, but that's likely to happen when their cell phones shut off.
"They won't be able to text their friends. We have teenage girls -- that's a prerequisite now," he said. "They're going to have to explain to their friends."
Asking for help has been its own struggle for Davis. He grew up with an Army dad who taught him to pull his weight since he was 11. Davis found it even harder to request assistance from people he knows: He recently went to his church for help to pay the utility bills.
"I'm not the self-help type person. I hate admitting defeat," Davis said. "At some point, you have to, or they turn your power off."