It's 7:00 a.m. and anyone who is still asleep has just been awakened by this morning's announcement. A polite good morning call that announces it is a "nippy" 39 degrees outside, and a reminder that the bus for the winery tour leaves in one hour. Not that anyone is in bed — no one wants to miss a thing. The fall foliage was just setting in making the scenery along the Columbia River Gorge more spectacular. Add the backdrop of the Cascade Mountain Range with snow-covered Mount Hood and it's even more breathtaking.
Expedition cruising aboard Cruise West's Sprit of Discovery, as you might have gathered, is quite different from your one week cruise around the Caribbean. For one thing the ship is small and there is no casino, lounge acts, bingo contests, disco, spa or fitness center. There's no dressing up since the atmosphere onboard is very casual — jeans, khakis, sweaters and fleece jackets are the norm. Accommodations are basic — cabins have no television, radio or telephone, and get this, no locks on the doors. Still everything is secure, safe, clean and the all-American crew is friendly and eager to please.
Spirit of Discovery
One of the hottest trends in cruising today is the almost insatiable interest in cuisine. Food and wine have always been an integral part of the cruise experience, but in recent years, the interest has become more refined to include special cruises dedicated to specific cuisine. When it comes to wine many cruise lines offer wine tastings, but few have the ability to take you right to the source.
Cruise West, a company long known for its educational eco-cruises to adventure destinations like Alaska, Costa Rica, and Asia may seem like an unusual fit for a wine cruise. But the company is known to focus on the destination rather than the cruise itself, and sailing along the Columbia River with access to Washington and Oregon's growing wine region offers an amazing experience for wine lovers.
, launched in 1976, was purpose-built for cruising off-the-beaten track waters. It is small, carrying just 84 passengers, and functional, with a dining room, lounge, bow viewing area, sun deck and little else. The downside is cabins that are compact with twin beds (queen beds in higher class cabins) and a tiny shower area, the sink is outside the bathroom in the cabin. The good news — you won't spend a lot of time in the cabin since shore excursions take up most of the day.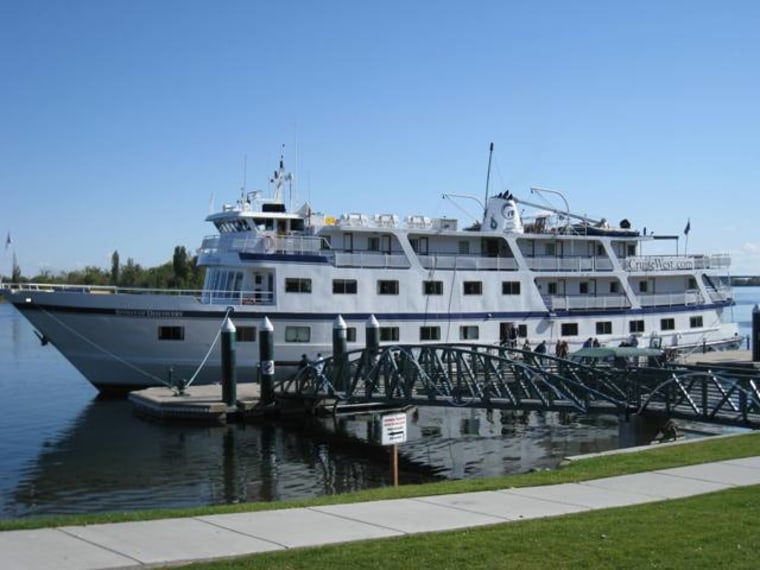 Breakfast, lunch and dinner are served in the intimate, open-seating Grand Pacific Dining Room. Meals are at set times. Since there is no 24-hour room service or alternative dining, you eat when you are supposed to or miss out. For early risers there is a continental breakfast spread in the lounge, the same area where all the lectures take place. A sit-down breakfast follows in the dining room. Lunch times change depending on schedules of the shore excursions. Dinners are the highlight where the chef uses local ingredients from the Pacific Northwest.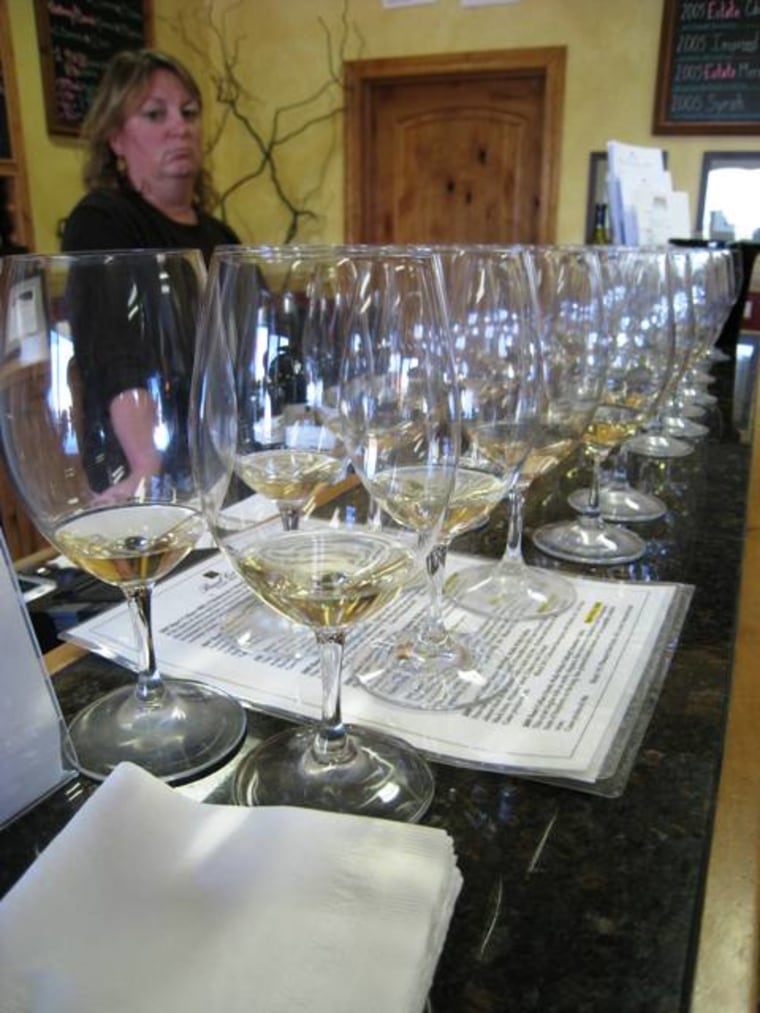 Menu choices are somewhat limited, but the cuisine with the highlighted wines offered was excellent. Standouts included Wagyu Shortribs, Kurbata Pork Prime Rib, and Wild Pacific Sturgeon and Grilled Salmon and amazing breads like Walla Walla Onion Cheddar and Curry Egg. Coffee, tea, and sodas are complimentary — the only extras are cocktails and wines not part of the tastings.
Onboard entertainment consists of enrichment lectures by two Cruise West Exploration Guides covering the history of the Columbia River. Come evening, activities in the Discovery Lounge ramp up, mainly wine tastings and talks by the ship's guest "Wine Guy," Frank Baldassare. He lectured on how grapes are grown, various different wine regions, the art of properly tasting wine and pairing the perfect wine with food. His lectures also deal with how Washington and Oregon became major wine regions.
All shore excursions are included in the price and Exploration Leaders separate passengers into two touring groups. This made it easier to spend time exploring and not overwhelm the destinations visited. Our group hiked through pear orchards in Oregon and onion fields in Washington. We toured the giant Bonneville Dam with its huge power generators, discovered salmon fish ladders, jet boated to the Hanford Reach Monument, witnessed abundant wildlife, had a glimpse at the Hanford Nuclear Reservation (birthplace of nuclear energy), watched seafood cooking demonstrations and drank barrels of wine — literally.
Swirl, smell, sip
Prior to the winery tours the first lecture was Baldassare educating us on the Four S's of wine tasting: see, swirl, smell and sip — a valuable way to experience and understand each wine from first to last taste. This practice would be essential to make the most of this cruise with all its abundant wine samplings.
Surprisingly, most all the passengers on this trip were over 65 years of age, I am 43 and I was by far one of the youngest. But let me tell you these seniors were sprite and could run laps around you, not to mention being able to swill wine with the best of them.
The first winery tour was just outside of Walla Walla. The visit coincided with the October crush season when grapes are harvested and placed into wine vats to cure. Jan Wessel, a retail manager for Three Rivers, gave a group tour of the vats and explained how making fine wines is a blend of science and art. "It is the result of a host of varying environmental factors and, typically, the combination of several different grape varieties, each in varying quantities, overseen and orchestrated by master vintners to create a unique and excellent vintage," he said. Tastings included red and white wines where my personal favorite ended up being the 2005 Syrah.
Since gourmet food goes hand-in-hand with good wine our group stopped for lunch at Walla Walla's and dined on an amazing three-course meal. During the meal more wines were sampled and one in particular stood out — a 2003 Camille, a blend of Cabernet Sauvignon, Merlot and Cabernet Franc. I just loved this wine so much I had several glasses and was feeling no pain. Baldassare laughed at me and told me to "pace" myself. The reality is there are five S's in wine tasting — the last being spit, which I quickly learned to do or I would not remember a thing about this trip.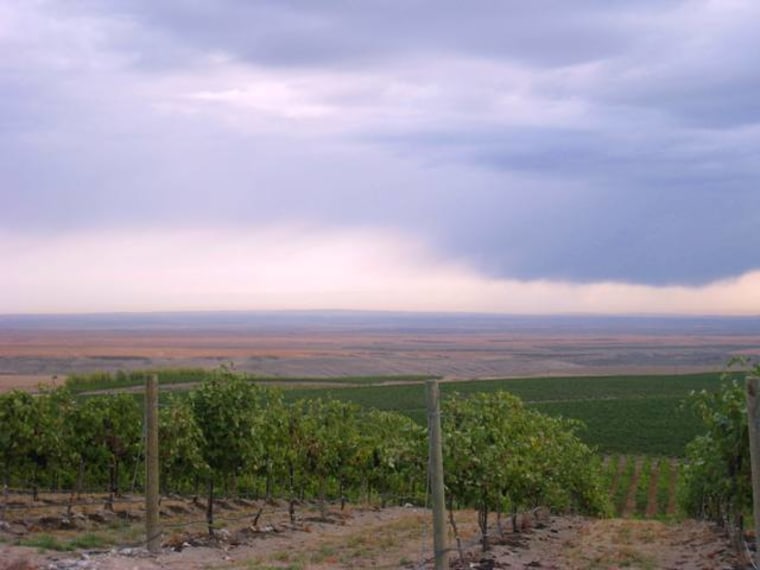 After lunch it was off to visit two more wineries. At the farming aspects of growing grapes was discussed. Our group was able to pick and eat Merlot grapes right off the vine — yum! The next winery set atop a hill with not only fine wine but beautiful scenery as well.
The next day the ship docked in Richland and it was off to visit three more wineries. The first stop was high above the Yakima Valley in the remote area of Horse Heaven Hills. The owner, Mike Andrews, gave a tour of the 500-acre vineyard and afterwards indulged our palates in a number of excellent vintages. Next it was off to the Red Mountain area and the with amazing landscaped grounds and sweeping views of the Yakima Valley. More tastings and lunch was followed by a tour winery's vast cave system storing thousands of barrels of wine. Our last winery was in the Red Mountain area, . Kiona was the first vineyard in the area and has cultivated a stellar reputation for producing amazing vintages. The Vivacious Vicky wines are not to be missed.
For Baldessere, educating others about the joy of wine is simply not a job, it's a passion. "It's all about exploration, the process of discovery and rediscovery of tastes," he says. This mantra, as it turns out, is also an essential ingredient to creating a memorable travel experience.
If you go:
This cruise is best for intellectually curious travelers interested more in culture and nature than splashy big ship amenities. The eight-day, seven-night "Taste of the Pacific Northwest" cruises on select dates in April, September and October 2009. All trips depart from Portland, Oregon. Rates range from $3,299 to $4,399 per person, depending on cabin category. Prices include taxes, port charges, airport transfers, shore excursions, and gratuities. Visit for all the details.
Sound off! Do you have a comment, an idea, a complaint or a problem for Anita to solve? and you might find yourself in her next column. And check out her blog, .