/ Source: The Associated Press
Stuck at home Thanksgiving weekend? You don't have to travel to New York's Rockefeller Center to enjoy ice skating or see the Rockettes. Holiday train rides, Christmas shows, lighting displays and outdoor winter fun like ice skating and skiing all begin in late November in many localities. Here are some details.
Trains: Some 30 train rides themed on "The Polar Express," the popular children's book by Chris Van Allsburg, are offered in more than 20 states. Venues include the California State Railroad Museum in Sacramento, the Great Smoky Mountains Railroad in Bryson City, N.C., the Grand Canyon Railway, in Williams, Ariz., and the Durango & Silverton Narrow Gauge Railroad in Durango, Colo. New to the program this year is a rail line in Squamish, British Columbia, near Vancouver. Schedules at http://www.polarexpressride.com.
About 300,000 people took "Polar Express" rides last year. The movie soundtrack is played over the train's public address system, the story is read aloud, and hot chocolate is served en route to a lit-up "North Pole" where Santa awaits.
The trains start running mid-November. Most sell out well in advance. "Now is the time to book," said Jon Schlegel, vice president and general manager of Rail Events, which licenses the program.
Many other excursion trains and tourist-oriented rail lines offer "Santa trains," such as the Hocking Valley Scenic Railway in Ohio, and the Northwest Railway Museum in Snoqualmie, Wash.
Holiday-themed model train exhibits are also popular. Some take place in botanic gardens, like the 17th annual Holiday Train Show at The New York Botanical Garden in the Bronx, Nov. 23 through Jan. 11, and The Golden Gate Express, new this year at the Conservatory of Flowers in San Francisco's Golden Gate Park, Nov. 20-April 19. Others take place in real train stations, like one in Washington's Union Station beginning Nov. 25, part of a "Norwegian Christmas" exhibit.
Shows: Can't make it to New York to see the annual Radio City Christmas Spectacular at Rockefeller Center? No worries. The Rockettes will be in Buffalo, N.Y., at Shea's Performing Arts Center, Nov. 13-30; in Chicago at the Rosemont Theatre, Nov. 20-Dec. 7; and in Nashville at the Grand Ole Opry, Nov. 14-Dec. 28. Later in the season, the Rockettes play Cleveland's Playhouse Square, Dec. 4-28, and the Fox Theatre in St. Louis, Dec. 11-28.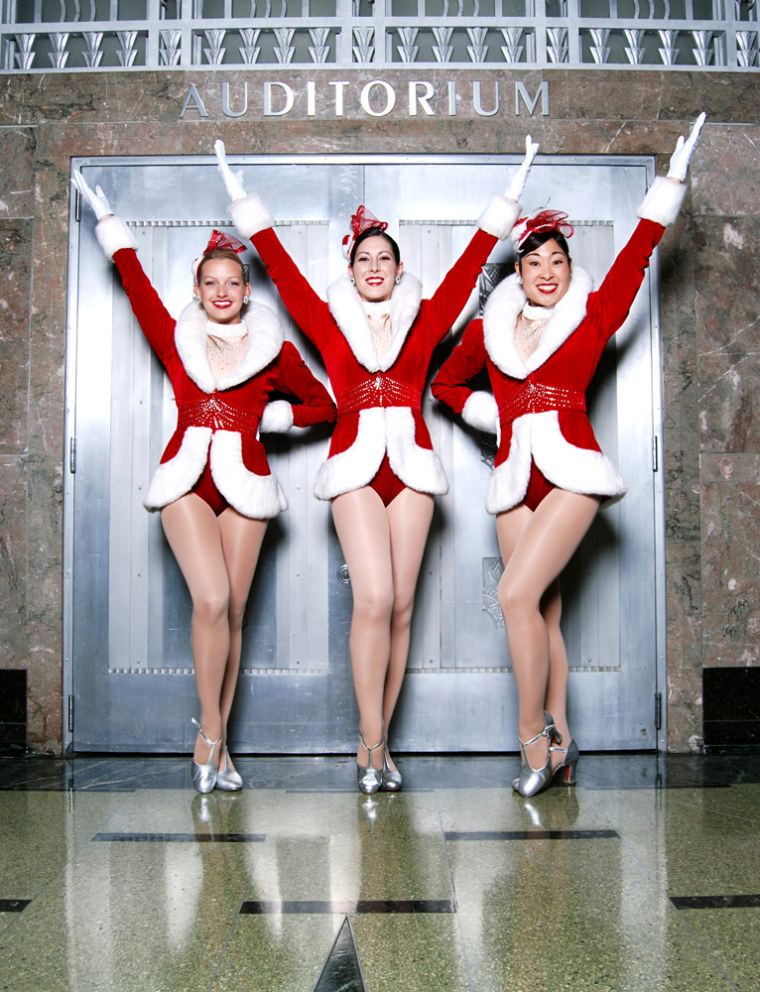 New this year, an arena touring version of the Radio City show has been created for large venues and will play 18 cities, starting Nov. 7 in Minneapolis, and concluding Jan. 4 in Houston. This show will not be in any one city for more than a few days. Thanksgiving week it hits Dayton, Ohio's Nutter Center Nov. 25-26, and Cincinnati's U.S. Bank Arena Nov. 28-30. Details at http://www.radiocitychristmas.com.
The Rockettes also kick the season off (literally) at the Opry in Nashville by taking part in a holiday lighting ceremony Nov. 13 launching a "Country Christmas" with more than a dozen shows and attractions, including outdoor Nativity scenes, 30,000 poinsettias and two million lights. The event draws nearly a million people each year.
"A Christmas Carol" haunts theaters around the country this time of year, like The Stage Theatre in Denver, starting Nov. 28; the Alley Theatre-Hubbard Stage in Houston, beginning Nov. 21; the Indiana Repertory Theatre in Indianapolis, beginning Nov. 15; and the Shubert Performing Arts Center, New Haven, Conn., Nov. 28-30.
Don't forget movies. Openings Thanksgiving week include "Australia" starring Nicole Kidman; "Four Christmases" with Reese Witherspoon and Vince Vaughn; and "Milk" with Sean Penn.
Lights: Some holiday displays don't start until December, but a few light up in late November. Springfield, Mass., turns on the drive-through Bright Lights display in Forest Park Nov. 26. Arkansas offers a trail of holiday lights around the state in 64 communities. In Salt Lake City, the Church of Jesus Christ of Latter-day Saints lights up Temple Square Nov. 28.
In Des Moines, Iowa, the city hosts a nighttime drive-through lighting display called "Jolly Holiday Lights" at Water Works Park, beginning Nov. 25. The Oglebay Resort & Conference Center in Wheeling, W.Va., hosts the Winter Festival of Lights, Nov. 5-Jan. 4. In Houston, the Uptown Holiday Lighting begins Nov. 27 along Post Oak Boulevard.
A 100-foot fir tree at The Grove in Los Angeles is scheduled to be lit Nov. 23, decorated with 10,000 lights and 15,000 ornaments.
Many historic homes and hotels also arrange stupendous holiday displays. Christmas at the Biltmore, in Asheville, N.C., runs Nov. 7-Dec. 4. You don't have to stay at the hotel to stroll the grounds and enjoy The Mission Inn's renowned Festival of Lights, in Riverside, Calif., Nov. 28-Jan.4.
Outdoors: Ice skating rinks often open in time for Thanksgiving weekend. Even in San Diego, where November temperatures may exceed 60 degrees, the outdoor Ice Arena plans to open Nov. 20.
A few ski resorts open earlier, like Loveland and Arapahoe Basin in Colorado, which opened Oct. 15 with an 18-inch base of manufactured snow. But Thanksgiving represents the first big wave of skier and snowboarder visitation for most resorts where weather conditions permit. Last season, nearly 8 percent of visits nationally occurred before the Christmas holidays, according to the National Ski Areas Association.
Alta in Utah, beloved by skiers for its 1970s vibe, expects to open this year on Nov. 21. Killington Resort in Vermont aims to open Nov. 14. Aspen and Snowmass, Colo., expect to open Nov. 27.
But you don't have to vacation at a destination resort to enjoy a day of skiing. Some residents of northern states live close enough to small ski resorts that they can get up early and just go for the day. Belleayre Mountain in Highmount, N.Y., about two and a half hours from New York City, plans to open Nov. 28. If temperatures dip below freezing, northern Michigan ski resorts such as Boyne Mountain will also fire up their snow guns, offering a (long) day trip for Detroit-area residents willing to spend a few hours on Interstate 75.