Taking a vacation during a period of financial turmoil, as AIG executives were criticized for a couple of weeks ago, may not seem like the best of ideas. But if your holiday plans don't involve spending taxpayer money, consider that, all of a sudden, the U.S. dollar has picked up significant strength—particularly against the euro. Vacations that were expensive less than six months ago are now affordable.
The price of oil is also less than half what it was during the peak travel season this past summer. So now is as good a time as any to hit the road, particularly on any one of Europe's more scenic routes.
To find Europe's most breathtaking drives, we asked a group of experts to offer their top picks for enjoyable driving and stunning scenery. The result? Drives to satisfy every taste, whether it's racing around hairpin bends, down narrow mountain paths or speeding along an arrow-straight Roman road.
And they're not just in the French Riviera or the Alps.
The tiny Greek island of Crete, for example, has some breathtaking drives through craggy mountainous terrain and tiny, stone-house villages, including a four-hour journey from the waterfront city of Hania to seaside Palacohora, which Lonely Planet author Chris Deliso calls the most exciting car journey he has ever taken.
Unlike in the U.S., such communities built up over centuries dot the Continent's landscape, and a well-chosen drive can take you past historic sites and into villages boasting Old World charm and character. The winding roads through the Dordogne region of France, for example, can spring a surprise on you around every corner, whether it's a farm selling mouthwatering local produce or a medieval hilltop château.
Top trips
If you are after something even more adventurous, you could do worse than try Belgium's Formula 1 race track, the Circuit de Spa Francorchamps. It's located among forested hills, with drops so steep they make you feel as though "your brain is going to your toes," says racing instructor Martin Smit, owner of the World Racing School in the Netherlands.
And while Britain may not be the first place that springs to mind when it comes to exciting driving, the picturesque Lake District in Northwest England could surprise you.
"You have to have your wits about you," says U.K.-based racing driver Karen Andrews, "as blind summits and bends come all too fast, and a slight lapse in concentration will see you eating a hedge or a dry stone wall."
Across the Irish Sea rests more sedate—though no less scenic—drives. Ireland boasts lush landscapes and quiet country roads, including those found along the Military Road near Dublin, Ireland. In the other direction, a journey through Burgundy, just across the English Channel, can give you a taste of that Old World French charm—not to mention some of the Europe's finest wines.
Choice cars
You want to make sure you choose your mode of transport wisely. Roads like those along the deep ravines of the Gorges de la Restonica in Corsica can be so popular on a warm summer day that a motorbike may be the only way of zipping through the crowds. And if it's not too cold outside, you'll want to have the roof down on a convertible to get the most out of the cliff-top drive up to Capo de Roca in Portugal, once thought to be the end of the world by Europeans.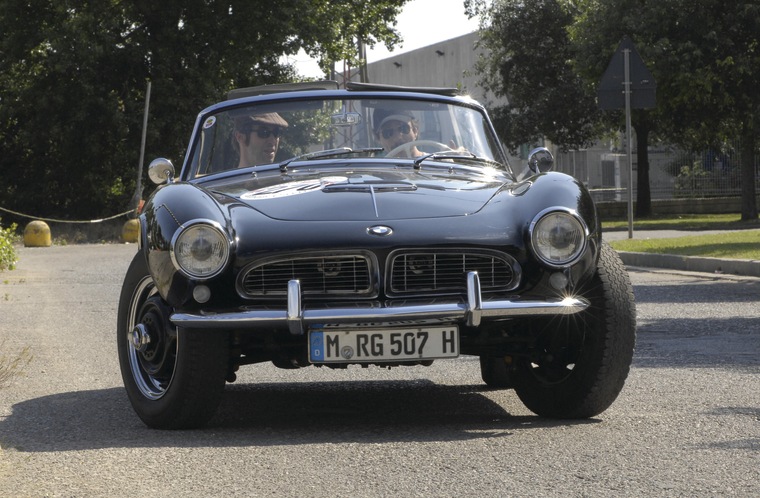 Then, of course, there is the driving. While British and German police can put visitors to shame with their to-the-letter adherence to traffic rules, Southern Europe can be a whole different ballgame.
"There is a lot of machismo, crazy driving in countries like Italy and Greece," says Deliso. "It can be entertaining, but you have to keep your wits about you."
But the freedom one gets when behind the wheel can be worth being tailed by a hundred honking Minis.
"Public transportation in Europe is pretty good compared to other parts of the world," Deliso says, "but if you want to get to that out-of-the-way village and spend time exploring the countryside by yourself, then there is no better way than by car."