/ Source: Forbes Traveler.com
In many corners of the globe, rail is the standard means of transportation. In the United States, and to a lesser degree Canada and Mexico, this has never been the case (at least not since the frontier days). Blame it on an expensive, inefficient train system or a lack of government funding, North American train travel might seem like more trouble than it's worth.
But with gas prices so unpredictable and airlines so inhospitable, the old-fashioned locomotive is making a comeback. Amtrak, the United States' primary train service, reported a 12.3 percent increase in ridership in May 2008 over the previous year—even more notable as May is traditionally a weak travel month. Amtrak's routes currently encompass 46 states and have served more than 19 million passengers in the first half of this year alone.
Scenic tours like Canada's Rocky Mountaineer have begun to flourish, as Americans step outside the box (and the car). Rocky Mountaineer Vacations, which offers various routes through British Columbia and Alberta, has recorded a rise in passengers from Vancouver to Whistler who used to drive their cars between the two locations.
Diana Sorace, travel media relations specialist for Rocky Mountaineer Vacations, attributes this to the full experience passengers are given onboard. "The journey is just as important as the destination and four words you are not likely to hear when traveling (by train): Are we there yet?" she says. "People today relish the idea of going on a trip without the distractions of traffic, limited vehicle space and the necessity of bringing electronics along to keep the children occupied."
Train travel, she says, offers an opportunity to travel with the family in comfort. Meals are served at your seat, and kids can move around more freely. Not to mention, boarding a train is a much quicker process than dealing with airport check-ins and security lines.
It doesn't hurt that the landscapes can be astonishing, too. On the Rocky Mountaineer, for example, expect to see gushing rivers, craggy mountains, verdant meadows, and plenty of wildlife—like long-horned sheep, deer, elk, moose and even bears.
"The panoramic was spectacular—unlike anything I've ever seen before," says Evan McKay, a 25-year-old medical student from Minnesota who recently took a Rocky Mountaineer trip. "The scenery, the glaciers, the remarkable color of Lake Louise—it was all rather spellbinding… There's probably no better way to see the nature, take it all in and appreciate the area—it makes the final destination that much cooler."
America by Rail's scenic Canyonlands trip packs some of America's best parks into one 10-day jaunt. In Arizona, it stops in mystical Sedona and the Grand Canyon, before venturing into Utah and visiting Bryce Canyon and Zion National Parks. A day in Las Vegas allows for some casino time, and other stops include Oak Creek, Lake Powell and Glen Canyon Dam.
There are scenic train trips to be had in the Northeast, too. The Downeaster from Boston to Portland, Maine, is one example. Another is the Adirondack, which makes a slow but scenic 381-mile trip from New York City to Montreal.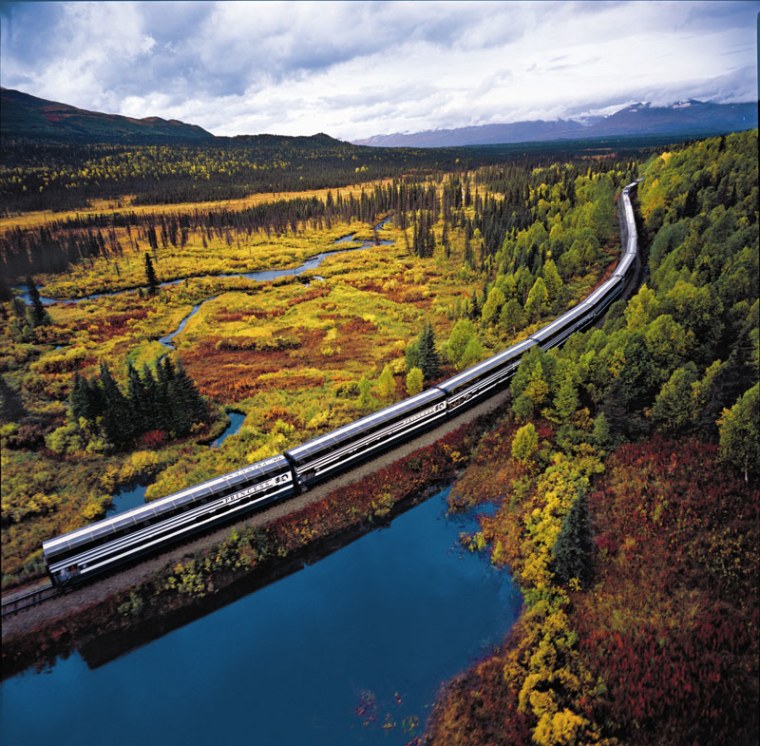 While it may not be the case for all train trips, certain carriers like the Rocky Mountaineer are hailed for their amenities and grade-A service. Passengers make the journey in spacious, reclining seats in temperature-controlled cars and are treated to some top-notch dining along the way.
Not everyone agrees that train travel is the way to go. Alison Presley, a writer for Travelocity's blog The Window Seat, says that sparse routes, high prices and infrequent departures don't always make it the most convenient means by which to travel. "Train travel in the United States is very limited and often more expensive than driving and flying," she says.
Some destinations, however, are best experienced by train, to take you to places cars can't go. Presley witnessed this firsthand during a cruise-rail combination trip up into the great wild of Alaska. "The Wilderness Express… features plush leather seating, an upper-deck observation car with 360-degree views out the glass-domed ceiling and wide windows, a lower-deck dining car with bistro-style food, a tour director and a bartender."
As Diana Sorace says, "Many travelers are starting to want more from their journey. Taking the scenic route at a leisurely pace has convinced travelers to trade in tiny airplane windows for panoramic views of a glass bi-level domed train car."