/ Source: Forbes Traveler.com
When newlyweds Dani and Rob Dario considered their honeymoon options, the thought of lying on a beach for a week never crossed their minds. "It kind of drives me nuts," says Dani. Like many well-traveled couples, they wanted to celebrate their wedding with a vacation that stood out from the exotic locales they had already visited.
They decided to travel through Vietnam, Cambodia and Borneo, where they marked their union (somewhat painfully) with a traditional hand-tapped tattoo, applied using sharpened shells by the grandson of the last remaining headhunter Ernesto Kalum. "My design is a binjal flower and Rob's is a double dog. The rhythm of the tapping tended to mask the pain," the new bride explains.
While the Darios were happy to do much of the organizing themselves, many tour companies like Abercrombie & Kent report that newlyweds are turning to them for help creating the ultimate romantic adventure. A&K guide Toby Fenwick-Wilson recalls one particularly memorable request. "The bride's grandparents were from Kenya," he says, "so we organized a blessing ceremony on the Oloololo Escarpment overlooking the Masai Mara and Serengeti." The verdant plains are abundantly populated by zebra, hippopotamus, elephants, lion and leopard (thanks in part to the efforts of the bride's mother, who set up an anti-poaching NGO in the region). "The elders from the Siria Masai clan were eager to join in. Hospitality is a huge part of Masai culture so it was an absolutely authentic experience."
Exotic destinations like Kenya and Thailand — where  an elephant safari in the Anantara Golden Triangle makes for an adventurous honeymoon — rank highly for many couples, but remote doesn't necessarily equal romantic. No one would deny that a polar odyssey is an incredible experience, but adjoining sleeping bags isn't exactly a formula for passion. This is, after all, a honeymoon, so a king-size bed and a modicum of luxury tend to be desirable.
Even a traditional destination  can take on an exotic dimension when you add a little adventure to the picture: try rock climbing in Italy, for instance. The Rosa Alpina Hotel and Spa, in village high in the Dolomites, may have just invented Michelin-star climbing. The property's two Michelin star restaurant St. Hubertus is the perfect culinary base camp from which to explore the region's crags and peaks. Enthusiastic guides like "Pippo" Cola (who is also a professional chef) provide fascinating history lessons by exploring the vie ferrata (a network of suspension bridges, cable ladders and boardwalks used during the world wars).
Travcoa custom journey planner Nichole Coudayre has helped make many honeymoons special, often by adding romantic touches to an already-adventurous itinerary. She believes that newlyweds are far more invested in the experience they're booking than the average vacation traveler. "Certain adventures, like climbing Mt. Kilimanjaro, take a fair degree of preparation and that's something that draws couples together," she says. "Depending on the trip, they might need to start training at the gym or take up hiking or scuba diving lessons. Sharing these new experiences with each other is invigorating, and the honeymoon therefore becomes a shared accomplishment."
In creating our shortlist of 10 adventure honeymoon tours, which range from a world beach discovery tour to camel camping in India, we talked with some of the most established luxury tour operators, including Abercrombie & Kent, Travcoa and Greaves. We asked for excursions most suited to an adventure honeymoon, and excluded tours that mark the occasion simply with a bottle of champagne.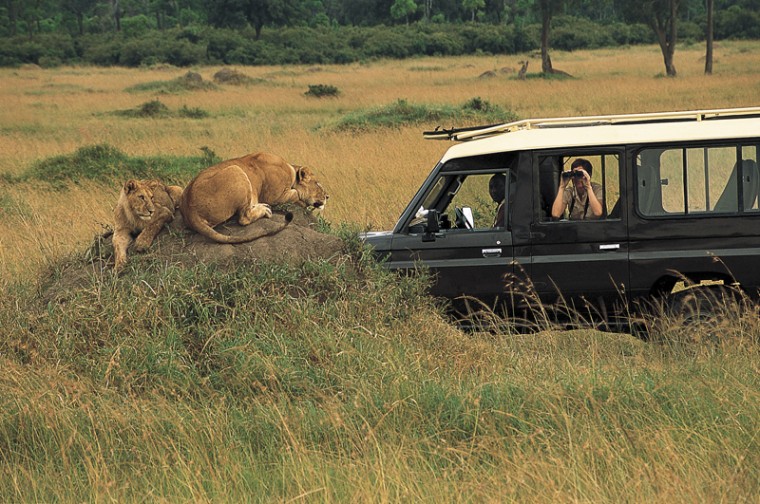 Adventure travel isn't always easy, but, for many couples, that's exactly the appeal. Some bond over a close encounter of an animal kind — consider gorilla trekking in Uganda — while others connect through the camaraderie an extreme adventure delivers. Many of the operators found that, in practice, it was difficult to distinguish between newly betrothed and those celebrating their paper, cotton, leather, even silver anniversaries — such was the aphrodisiac qualities of the trip they'd chosen. "A grand adventure has the potential to be a wonderful honeymoon, no matter how long you've been married," says TCS vice president of marketing, Martha Wharton.
For their part, the Darios found their adventure honeymoon so affecting they'll soon be hearing the pitter patter of roughly 100 little feet. They've decided to leave their jobs in Sydney, Australia and move to Cambodia to help run an orphanage. How many resort-based honeymoons have the power to do that?