Environmentalists have long struggled with how to jar people into action. Greenpeace is known for its stunts, other groups file lawsuits and still others focus on community events.
But for activist and photographer Yann Arthus-Bertrand, the ideal means for rallying people to environmental causes is a camera.
"Photography is something everyone can understand," Arthus-Bertrand told msnbc.com. "If you show my work in Dakar (Senegal) or Kabul (Afghanistan) … everyone understands the beauty of the planet."
Arthus-Bertrand typically shoots aerial photography — focusing on what the Earth looks like from above and not from the ground, where he feles the constraints of walls, borders and governments dilute the beauty. He picked up this technique while working as a hot air balloon pilot in Kenya in the 1970s.
Since the 1980s, he and his team have photographed wildlife, people and landscapes in 150 countries — using airplanes and increasingly helicopters, which provide the ability to get much closer to a subject.
The photos are only half of his equation. Of equal importance, he said, are the captions written to complement each photo and describing the environmental and social issues at stake.
"The beauty (of the photo) gives you emotion, and through the emotion you learn something from the caption," he said.
Next year, Arthus-Bertrand will present his largest exhibit to date: a free, outdoor showing of 150 large aerial photos dubbed "Earth From Above" in New York City. (Several of the images are displayed in the slideshow accompanying this report.)
"I think the Earth is really a piece of art," Arthus-Bertrand said. "There is no artist that can compete with a tree."
Born from his book by the same name, the exhibit uses 4' x 6' aerial photos. Organizers expect two million people to attend the exhibit next May and June at New York's World Financial Center Plaza and along the Battery Park City Esplanade.
To motivate audiences to support less-polluting lifestyles, the exhibit will feature a walkable world map and educational programs.
In 2010, San Francisco and Los Angeles will host the exhibit, which previously has been seen in more than 120 cities around the world.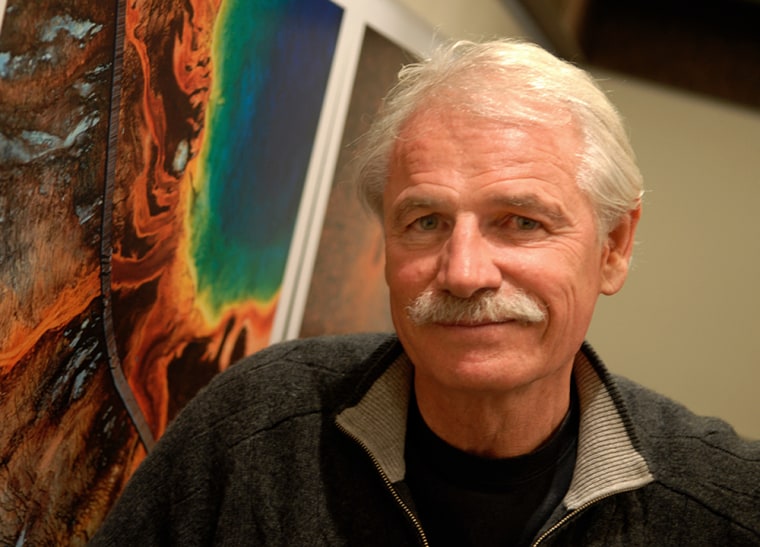 Arthus-Bertrand's goal is to get people to change their lives, leaving smaller footprints and a more sustainable future.
"We want everything faster," he added. "We cut the trees faster than the trees grow. We take the fish faster than they can reproduce. We send CO2 into the sky faster than the CO2 can be absorbed."
"If we don't change," Arthus-Bertrand predicted, "nature is going to force us to change … We are part of the ecosystem. We have forgotten, it's not nature on one side and man on the other side. Man is part of nature."