/ Source: The Associated Press
In this tiny reservation town a hundred miles from the Canadian border where temperatures once hit 60-below zero, a Southern twang is sometimes heard over the din at the local diner and there is talk of Texas tea beneath the streets.
Roughnecks from Texas and Oklahoma have traveled here on hopes that they now share with the town's 1,000 or so inhabitants — that there is oil in Parshall.
About 400 people own mineral rights under homes, businesses, churches, nursing homes or tribal land. All of it has been leased, town officials said.
"We were dying," said Loren Hoffman, a local farmer and the city auditor. "Our town was slipping backward, but now we're on the upswing."
While it is the namesake of the Parshall oil field, which sits in the crude-rich Bakken shale formation, a quarter of Parshall's residents live in poverty.
No one is sure how much oil might lie beneath the town, but with the wells spreading south toward Parshall near the Fort Berthold Indian Reservation, things have begun to change.
"We're seeing an influx of youth that we didn't have before," Hoffman said.
At Parshall's only restaurant, the Redwood, there is now Tex-Mex food on the menu, though locals were leery of it at first.
Business at the Redwood Restaurant, like other establishments in town, is brisk. The hamburger smothered with gravy is still a big seller.
"We put breakfast burritos on the menu and no one would try them — they thought it would be too spicy," said Shad Green, 39, who came to the area last spring from Texas to work the oil wells for $32 an hour.
After a co-worker was killed on an oil rig where he worked, Green quit the business and bought the Redwood.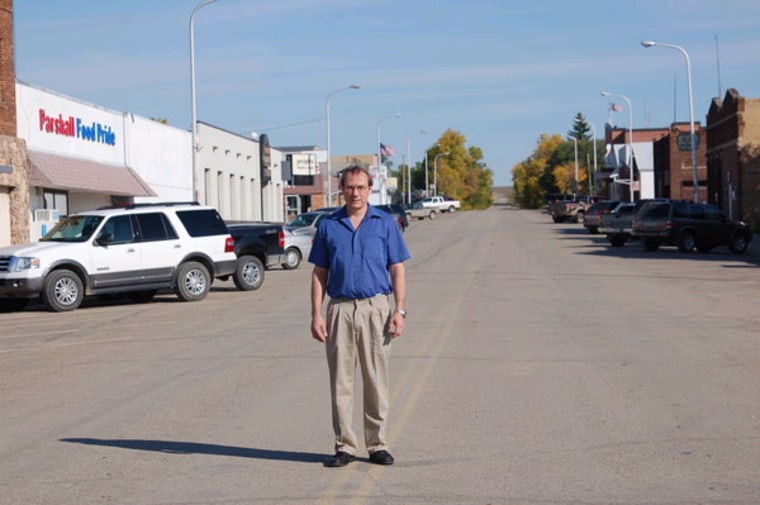 Green, his wife and her mother, sister and 18-year-old niece are there, and his son and daughter-in-law expect to move there in about a month, to help work in the restaurant, he said.
Strong Southern drawls like Green's are becoming more prevalent in town.
"People are getting more familiar with the accent," Green said.
But it is no longer the case that you know most of the people you see in Parshall.
"I've lived here all my life and I don't recognize most of the people in the local cafe," Hoffman said.
A number of businesses are reporting record sales, said Parshall Mayor Richard Bolkan, who also owns the town grocery store.
Occupancy is nearly at 100 percent at the 15-room Parshall Motor Inn, said owner and manager Jeanette Cecil.
Cecil purchased the inn — and the mineral rights below it — in August 2006, less than a year before the oil boom, she said.
She plans a 10-room expansion for next spring to house the welders and surveyors who are flooding into town.
In just over a year, horizontal oil wells have been spudded throughout the region, where the hilly prairie had been previously disturbed only by crops and Cold War-era missile silos.
Dozens of nodding donkey pumps now dot the landscape and flames from waste gas now light the night sky.
In April, the U.S. Geological Survey estimated that up to 4.3 billion barrels of oil can be recovered from the Bakken. The agency said the Bakken, much of which lies two miles under the surface in western North Dakota, was the largest continuous oil accumulation it has ever assessed.
Wichita, Kan.-based Slawson Exploration Co. has begun drilling on the outskirts of Parshall, and another well is planned this month that will partially drill beneath the town, said Todd Slawson, one of the company's owners. Next year, a rig will likely drill directly beneath the town, he said.
"We've never drilled anything like this," he said. "Every time we drill, it is a benefit to someone. This happens to be a benefit to a lot of people."
The city is leasing land at $500 an acre, plus royalties. Individuals are getting paid about $85 a lot, which is about one-sixth of an acre, Hoffman said.
But the rush of oil companies has already brought a measure of prosperity to Parshall, where according to the 2000 Census, the unemployment rate topped 20 percent. Unemployment was more than 40 percent for the reservation.
Cecil, the owner of the motor inn in town, said people are keeping quite about their chances of striking it rich, and no one she knows is already banking on the money.
"Everyone in town is so busy — I don't think people have stopped to really think about it," she said.
There are also jobs flowing to the reservation.
"The unemployment rate has really gone down on our reservation here," said Mervin Packineau, a member of the Three Affiliated Tribes business council. "Anybody who basically wants to work can go out and find a job and work nowadays."
Packineau said some of the tribes' members have been getting oil royalties from wells operating on their land. One family, he said, got $800,000 in recent months.
"We had families who were so poor they could barely make it from day to day," he said. "Now all the sudden they get this money, so it's a huge lift to some of our families around here."
Retired farmer Rudy Folden, 88, has spent his entire life in Parshall.
"I've never seen anything like it," said Folden, who owns mineral rights beneath his home in town, and on his farm outside the city.
Folden said he's lost loved ones to cancer, and he and his wife would likely donate money for cancer research.
"That money, it don't mean too much to us," he said. "We're too old for it to benefit us too much."
Parshall, with four city employees, is hoping for a rejuvenation from royalties, Hoffman said.
The city now collects about $120,000 a year in sales and property taxes.
"We've just got by year after year," Bolkan said.
Hoffman said the city already has seen a big boost in revenue from selling water to drilling companies, which use it to fracture rocks to release oil.
Parshall just acquired it's first new piece of equipment since 1976 — a lawn mower.
Drilling for oil in the Parshall field started north of city, but oil companies have begun to migrate south. The companies typically avoid populated areas because they are forced to negotiate contracts with hundreds of people.
Slawson, however, said the company has successfully negotiated contracts with every mineral property owner that has been contacted and results at a well placed just outside the city have been good.
"That little town of Parshall will never be the same, and I hope everybody really doesn't change that much," Slawson said. "But what I know about North Dakotans, is that the most they would do with all that money would be to paint their houses."