/ Source: Forbes Traveler.com
It's just like any other addiction. You start slowly, gradually acquire a taste for the stuff and then ramp things up into a full-blown habit. But you can't help yourself—you love the subtle buzz, the lingering aftertaste, the euphoric feeling that seems to follow every delicious encounter, to the point where you can no longer live without your daily dose. That's when you know you're a full-blown chocoholic.
But who offers the best chocolate high? That depends on what sort of chocolate you crave and how far you're willing to travel for your buzz.
With more than a dozen factories and some 2,000 chocolate shops, Belgium is the undisputed kingpin of the chocolate world. From nut-filled nougats and pralines to truffles and white chocolate seashells, the little European nation produces more than 170,000 tons of chocolate each year—an amount equivalent to the weight of 850 Boeing 747s.
"Chocolate has a profound effect on people on many levels," says Pamela Hinckley of Theo Chocolate in Seattle, another chocolate lover's paradise. "The aroma, flavor and sensual way it melts is just the beginning. Many of the sensations are similar to those we experience when we are falling in love." John Sharffenberger, co-founder of Sharffen Berger Chocolate in Berkeley, the little Belgium of California, agrees: "Chocolate satisfies on three levels—body, mind and soul."
Europe's love affair with chocolate desserts began in Belgium as a result of the country's colonial involvement in the Congo. Along with a huge swath of African jungle, the Belgians suddenly found themselves with a huge supply of cacao, the basic raw ingredient of chocolate. The invention of the praline in Brussels in 1912 kicked off the world's first chocolate candy craze and established chocolate as one of the country's key industries.
Although there are many famous Belgian chocolate makers—Neuhaus, Leonidas, Sukerbuyc and Daskalidés—one of the oldest and most celebrated is Godiva, which has been around for more than 80 years. Seeking a name that combined beauty and sensuality, founder Joseph Draps named his confections after the lady who once rode naked through Coventry. His original chocolate shop on the Grande Place in Brussels still exists today. There are 15 other boutiques in Belgium, while the original Godiva factory churns out hundreds of thousands of boxes per year.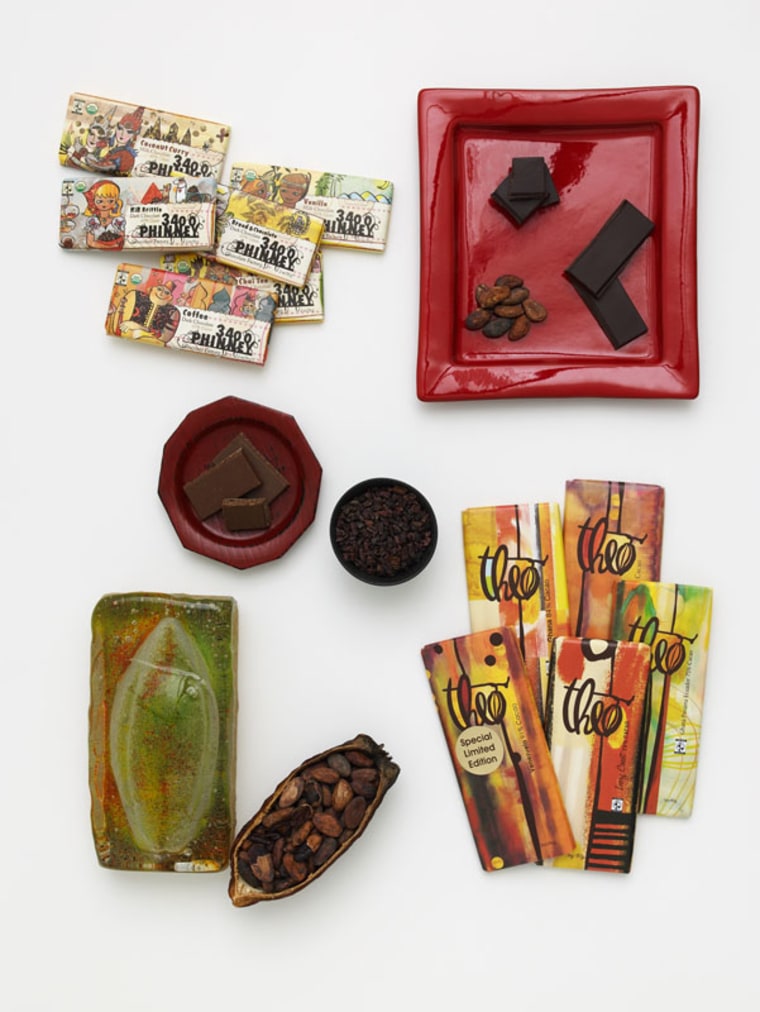 "It's really not surprising that Godiva originated in Belgium," says Jim Goldman, the company's worldwide president. From art and architecture to lace and crystal, Belgium has as long tradition of perfectionism. "In keeping with this tradition—and with a remarkable eye for detail—Draps set forth the standard at Godiva for elegant, shell-molded designs and beautiful packaging."
On the other side of the Atlantic, another charismatic individual was responsible for launching the chocolate craze in the United States. After failing at the candy business in a handful of cities, Milton Hershey returned to his roots in rural Pennsylvania in 1883 and established a factory to produce caramels. Convinced that the future belonged to chocolate (rather than caramels) Hershey spent years of trial and error perfecting the milk chocolate formula that would lead to the first Hershey bar.
Today, Hershey is Chocolate Town U.S.A.—home to the factories where they make Hershey's iconic brands, from Kisse to Kit Kat, and a sprawling interactive experience called Chocolate World that combines theme-park rides, simulated factory tours, 3-D films and private tastings of Hershey's new gourmet chocolates.
Organic chocolate, all the rage these days, is the raison d'être of companies like Green & Black's and, in the Pacific Northwest, Theo Chocolate. The ultimate in politically correct confectioner, Theo uses only fair trade-certified cacao (and other "socially and environmentally responsible" ingredients) and participates in a local "green power" initiative in which customers can score free chocolate by participating in a renewable energy credits project.
Named after the Latin term for the cacao tree (Theobroma cacao)—or, "food of the gods"—the company was started in 1994 by Joe Whinney. A stint as a conservation worker in Central America convinced him there was a better way to undertake both farming and food-making in the modern world. Theo's factory tour starts in a classroom setting, where visitors are schooled in the basics of cacao growing and chocolate production, including a chance to taste "nibs" (roasted, hulled cacao beans) that constitute the primary raw material of all chocolate. Festooned with fluffy hair nets, they move onto the factory floor, making their way through the 13 different machines and processes that magically transform cacao pods into finished, packaged chocolate.
Further down the West Coast, in the Bay Area, Scharffenberger is a chocolatier on the rise. The chocolate comes from organic Brazilian cacao grown on an Amazon co-op that practices sustainable farming. Founded in 1996 by organic farmer and vintner John Scharffenberger and Bay Area physician Robert Steinberg, it's a miracle the company even got off the ground. The pair used a home coffee grinder, electric mixer and hair dryer in Steinberg's kitchen to test nearly 30 varieties of cacao beans for flavor.
"Robert provided the curiosity and patience of a scientist," Scharffenberger says. "My background in botanical anthropology gave me the opportunity to work with cacao and the indigenous communities that farm cacao." Located in an old brick warehouse, the Scharffenberger factory in the Berkeley flatlands is both a local landmark and chocoholic hangout, with free daily factory tours, chocolate clinics and a café that serves desserts to die for including chocolate pancakes and tribute cake filled with whipped chocolate ganache.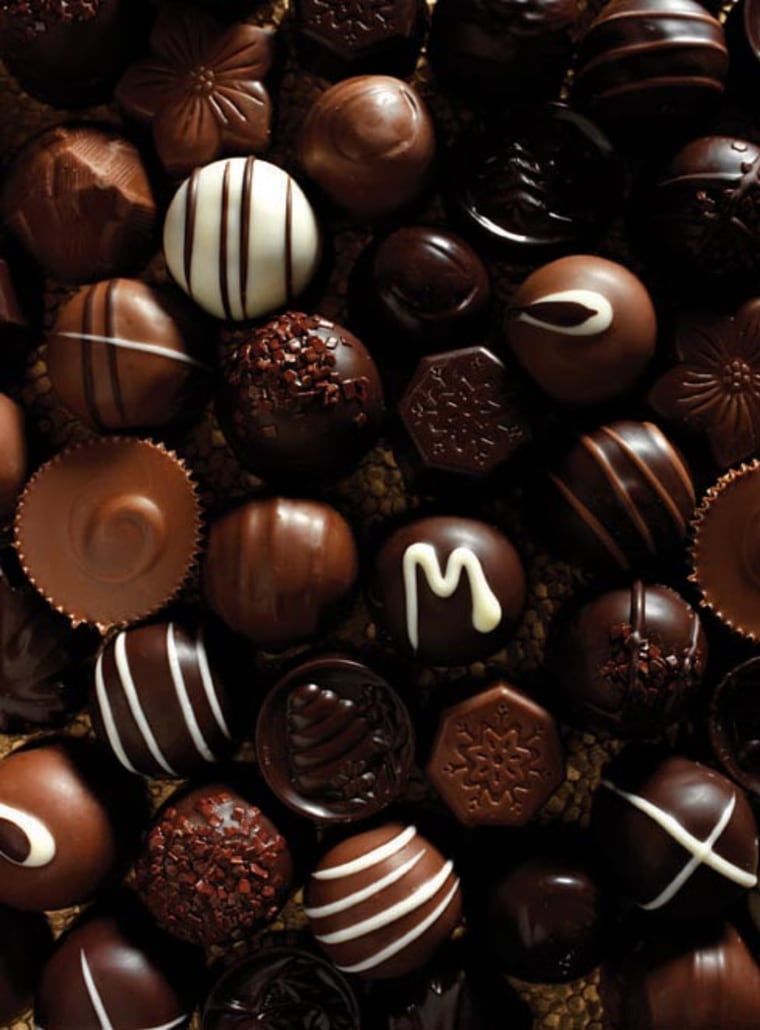 Tuscany is another region where chocolate making has risen to an art form. The area along the Arno River between Florence and Pisa has come to be known as the Chocolate Valley. The most celebrated is Amedei, founded by siblings Cecilia and Alessio Tessieri in 1990 and named after their grandmother. The astonishing Porcelana is Amedei's most celebrated sweet, made from rare white Venezuelan cacao and one of the world's most expensive chocolates. Amedei is a favorite of French President Nicholas Sarkozy, a man with a demonstrated penchant for things Italian.
Visitors must call ahead to arrange a visit to the Amedei factory, but other chocolate producers are open during regular business hours on an almost daily basis including the unique Mannori Espace in the town of Prato, where chocolate maestro Luca Mannori organizes classes and chocolate tastings.
One of the highpoints of the Chocolate Valley is the Cioccolato Vestri boutique and factory in Florence. Any chance to sink one's teeth into Vestri's tocco oriente, a thin slab of white chocolate generously infused with sesame seeds and Himalayan salt, will not be soon forgotten. Then there's Roberto Catinari's workshop in Agliana where wonderful-sounding confectionaries like tavolette, schiacciate and rustichelli are produced. If that's not enticing enough, read on to discover more choco-heavens that may be closer to home.