/ Source: The Associated Press
A suicide car bomber struck a U.S. military convoy Thursday as it passed through a crowded market in eastern Afghanistan, killing at least eight civilians and an American soldier, Afghan officials said.
The explosion also wounded 74 people near the livestock market where people were trading sheep cows, goats and other animals in the Bati Kot district outside Jalalabad, Afghan police and health officials said.
Charred and twisted remain of cars that were destroyed in the blast smoldered for hours after the attack on Afghanistan's main road to the nearby Pakistani. A U.S. military vehicle was among the wreckage.
At least eight civilians were killed and 74 others were wounded in the attack, said Ghafoor Khan, the spokesman for the provincial police chief. A U.S. soldier was also killed in the bombing, U.S. military said.
The number of civilians killed in the attack is significantly lower from the one reported initially by the U.S. military, which said 20 civilians had died. The military did not explain the discrepancy and referred calls about the casualties to Afghan authorities.
The soldier's death brings the number of U.S. troops killed in Afghanistan to at least 148, the highest number of troop deaths per year since the U.S.-led invasion in 2001.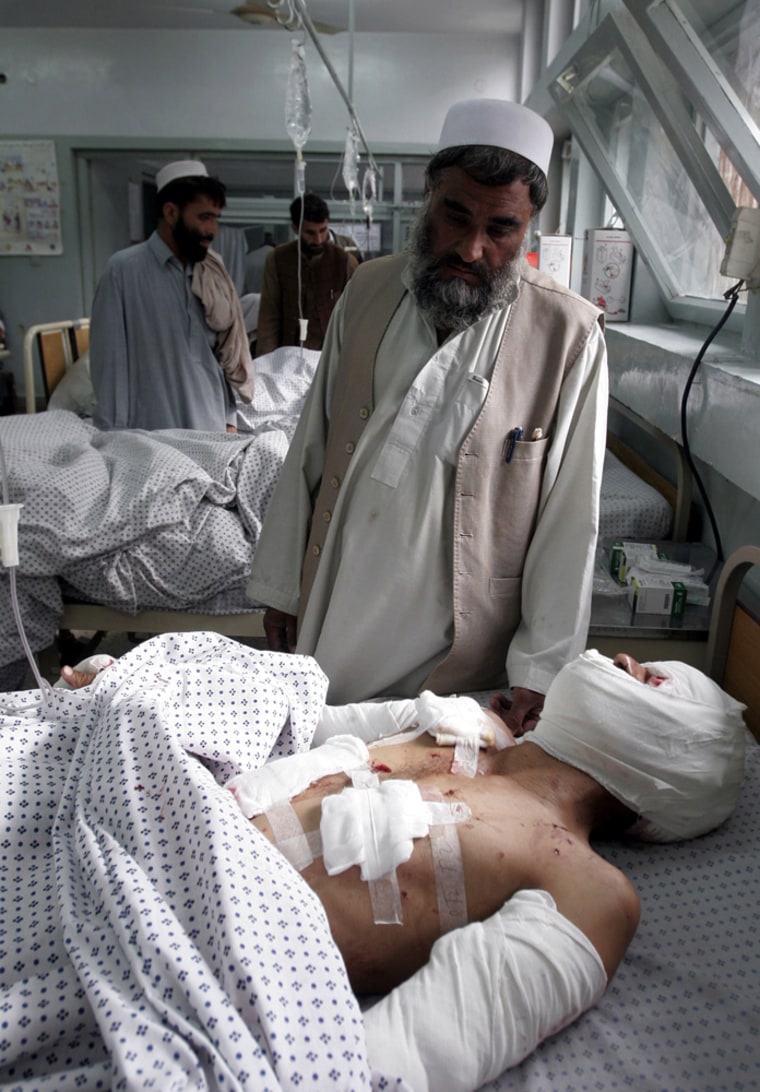 There were 111 U.S. military deaths in Afghanistan in the whole of 2007.
Nobody claimed responsibility for the attack. Taliban militants regularly use suicide attackers and car bombs in their assaults against U.S., Afghan and other foreign troops in the country.
The United Nations condemned the attack, saying in a statement that it "inflicted enormous suffering in an otherwise peaceful community."
Separately, two British troops were killed Wednesday in an explosion in southern Afghanistan's restive Helmand province, Britain's Ministry of Defense said in a statement. The Royal Marines' vehicle was struck by an explosive while they were on a patrol with Afghan security forces in the Garmsir district, the statement said.
The deaths bring the number of British personnel who have died in Afghanistan to 124.
More than 5,400 people, of whom nearly 1,000 civilians, have died in insurgency related violence this year, according to a tally compiled by the Associated Press based on figures provided by Afghan and international officials.