/ Source: The Associated Press
On one side of this mountaintop ghost town, a line of black-booted rebels approaches on foot with rockets and tin boxes of ammunition, seizing new territory with each footstep despite promises of a cease-fire.
On the other side, government soldiers in flip-flops balancing portable generators and luggage on their heads have already begun to flee.
In between, the vast Central African nation's deepening humanitarian crisis is laid bare: thousands of desperate civilians who used to live in this eastern Congo town huddle against coils of concertina wire surrounding a base for U.N. peacekeepers, waiting nervously for the rebels to arrive.
"We are hungry and thirsty, but we don't want any aid. We want security," said 30-year-old Jeff Machozi, who built a makeshift tent here three days ago with tree branches and bamboo he ripped out of the earth. "We want this war to stop."
Clashes between fighters loyal to rebel leader Laurent Nkunda on the one side and the army and its allied spear-wielding militias on the other exploded in August and has displaced at least 250,000 people.
But those refugee figures do not include remote towns like Kanyabayonga, whose entire population has fled, or Kayna, another town just to the north, which was also virtually deserted Monday.
Kanyabayonga is about 80 miles (130 kilometers) north of the regional capital, Goma.
Carving out more territory
Though rebel leader Laurent Nkunda told visiting U.N. envoy Olusegun Obasanjo on Sunday that he was committed to a cease-fire, his troops have been carving out an even greater territory in the remote hills north of Goma.
Early Monday, the rebels took control of Rwindi, the headquarters of Virunga National Park, after a night spent trading artillery and mortar fire with army forces. Rwindi is 10 miles (17 kilometers) south of Kanyabayonga.
U.N. peacekeepers at a base in Rwindi that was between the two sides said rounds flew overhead for more than an hour. Some exploded nearby, and one Indian soldier in a trench was wounded in the head by shrapnel, U.N. commanders at the base said.
Two government vehicles full of ammunition burned in the night, though peacekeepers said it wasn't clear if soldiers destroyed them by accident or to keep rebels from taking them.
By Monday morning, peacekeepers said they woke to find rebels in the town.
Monday afternoon, rebel fighters were already marching single-file by the side of the road north toward where Kanyabayonga sits on a hilltop. Wearing crisp military uniforms and black Wellington boots, they carried rockets, generators and Kalashnikov rifles.
Halfway up the road that zigzags to the top of the densely forested mountain, an army soldier waved a car of approaching journalists to stop — his presence marking the front line.
Kanyabayonga itself was virtually deserted, except for handfuls of people still fleeing with everything they owned. Women carried babies and plastic yellow Jerry cans and rolled mattresses on their backs. Children, doubled over under heavy loads, trekked behind.
Soldiers in retreat
Hundreds of soldiers could be seen in apparent retreat, walking down the same roads pushing wooden bikes laden with sacks, and carrying ammunition and bundles of belongings on their heads.
Hundreds of other troops stayed behind, though, scattered across the town of empty straw huts, their dry-mud walls held together with sticks.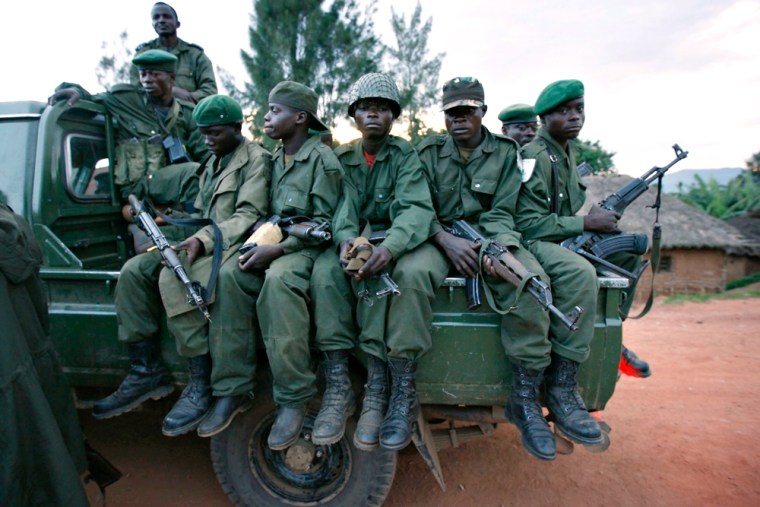 One soldier in flip flops, Jerome Roger, said government troops had fled Rwindi on the orders of their unit commander. He said he did not know his army's plans or strategy — he and his colleagues had no radios to communicate with other units.
"We retreated from Rwindi; maybe we'll retreat from here," Roger said, shrugging his shoulders and smiling wildly as marijuana smoke wafted through the air.
On a hill near the U.N. base in Kanyabayonga, fearful residents tethered plastic tents to the jagged coils of concertina wire surrounding it. Others jammed tree branches into the ground, trying to build shelters from whatever they could find.
John Mbusa, 60, said he fled Kanyabayonga last week after an earlier round of fighting drew near. He fled north with his wife and eight children, sleeping outside. Returning four days later, he found soldiers pillaging the town.
'They took everything'
"We didn't even stay home one night," Mbusa said. "They took everything we had, mattresses, money. They were drunk. We left immediately."
His next stop: the U.N. base.
Many residents had mixed feelings about the U.N. mission in Kanyabayonga. On the one hand, its mere presence offers a modicum of security in a lawless part of the world. Just a couple of miles down the road, a dozen so-called Mai Mai militiamen wandered around wielding spears with vegetation and vines wrapped around their heads.
"The U.N. does nothing," Mbusa said. "When there is fighting, they don't even come out. They stare at us."
Civilians crowded around the Rwindi further south U.N. base made similar complaints, but said peacekeepers had brought them rice and curry and had allowed them to sleep — outside — beside a U.N. shipping container during Sunday night's exchange of artillery.
Congo has the world's largest U.N. peacekeeping mission, with 17,000 troops, but the peacekeepers have been unable to either stop the fighting or protect civilians.
Nkunda declared a unilateral cease-fire in late October as his fighters swarmed toward Goma, which serves as headquarters for the provincial government, the U.N. and aid groups in the region.
Since then, rebels have consolidated their positions, appointing their own local administrators and forcibly recruited young men and boys to join their ranks, aid workers say.
Rebels advance north
Though the rebels halted outside Goma, they have advanced further north. Today they control the entire road from the outskirts of Goma to the doorstep of Kanyabayonga.
The dilapidated route winds through scenic Virunga National Park, where elephants roam and troops of baboons can be seen scurrying through the road. Several park ranger stations and gates are abandoned, littered with empty boots and discarded uniforms.
"They are continuing their offensive further north," U.N. peacekeeping spokesman Col. Jean-Paul Dietrich said. "This shows they're not respecting their own cease-fire they've declared."
Rebel spokesman Bertrand Bisimwa said the rebels were only defending themselves from army attacks.
Nkunda launched a rebellion in 2004, claiming to protect ethnic Tutsis from Hutu militias who fled to Congo after Rwanda's 1994 genocide left more than 500,000 Tutsis and others slaughtered. But critics say Nkunda is more interested in power and Congo's mineral wealth than in protecting his people.
Fighting among armed groups has ground on for years in eastern Congo's lawless North Kivu province, despite hopes that security would improve after 2006 elections, the country's first democratic vote since it gained independence half a century ago. The vote was the culmination of a peace process that ended a devastating 1998-2002 war that drew in half a dozen African nations and split the vast nation into rival fiefdoms.
Mbusa, who is a refugee in his own town, said he hoped there would be no fighting if rebels seized Kanyabayonga. Some said they feared rebels would massacre civilians as human rights groups said they did earlier this month in Kiwanja, further south.
The U.N., "they don't even let us inside," he said, just yards from the base. "All we can do is duck down and pray."
New U.N. resolution
A proposed new U.N. resolution would increase the 17,000-strong U.N. peacekeeping force in conflict-wracked Congo by about 3,100 troops and police.
U.N. Secretary-General Ban Ki-moon and his top U.N. envoy in Congo have been urging the U.N. Security Council to beef up its presence in eastern Congo, where clashes between fighters loyal to rebel leader Laurent Nkunda and the Congolese army have created a humanitarian crisis.
The French-drafted resolution, obtained Monday by the Associated Press, would add 2,785 military personnel and 300 police to the force.
Diplomats said the expect a quick vote, probably later this week.