/ Source: The Associated Press
A third of the units at a popular lodging complex at Yosemite National Park will be permanently closed because an unstable cliff has created the potential for deadly rockslides, the National Park Service said Friday.
The agency said 233 cabins will close permanently, or about one-third of the lodging units available at Curry Village to park visitors. About half of the 618 cabins have been off-limits since a rockfall on the historic complex Oct. 8.
"The NPS can no longer treat each rockfall as an isolated incident," the park service said in a statement Friday. "Instead, we must look at the area comprehensively and recognize that geologic processes that have shaped Yosemite Valley since the last glaciers receded will continue to result in rockfall."
The closure will affect 157,500 overnight guests per year, said Scott Gediman, a parks spokesman. Officials will remove the cabins, fence off the area and install educational exhibits explaining why the area was closed and the history of rockfalls.
"I'm glad nobody else had to die," said attorney Dugan Barr, who is suing Yosemite for wrongful death on behalf of the family of rock climber Peter Terbush.
Terbush was killed in 1999 in a rockfall behind Curry Village. Barr has been frustrated that Yosemite does not warn Curry Village visitors of potential rockfall danger.
"If they'd just put up a sign on a bulletin board there, put up a piece of paper that says we've had rockfalls of these sizes on these dates, then they can let people make up their own minds about whether they want to go up there."
Earlier reluctance
Despite two deaths and an increase in the frequency and severity of the rockfalls since 1996, park officials had been reluctant act earlier.
For a decade, the National Park Service has known that the 3,000-foot granite cliff hanging over the village is susceptible to colossal rockslides like one last month that crushed cabins and sent schoolchildren running for their lives.
An Associated Press examination of records found that rock falls in and around Curry Village have been happening more frequently in the past several years, with two people killed and about two dozen injured since 1996.
And yet, the park service repeatedly rebuilt and repaired the lodgings rather than bar the public or post warnings at the village, which has been around for more than a century.
"To me, that's irresponsible," said Deanna Maschmeyer of Monterey, who ran with her two children from their cabin as the equivalent of 570 dump trucks of rock shook the ground Oct. 8. "Now that I've lived through it, I can't believe it's safe. I will not stay there again."
Falling rocks at one of America's most popular parks have led to at least one lawsuit and scientific debate over whether the increasing danger is attributable to construction in the park.
Park officials say that over the years, they have carefully weighed the safety of visitors against public demand for lodging amid one of the world's most spectacular natural wonders.
"It's not inaction on our part over the past 10 years," Gediman, the park's public affairs officer, said before Friday's move. "It's just us saying we're going to do the scientific studies and make decisions based upon that."
Families gather below Glacier Point
Curry Village, with 618 cabins, accounts for almost two-thirds of the lodging at Yosemite. It is also the most family-friendly lodging in the park, consisting of cabins, stores and restaurants run by an outside company. And it is in Yosemite Valley, beneath the unstable granite of Glacier Point.
The village has experienced more rockfalls during the past decade than any other place in the one-by-seven-mile valley. U.S. Geological Survey and park records list as many as 46 since 1996 — four times the number during the previous 139 years.
Since 1999, 20 of the structures at Curry Village have been directly hit by boulders and many more have been damaged by flying rocks.
Since 1857, at least 535 rockfalls in Yosemite Valley have killed 14 people and injured 62, more than at any other national park. Yosemite Valley is easily the most collapse-prone place in a park that receives over 3 million visitors a year.
Officials say that visitors assume some risk when they visit national parks, and that the parks are not legally required to post warnings about hazards in wild areas.
"By definition Yosemite National Park is a wild place and these natural processes occur and are going to continue," Gediman said. "By us not putting signs right there, we're not trying to hide the fact that there has been rockfall in the area."
He said if officials put up warning signs about every hazard, the park would be covered with them.
Is village wild, or a motel?
However, the family of Peter Terbush, a geology student killed in a 660-ton collapse of rock while standing at the cliff's base at Curry Village in 1999, contends visitors should be warned.
"There's nothing wild about Curry Village," said Barr, who filed the family's wrongful-death suit against the park. "It's a motel."
In the most recent incident last month, more than 150 youngsters were on field trips when rocks hit 17 cabins and flattened one at 6:55 a.m. Nicole Friere of Santa Barbara told the AP that her sixth-grade daughter and three other girls cowered in their cabin as rocks shattered the windows. No one was seriously injured.
Although park officials attribute the increased number of falls at Curry Village to nature, two studies have concluded that human activity above Glacier Point contributed to two fatal rock collapses in the late 1990s — the one that killed the student geologist at Curry Village, and another at the nearby Happy Isles nature center.
In the Happy Isles accident in 1996, the 245 mph air blast from a massive avalanche knocked down and denuded 1,000 trees across 32 acres, killing a 20-year-old visitor, paralyzing another and injuring 12 more people.
Water use causing rockfalls?
Two university scientists later concluded that thousands of gallons of water leaking from a septic system for public restrooms on the overlook had seeped into crevasses and loosened the rock.
The professors also found that many subsequent rockfalls coincided with the release of water from a 147,000-gallon storage tank atop Glacier Point. It was one of those rockfalls that killed Terbush.
More recently, the paving of a parking lot and other construction altered runoff patterns on Glacier Point, contributing to other rockfalls, one of the scientists, Chester F. "Skip" Watts, a geology professor at Radford University in Virginia, said in an interview. "That's what we are seeing now," he said.
Historically, most Yosemite rockfalls occur during the winter, when freezing stresses rock joints. Yet on Glacier Point, records show, falls occurred almost exclusively in the warmer months between 1996 and 2004.
"Those atypical rockfall months coincide with peak visitation and consequently peak water use," Watts and colleague Robert Watters from the University of Nevada-Reno wrote in a paper presented last year at a scientific conference.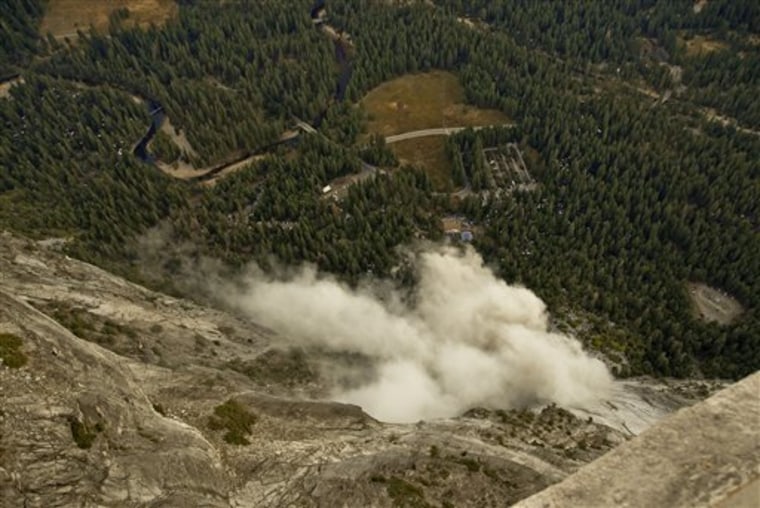 Watts was an expert witness in the lawsuit filed over Terbush's death. A federal judge dismissed the case, saying national parks have wide discretion over whether to issue warnings about natural hazards. But an appeals court this year sent the case back to a lower court to decide whether the park can be held liable for negligent maintenance.
Yosemite geologist Greg Stock, hired three years ago mainly to study the rockfalls, said the incident last month indicates the professors are incorrect in theorizing that human water use is to blame.
"It wasn't water, and yet it was a large rockfall," he said. "That helps to demonstrate that what causes and triggers rockfall at Glacier Point is a very complicated issue."
One likely spot for the next big rockfall is across the valley on Middle Brother Peak, where a 700,000-ton slab of granite hangs precariously 2,500 feet above an undeveloped area. Unlike Curry Village, it is posted with signs alerting drivers of the danger. They are prohibited from stopping, even momentarily, to admire the view.