/ Source: The Associated Press
A 7-month-old wild tiger died Tuesday in a central Indian zoo, two days after veterinarians tried to save the cub with a rare blood transfusion, officials said.
The cub, which doctors named Juhi after a fragrant white flower native to India, had shown signs of improvement, but suddenly went into convulsions Tuesday, said Bimal Majumdar, the chief wildlife officer in Nagpur city.
"We have lost the battle. She got convulsions this morning and we tried our best to save her," said Majumdar. "But she stopped breathing and that's how the end came."
Veterinarians gave her a blood transfusion — the first time such a procedure has been done on a tiger in India — believing it was the only way to save the cub after its hemoglobin levels had dropped to dangerously low levels.
Juhi and her sister, Jai, had been rescued from angry villagers who had tried to kill the cats, fearing they would attack children and cattle.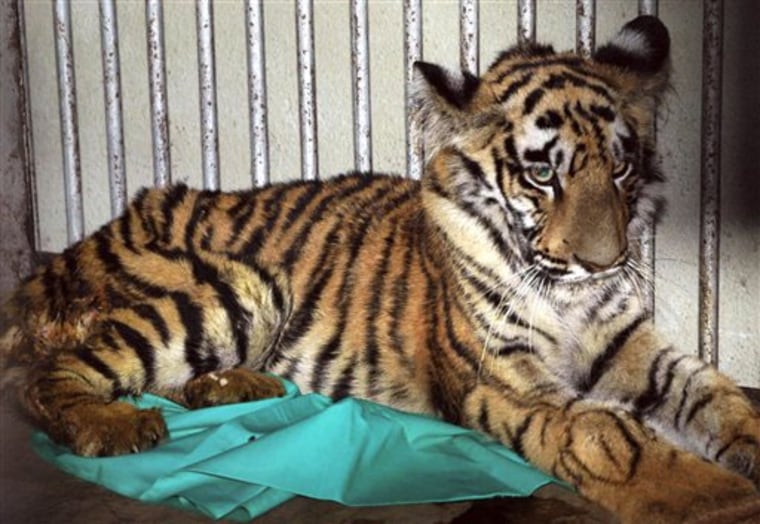 Doctors said the cubs, who appeared to have been abandoned by their mother, were weak, starving and wounded when they were brought to the zoo, some 530 miles southeast of New Delhi.
Jai responded well to treatment, but Juhi's condition continued to deteriorate.
India's wild tiger population has plummeted to some 1,500 — down from about 3,600 six years ago and an estimated 100,000 a century ago. Shrinking habitats have brought the wild cats into conflict with farmers and poachers who kill them for pelts and body parts, highly prized in traditional Chinese medicine.