/ Source: The Associated Press
Stacks of charred bricks, blackened shells of cars and burned tree trunks were all that remained Monday in much of the community some residents once called the "Beverly Hills of mobile home parks."
The mostly retired residents returned to see what was left of their homes at Oakridge Mobile Home Park, where winds with hurricane intensity blew a wall of fire through hundreds of manufactured homes and set them ablaze so quickly that even firefighters had to drop their hoses and run.
"It looks like a war zone — no trees, no buildings," said Michele Warneck, 54, who burst into tears after returning from the park. She had watched her two-bedroom house burn on the television news. "Everything that was porcelain just blew up."
Once considered a paradise with swimming pools and tennis courts, the park was now roamed by cadaver-sniffing dogs in search of anyone who didn't escape. That search ended Monday afternoon with investigators finding no evidence anyone perished.
The inferno destroyed 484 homes in the park Saturday. Firefighters were able to save about 120 homes, but many were badly damaged and the park is flattened except for charred trees with blackened branches bent in one direction by the hot winds. Twisted metal foundations and pipes are all that is left of many homes.
The fire was one of three in Southern California that have destroyed about 1,000 homes and apartments and burned 41,000 acres, or 64 square miles, forcing thousands to flee.
Most evacuation orders were lifted by Monday, when clear skies and calm winds allowed firefighters to make some gains, but officials warned of another bad air day and classes were canceled at dozens of schools near fire zones in Orange County.
In Sylmar, scores of residents stood in line outside a high school gymnasium for tours of the charred mobile home park where retirees once played tennis, took a dip in a jacuzzi and played Mah-Johng and poker.
Those whose homes were destroyed were shuttled through the neighborhood in a black van. Authorities were still investigating the fire, so people weren't allowed to get out and sift through the ashes for scraps of their belongings.

"It's gone," said Ed Hurdle, 82, after taking one of the first park tours. "The car is gone. The house is gone. It's twisted metal. It's totally charred there. There's no hope at all. Nothing. Nothing. Nothing."

A separate set of white police vans ferried residents whose homes were still standing so they could gather medication and other essentials.
"My house was in great shape. All it was was dirty," said Betty Glassman, 78. "I feel like I'm in a dream. Pinch me."

Cadaver dogs searched the burned units, but found only the cremated remains of a man who died several years ago.
Animal control recovered several dead animals and three live cats. Los Angeles County Assistant Coroner Chief Ed Winter said the cats could have been hiding under one of the units that wasn't damaged.
Neighbors huddled together inside the gymnasium, which has been turned into a Red Cross shelter for evacuees, hugging each other and comparing notes about what they saw and what they were able to salvage.
"It's a disaster. It looks like Hiroshima," said Joan Costa, carrying plastic bags filled with makeup and medicines she had pulled from her home.
The fire left a local hospital in darkness, and nurses used hand-cranked ventilators to keep patients alive when the fire knocked out power to Olive View-UCLA Medical Center in Sylmar. Authorities are investigating why the emergency generator failed. No patients were harmed during the 3 1/2-hour outage early Saturday.
Elsewhere, the largest of the fires has burned more than 28,000 acres in Orange, Riverside, San Bernardino and Los Angeles counties and has destroyed more than 250 homes and apartment units. San Bernadino became the fourth county declared a state of emergency.
Los Angeles County Fire Inspector Frank Garrido warned residents returning their homes in the Diamond Bar area to watch for snakes, mountain lions and other wildlife who fled the flames into more populated areas.
In the Orange County suburb of Yorba Linda, residents returned to find more than 100 homes destroyed. Some hung signs thanking firefighters for saving their homes, others snapped photos of the scorched community.
Lindey Lindholm sifted through the rubble of his home, searching for family heirlooms. It's all gone," Lindholm said.
The first of the wildfires broke out in the Montecito area of Santa Barbara County, about 90 miles northwest of Sylmar.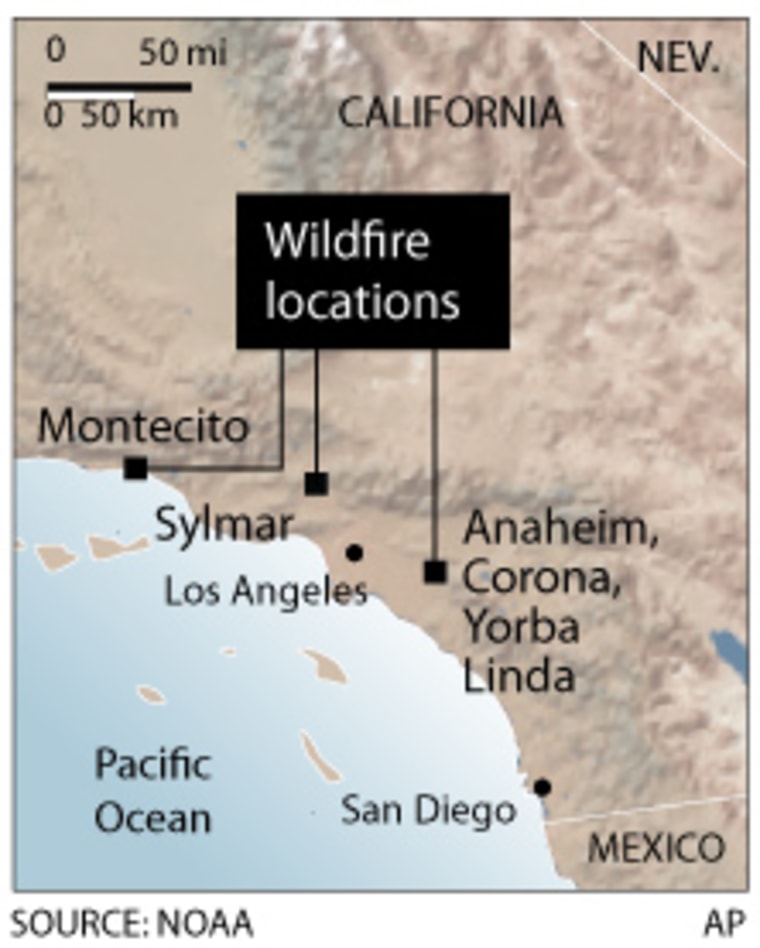 Mayor Antonio Villaraigosa said President-elect Barack Obama contacted him Sunday night to offer what help he could. Obama has turned his campaign Web site home page into a plea to help fire victims that includes a link to Gov. Arnold Schwarzenegger's site, where people can sign up to volunteer or donate to the Red Cross or Salvation Army.
Schwarzenegger on Monday asked the Bush administration to declare Southern California a federal disaster site.
The governor also requested disaster loans for the counties of Los Angeles, Orange, Riverside, Santa Barbara and San Bernardino. He said many of the residents affected by the fires — particularly mobile home owners — lacked insurance or are seriously underinsured.
The causes of all three fires were under investigation, although officials labeled the Santa Barbara-area fire "human-caused," said Doug Lannon, a spokesman with the California Department of Forestry and Fire Protection.
Lannon said the fire started in a Montecito landmark known to be a popular hangout for teenagers. He said it was possible someone was smoking in the brush or started a campfire there.
Oakridge park resident Steve Fisher, 58, said he'd eventually like to move back there but doesn't know if he will — especially since he didn't have insurance on his home that burned.
"I've never lived in a place with such a communal spirit," Fisher said. "It was just like paradise."
More on wildfires | California drought