/ Source: The Associated Press
Travel over the Thanksgiving holiday will drop for the first time in six years due to the economic slowdown and fewer airline flights, AAA forecast on Tuesday.
The travel club says 41 million Americans will travel at least 50 miles from home. That's down from 41.6 million last year.
AAA President Robert L. Darbelnet said the economy makes Thanksgiving travel a challenge for some Americans, but they'll get help from the recent decline in gasoline prices, which have tumbled from their summertime highs.
A gallon of self-serve regular gasoline has fallen 88 cents in the past month, to $2.07 a gallon. A year ago, it cost $3.10 a gallon.
Car rental prices are 4 percent higher than a year ago, but midrange hotel rooms are 10 percent cheaper, according to AAA.
AAA, which said it surveyed 8,500 people, forecast that four-fifths of holiday travelers, or 33.2 million, will go by car. That would be a 1.2 percent decline from last Thanksgiving.
Fewer air travelers, fewer flights
The auto club expects 350,000 fewer Americans to travel by air, a 7.2 percent drop, to about 4.5 million. They will also pay more — average fares are 8 percent higher than a year ago, AAA said.
The Air Transport Association forecast last week that 24 million passengers would fly on U.S. airlines over the 12-day period around Thanksgiving, down 2 million from 2007 and the first decline since 2001.
That's about 10 percent fewer than last year, although David Castelveter, vice president for communications at the trade group, said airplanes will be about 90 percent full at peak travel times and will be 100 percent full in key markets.
"That will still translate to full planes because capacity has been reduced about 10 percent," he said.
President Bush hopes to ease crunch
Anticipating a holiday travel crunch, President George W. Bush announced Tuesday that the Pentagon would open unused military airspace for commercial airliners during the Thanksgiving and Christmas travel periods.
This move would allow airlines to count on the extra room in the skies, which will be especially helpful if bad weather further snarls air traffic.
"A lot of our citizens are nervous about travel," Bush said in remarks before hundreds of employees at the Department of Transportation.
"They are saying 'Will traveling home for the holidays be a wonderful life or will it be the nightmare before Christmas?"' Bush said, referring to the films, "It's a Wonderful Life" and "The Nightmare before Christmas."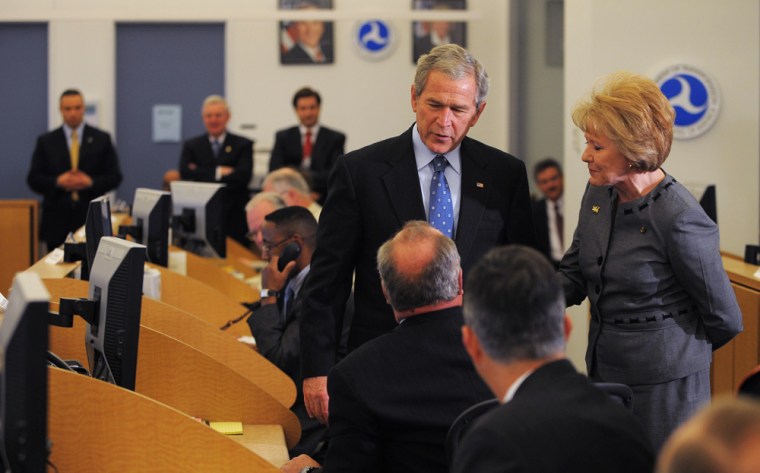 With planes expected to be about as crowded this year as last, the president announced other steps — most already in the works or tried before — aimed at easing congestion.
He said his administration was working with the Federal Aviation Administration, the Transportation Security Administration and the airlines to make more staff available to speed check-ins and boarding.
Last year, two military flight corridors were opened to commercial jets along the East Coast. This year, additional lanes will be added in the Midwest, Southwest and the West Coast, Bush said.
'Marginal impact'
Bush's decision to open the military air corridors was applauded by Delta Air Lines Inc. "We've long been a proponent of cooperative efforts to allow airlines to use military air routes to better manage air traffic flow and alleviate congestion," said Delta spokeswoman Betsy Talton.
"Every little bit helps," said Tim Wagner, a spokesman for American Airlines.
Others who closely monitor air traffic said the modest moves were welcome, but don't address the heart of the problem.
"It had marginal impact" last year, Castelveter said. "The main reason for the good performance we saw over both holidays last year was good weather."
The union representing air traffic controllers also said last year's efforts made little difference, and that this year's steps are unlikely to provide any significant relief either.
Making highways in the sky that are normally restricted to the military open to commercial airliners may get planes from one airport to another faster, but they'll still have to contend with bottlenecks at the nation's busier airports when they arrive.
"It is all for show and, frankly, this show is getting quite tiresome to the American traveling public that has gotten fed up with mounting delays and FAA mismanagement that has degraded the system during the current administration," National Air Traffic Controllers Association spokesman Doug Church said.
Church said one result of airplanes arriving faster could be more planes circling busy airports and running low on fuel.

"Our point is that they don't have a plan to get them on the ground any faster," Church said. "This plan does nothing to relieve the congestion at the airports that are the traditional hotspots."
Bush noted his administration's work to fix a main source of flight delays: problems at the three major New York City-area airports, John F. Kennedy, LaGuardia and Newark-Liberty. The government says two out of three flights delayed 15 minutes or more were due to cascading backups beginning at one of those three airports.
So the administration is conducting an experiment to auction off takeoff and landing times at the three. An auction, they say, will use market forces of supply and demand to make airports more efficient, and they are racing to get the auction plan in place before they leave office in three months, with auction winners to be announced in early January. At the same time, airlines and airports are sprinting to court to stop them.
Bush also highlighted the Transportation Department's plan to spend $89 million on taxiway improvements at Kennedy, and the capping of flights permitted to come into or out of the three New York-area airports.
And he said that three new runways were opening Thursday at big, busy airports: Washington-Dulles, Chicago-O'Hare and Seattle. That brings to 14 the number of new runways over his administration, Bush said.