/ Source: The Associated Press
"Sewer" has always been a dirty word in this celebrity-studded coastal community, which grew up believing that building an underground maze of plumbing would invite the sprawl that covers much of the rest of Southern California.
But the city, which has long relied on septic tanks over sewer pipes, may soon be forced to acquiesce. After a prolonged battle over bacterial pollution in nearby waters, the Regional Water Quality Control Board is weighing a proposed ban on septic tanks in the heart of Malibu — a move some fear could forever alter the rustic character by encouraging rampant development.
"If you come to Malibu you can look up and see the hills still, unlike cities where it's covered in development," Mayor Pamela Conley Ulich said. "For people who live here and visit, it's a sanctuary. We're famous for our beautiful beaches."
But those beaches can harbor unhealthy bacteria as human waste leaks from septic leach fields into groundwater, then trickles into creeks and makes its way to the sea.
Even visiting surfers in Malibu know to keep their mouths closed when riding the breaks at famous Surfrider Beach — one of the state's most popular, scenic and polluted stretches of coast.
"People are always getting sick — sinus infections, stomach, gastrointestinal viruses, and you just chalk it up to this is where I surf," said Joe Melchione of the Malibu Surfing Association.
For years, the city has weathered lawsuits from environmental groups and threats of fines from regulators. But city leaders argue that the occasional stench and pollution come from other things, including a wastewater treatment plant outside the city, storm runoff and animal droppings.
Anti-sewer stand elected one mayor
Resident Walt Keller, who paid just $26,000 for his house decades ago, thinks the septic system works just fine. He worries that his beloved city of multimillion-dollar beachfront homes, oak-shaded canyon roads and locally owned shops could become wall-to-wall condos if a sewer line is allowed to snake in.
"We've beaten them before," said Keller, the city's first mayor, who was elected on a wave of anti-sewer support. "I think we could beat them in court again based on the fact that septic tanks work everywhere else."
In 2004, the city finally approved a plan to turn 15 acres of dirt in the city center into an "environmental cleaning machine" that would scrub storm and wastewater before it polluted Surfrider and other nearby waters.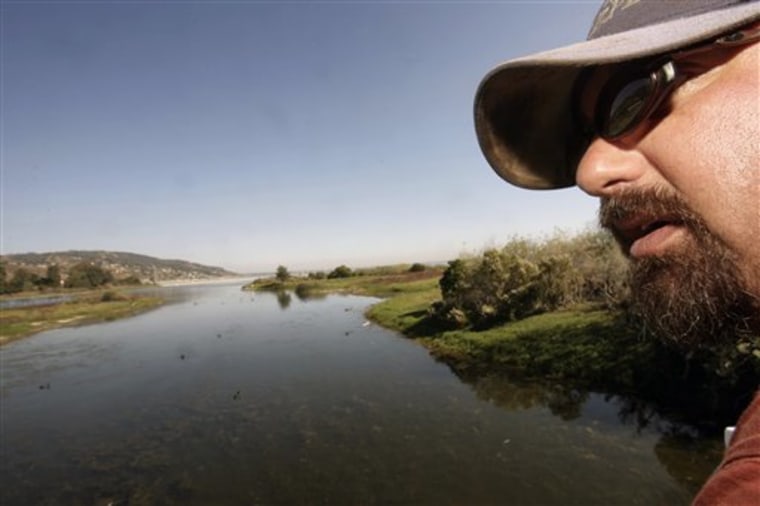 The idea — essentially a wetland — sounded so promising that environmentalists lobbied for about $10 million in state funding. A long list of high-profile residents, including Tom Hanks and Courteney Cox Arquette, donated money to the cause. Pierce Brosnan, Cindy Crawford and Perry Ferrell of Jane's Addiction autographed a surfboard to raise money.
Over time, however, critics said the project, estimated to cost more than $40 million, had deteriorated into little more than a pricey city park. City officials argue that the park will take care of some stormwater pollution, but that they need more time to resolve the wastewater issue.
'Wastewater problem'
Patience, meanwhile, is running out. Some residents say they have to watch what kind of puddles they step into at shopping plazas, and say they drive through neighborhoods ready to roll up the windows in case an assaulting stench drifts in.
"The problem is you have this 18-year history of the city not wanting to deal with its wastewater problem," said Mark Gold, who heads the environmental group Heal the Bay. "All of this is going to blow up."
Despite the incomplete wastewater plan, the city has approved downtown commercial development — a move that rankled the regional water board. In addition to considering a ban on septic tanks in the city center, the board will consider yanking the city's ability to manage commercial septic systems.
The board approved a similar ban in parts of Oxnard in 1998 after septic tanks were found to be polluting drinking water. Those areas are now on sewer lines, which can be expensive to install.
"We don't have time or the resources to play games," said Tracy Egoscue, the board's executive officer.
City Manager Jim Thorsen said Malibu officials are taking the threat seriously, but he noted that a septic tank ban probably wouldn't take place soon.
"We received criticism for years on programs or elements of our basic water quality programs," Thorsen said. "We feel we've done a fantastic job."
Pollutants in Santa Monica Bay have been a problem for decades. The water quality drastically declined in the 20th century as the Los Angeles area boomed and dumped sewage and trash into the ocean.
Water quality has improved through programs mandated by the federal Clean Water Act and the efforts of various conservationists.
One of them is Mark Abramson, director of watershed programs with Santa Monica Baykeeper, who predicted a "blood bath" if the board approves the septic tank ban. Still, he told members that it is time to take bold steps with a seaside city that has not done enough to clean up its world-famous beaches.
"We're glad they're saying they want to clean up the water, but we've been talking about it since 1997, and guess what?" he said. "The water still ain't clean."