/ Source: Forbes Traveler.com
It's a problem you'd never have in, say, St. Paul or Seattle. You see a sexy woman on the street. She's got designer sunglasses, a clingy dress and an entourage. Is that a celebrity? Or does she just look like one? In Miami, these questions pop up all the time.
The Magic City has evolved. The sun-drenched shores that were once a granny paradise have been transformed into a playground for the rich and the decadent. Money, fame and sunshine just seem to go together.
As the city's stock rose, stars settled in. Celebrities who make their homes in Miami include Matt Damon, Alex Rodriguez, Anna Kournikova and Pharrell Williams, just to name a few. A growing film industry ("CSI: Miami", "There's Something About Mary", "Marley & Me") has brought more famous faces to town. These days, the sandy strip of South Beach is one of the most celebrity-dense stretches of real estate in the world. It hosts almost as many stars as Oprah's couch.
When the Setai Hotel opened in 2006, the jet-set crowd practically lined up at the door. GHM Hotel Group—best known for properties in Bali and Kuala Lumpur— brought a touch of Asia to South Beach. Except for select nights like New Year's Eve, when Jennifer Hudson and Hilary Duff have performed, the hotel shuns the party scene that's common at other oceanside hotels—which is precisely why celebs drop their bags here. The pool area is closed except to hotel guests, but try to lunch at the outdoor grill and you may spot actresses like Christina Ricci reading a book in a lounge chair.
In the 1990s, fashion designer Gianni Versace seemed not to mind that his oceanfront mansion, Casa Casuarina, was one of the only residential properties amid the bars and shops on South Beach. That changed, of course, when he was shot and killed on his doorstep (where morbidly inclined tourists still snap photos). The fabulousness of the property lives on, though; it's been converted into an exclusive restaurant, hotel and event space. Name a celebrity who's been to Miami—Fergie, Enrique Iglesias, Snoop Dogg, Matt Leinart—and they've either eaten, partied or slept here.
The nightclub Mansion has become something of an institution. Designed with curved, sweeping staircases and huge chandeliers, it's made to look like partygoers have taken over Daddy Warbucks' place. It's huge, cavernous, young and loud, and few places are more reliable for celebrity-spotting. Look for big names—Tommy Lee, Ashlee Simpson, Kobe Bryant—to take the stage, or chill in the corner booths in the VIP section.
Tried and true, the Shore Club hotel remains a pit stop on any celebrity itinerary. Eat at Nobu and have a drink at Skybar, the outdoor lounge, or in the smaller and more exclusive Red Room. Jessica Simpson's gone swimming here, and Lance Armstrong stopped by to mingle with Miami's ladies.
Since 2004, Prime One Twelve, the steakhouse inside the historic Browns Hotel, is where couples have met for a romantic dinners and businessmen have sealed deals over filet mignon. (Even the hot dogs and meatballs are made from Kobe beef.) Just as delicious, if less caloric, are the ever-reliable celebrity sightings. In one of the strangest ones ever reported, President Bill Clinton dined here with Dwayne "The Rock" Johnson, Star Jones and University of Miami president Donna Shalala.
While trendy spots come and go, the Ritz-Carlton remains a solid celebrity standby. Hotel concierge Kristin Koslow says that's because "we go to great lengths to meet and exceed the expectations of even our most particular guests. In fact, one celebrity requested ten cases of Smart Water to steam her clothes… And she needed it in one hour for a VIP event she was attending that evening. Of course, we made that happen."
Lincoln Road is Miami's famous outdoor shopping promenade of cute boutiques, trendy cafes and touristy restaurants. Tyra Banks buys makeup at Browne's & Co; and when Jay-Z and Beyonce get hungry, they shut down Italian restaurant Quattro so that they can have the restaurant to themselves. Other celebrities pick up items like Marc Jacobs kids' clothes at upscale childrens' store Genius Jones. If you walk down the street and wonder, "Hey, is that Ricky Martin?"—well, it probably is.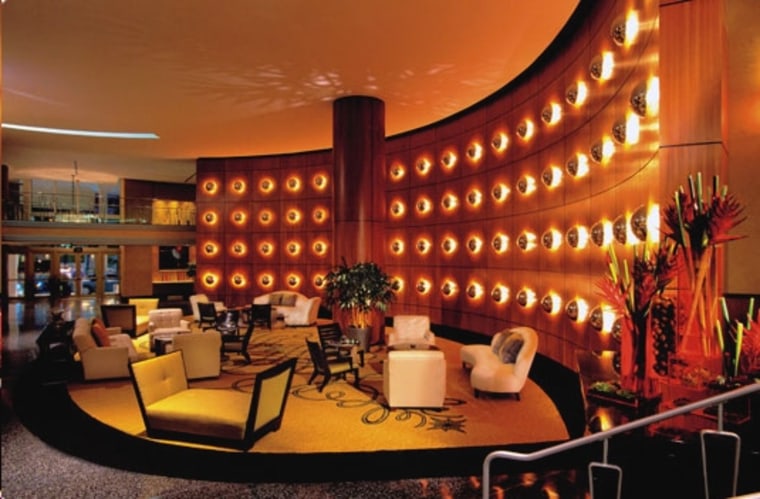 The Mandarin Oriental Hotel is off South Beach and on subdued Brickell Key—making it the terrain of A-listers. Janet Jackson has had treatments inside the spa, and Tom Cruise and Katie Holmes sleep here when they come to town. For $1,548, the hotel offers a "Miami Nights" package that includes a chauffeured night with your personal VIP Nightlife Guide who can provide access to the best clubs. For $25,000, guests can ramp up the package to include a makeup artist, a fashion shoot, a personal shopping guide and a stretch Hummer. Late checkout? No problem, it's included.
So many celebrities eat at Michael's Genuine Food & Drink that when world champion tennis player Roger Federer stopped in after a match, restaurant staff didn't even notice him. They were too busy fielding questions about Owen Wilson, Jennifer Aniston and John Meyer. The Design District hangout offers fresh, unpretentious food like exotic mushroom pizza or slow-roasted Berkshire pork shoulder with cheese grits. Chef Michael Schwartz says, "The celebrities found the restaurant like everybody else and for the same reasons: great food in a comfortable setting and friendly service. We have a reputation for not making a big scene about them and I think that makes the restaurant even more attractive because they come and are themselves, unguarded."
No celebrity gawking adventure would be complete without a cruise through Star Island, Miami's most exclusive chunk of land. Although Shaquille O'Neal and Rosie O'Donnell moved off the small enclave of 35 homes, Paris Hilton hosted a party last year at the residence of billionaire businessman Thomas Kramer. And, not long ago, Woody Harrelson was spotted jumping off a resident's dock. There's an intimidating guard gate at the entrance, but the road is public—so security will let in anyone who asserts their right to take a spin on Star Island Drive. Alternately, do your spying by jetski.