/ Source: Forbes Traveler.com
Twenty years ago, Miami's reputation as Heaven's Waiting Room was well deserved. But what was once considered a senior citizen retirement community has since (as everyone who doesn't require a hearing aid has discovered) evolved into an exciting, world-famous destination. These days, the city is a multicultural Riviera of the Americas, lauded for its beautiful beaches, thrilling nightlife, chic restaurants, fabulous shopping—and reversed age population.
Oddly, that doesn't mean that either the remaining seniors (yes, there still are plenty!) or the resulting influx of children are neglected here. In fact, as Miami has absorbed the boom in its population, young and extended families now actually dominate the housing and hotel market. Whether you're touring the city with children that are school kids or club kids, there are plenty of attractions and sites that keep the whining in check and the parent-child—or even the multi-generational—bonding levels high.
Interaction is the key, and the city's sibilant natural resources like sun, sand and sea make that easy to achieve. And you can't get more hands-, feet-, flippers- and facemask- on than at complexes like Crandon Park on Key Biscayne, the two-mile beach that was the only South Florida location to make Dr. Stephen "Beach" Leatherman's America's Top Ten Beaches in 2008. Here, you can snorkel, windsurf, kayak and enjoy other water sports just 300 feet from the shoreline, where the world's largest seagrass bed cradles an abundance of marine life. But the shoreline is gentle enough for young children to splash in the waves and skim board without danger. Also at Crandon Park is the Tennis Center, where the world-class Sony Ericsson Tournament is held; the Crandon Golf Key Biscayne championship, 18-hole course; and the Family Amusement Center, where there's a restored historic carousel and outdoor roller rink.
To take full advantage of Crandon Park, stay at The Ritz-Carlton, Key Biscayne, where the Cliff Drysdale Tennis Center is among the few facilities to offer clinics to toddlers. The Ritz-Kids program is available in half-day and full-day sessions and features tennis, basketball, air hockey, board and video games. The family-friendly South Pool is complete with a waterfall and neighbors Cantina Beach, a casual Coastal Mexican dining option. Says Lauren Lampa, public relations manager for the property, "Though just minutes from Miami, you feel like you are in a remote island destination. [Key Biscayne's] untouched beaches and parks offer eco-adventures and a mystique unique to Miami—and the Continental U.S. for that matter."
Indeed, from the Ritz, you can book deep sea fishing junkets at Crandon Marina or embark on mangrove island boat tours that include picnic stops. With the Miami Seaquarium is right down the road, the resort also offers the Discover Miami Seaquarium package, which includes overnight accommodations, two tickets to the park and a welcome amenity. The resort is also within a couple of miles of Bill Baggs Cape Florida Park, where you can explore the oldest lighthouse in South Florida as well as fish, hike or bike along the Key Biscayne Heritage Trail. The park is the site of another exclusive Ritz-Carlton program, the Giveback Getaway, which allows guests to join park rangers in the plant restoration of the island (replanting native species in summer, ridding non-indigenous plants in winter). "While working, the rangers interweave history about the island—Tequesta Indians fishing villages, Ponce de Leon's arrival, Spanish galleons sweeping through the waters, the lighthouse watches for German U-boats during WWII—so it not only appeals to nature lovers, but those with an affinity for history," Lampa says.
Then there's the happy prospect of lounging on South Beach, counting the purebred pups on Lincoln Road, admiring the Art Deco renovations on Ocean Drive, and lunching at a sidewalk café while a bikini-clad parade passes you by. For instance, Jungle Island on the Macarthur Causeway, halfway between downtown and South Beach, is ideal for a morning or afternoon (whereas Miami MetroZoo is a dedicated day-long outing). You'll be surprised at the breadth of the animal kingdom that's represented here, from the macaws and hand-raised orangutans to the 12-foot pythons to the ligers (a cross between a tiger and lion). Several wildlife shows are presented daily, and they're greatly entertaining, with music, jokes and plenty of information disseminated throughout.
Jungle Island isn't just looking, either. Sandy Edwards, Director of Marketing, says, "There is so much animal interactivity that you can't do anywhere else. The kids love being able to feed the kangaroos." There's also a lake of koi to stuff with edible pellets, and a plenitude of parrots (the place used to be called Parrot Jungle) to offer sunflower seeds to, many at your own risk—these birds can bite. There's a new exhibit, "Gator X-treme," which public relations director Brigitte Grosjean promises will "bring man face-to-face with alligators in a thrilling encounter both in the water and out. This aquatic adventure will put you on the front lines of the alligators' turf to discover who will conquer: man or gator." Sounds like a reality show, but then, Miami often plays like one.
The Miami Children's Museum is located directly across the causeway from Jungle Island. "We strive to enrich the lives of children and families by providing exhibits and programming that stimulate curiosity, motivate learning and create an environment of fun," says executive director Deborah Spiegelman. Permanent exhibits include a fully stocked, replicated grocery store, hospital emergency room, working television station and karaoke-style music studio that even older children won't be able to resist. To top it off, an annual touring exhibit, such as the multi-sensory "Blue Man Group-Making Waves", which combines science and art, provides additional entertainment every year.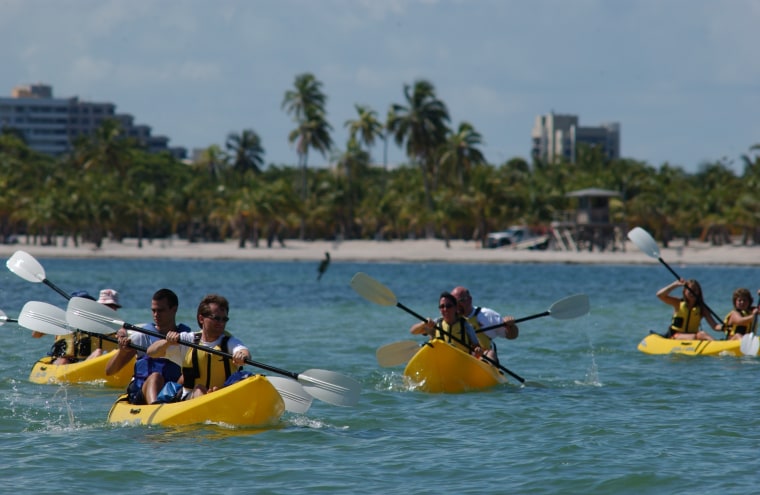 To cap off a day of applied fun, why not settle into a seat at the Adrienne Arsht Center in downtown Miami and simply watch? "The Adrienne Arsht Center is wonderful place for families because it provides year-round programming for children of all age groups.  Furthermore, the Arsht Center presentations encompass most major art forms from around the world, giving families the opportunity to see diverse, world-class programming," says J. Ricky Arriola, Chairman of the Performing Arts Center Trust. He adds that the center offers many affordable and even free events throughout the year, so every family can see a performance, regardless of the family budget. Tour the facility, getting a look behind the scenes and explore 'meet and greet' opportunities with the artists.
Perhaps it isn't always quite so, well, relaxing at Jungle Island or  the Arsht Center as you might imagine. But laying low in catered comfort is what your hotel is for, and there's no place better—or more convenient—for that than the Mandarin Oriental, Miami. Located just off downtown on Brickell Key, the Mandarin Oriental is close to the restaurants of Mary Brickell Village and the Upper East Side, as well as minutes from the aforementioned family-centric action and South Beach's stroller-friendly Lincoln Road.
But you don't have to feel guilty at all about spending at least some time just lolling around this gorgeous resort. "With our waterfront setting on Biscayne Bay and creative activities, we have become a popular choice for families seeking a luxury vacation," says general manager Jorge Gonzalez. And when those "creative activities" include sparkly mani-pedis, make-up application tips and salsa lessons for your teen daughters age 14 and up, in addition to the supervised Mini MO Club for the 5-12 age group, you can be sure the whole family will have a chance to truly de-stress, Miami style.