/ Source: Forbes Traveler.com
Few places in the world own the adjective "sexy" like Miami does. This is a city where sarongs move from daywear to eveningwear, where "suit" means bikini, and where the most basic accessories are tanned skin, tousled hair and sleek, probably Italian sunglasses. It is a city all but described by its coastal location and style that's inextricable from sand, shore and skin. As Michael Aller (a..k.a "Mr. Miami Beach"), Tourism & Convention Director at the Miami Beach Convention Center, puts it, "Even people who aren't the body builder types are prettier here. And we have such diversity. Each person's a potential adventure."
There are as many definitions of what's sexy as there are styles of swimwear. But no matter what your taste, there are stretches of Miami sand waiting to warm you up, whether it's the sleek set up at the Delano or the secluded lagoon of the Ritz-Carlton Key Biscayne.
Part of what's sexy about a beach is the relative anonymity of everyone on it. You have no idea, really, whether the person sitting next to you is the C.E.O of a software business or a barrista, an up-and-coming television star or a yoga instructor. The beach is the great equalizer, and it returns flirtation back to the basics of attraction.
Plus, Miami is famous for its worldly mix of people, including travelers, jetsetters and multicultural residents. That's the mix you'll find at Nikki Beach. If your idea of sexy is St. Tropez, you can virtually go there on this beach—where world music, teepees and bed-like beach chairs inspire kicking back, French Riviera style. When the sun goes down, throw a sexy cover-up over your swimsuit, order a pitcher of mojitos, and get ready to dance to whatever the DJ's spinning, as Nikki Beach transforms into an ultralounge by night.
The Ritz Carlton South Beach titillates beach guests with the planet's only Tanning Butler. Clad in a sexy chest-hugging T-shirt and designer swim shorts, the photogenic "Butler" strolls the beach massaging guests with complimentary sunscreen, especially on all those hard-to-reach places like the back and shoulders. "It's an unexpected luxury service our guests won't find anywhere else in the world," says Michelle Payer, Area Director of Marketing for Ritz Carlton Hotels, Miami, and the person behind the Tanning Butler. Not only is he sexy, the butler prevents that most un-sexy of beach hazards: sunburn.
To many, Miami is Miami Beach—in particular 1st to approximately 23rd Streets. This three-mile stretch contains the cosmos of the famous fashion and beauty industry, nightlife and Art Deco architecture. "Muscle beach" between 10th and 12th Streets is ground zero for the tight bodies the city is famous for, offering amazing people-watching and celebrity-sighting. It is also where you'll find the gay beach (look for the rainbow flag). Another local beach, known simply as "locals beach" runs between 3rd and 4th Street in SoFi (South of Fifth), but has a completely different, earthy and social vibe.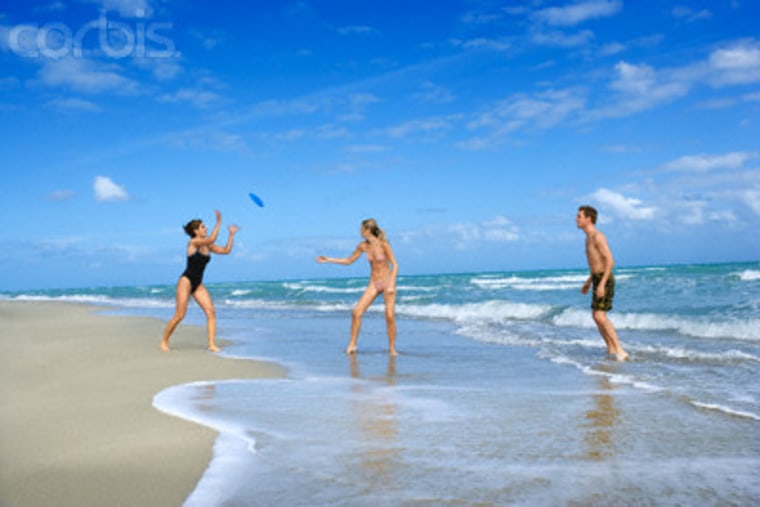 Miami's 10 sexiest beaches are not so much separate parcels (many are on the same beach) as different expressions of a wish to ease back, breathe, walk barefoot, meet new people or focus on someone you already love, and let nature take its course.
The many sexy beaches to choose from are one reason Miami is, in Aller's words "25/7 ... you need that extra hour to do everything."