/ Source: msnbc.com staff and news service reports
American Honda Motor Co. has overhauled the look of its fuel cell concept cars, unveiling a futuristic, lightweight three-seater at the Los Angeles Auto Show dubbed the FC Sport.
The look replaces the more sedate FCX Clarity sedan, Honda said in a statement, "and reconfigures it into a lightweight sports car design with an ultra-low center of gravity, powerful electric motor performance and zero-emissions. The design study concept is inspired by supercar levels of performance through low weight and a high-performance, electrically driven fuel cell powertrain.
The fuel cell stacked is between the two rear seats, and a battery pack to story electricity is placed low in the middle of the car. "The electric motor resides just forward of the rear axle," Honda stated. "Two fuel storage tanks, visible from above, are located above the rear axle."
As for the interior, Honda said the "layout focuses primarily on the driver with a racecar-like center driving position. The enclosed canopy opens upward from the rear to allow for entry and exit."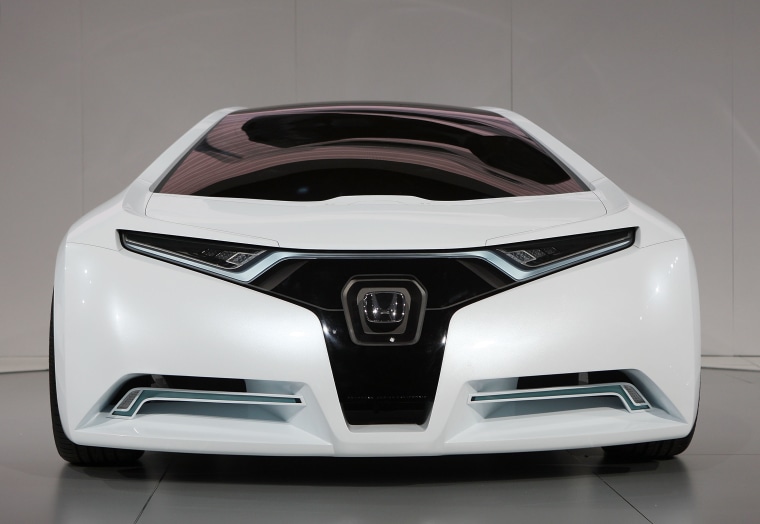 The exterior design, Honda said, "combines angular shapes in the front of the vehicle that taper into geometric, hex forms in the rear. The rear hex forms house cooling radiators for the fuel cell. Formula 1-style barge boards behind the front wheels enhance high speed aerodynamics and convey the vehicle's racing pedigree."
"The Honda FC Sport explores how to satisfy automotive performance enthusiasts in a world beyond petroleum," said Dan Bonawitz, vice president for American Honda. "People who love sports cars will still have a reason to love in a hydrogen-powered future."