From the living room of her tiny apartment on the 10th floor of the Minnie Riperton building for senior citizens on Chicago's South Side, Adell Davis can see all the way to Lake Michigan. For that, she is truly grateful.
But she can also see the clock. And that inspires darker emotions as she uses it to space two daily meals, often just rice and toast.
"I get up in the morning at 5 o'clock. I fix coffee and watch the news," said Davis. "Around 9 or 10, I'll start fixing something to eat. About 12 o'clock, that's lunch, but I can't eat at 12. If I eat at 12 o'clock, I'm going to be hungry at 3 or 4 again anyway. So I'll wait until 3, and I'll just be hungry for three hours. Then I can have a little something. Nine, 10 o'clock at night, I have nothing to eat so I drink some water. And I always make sure I have coffee and sugar because that helps a lot."
Until recently, Davis, 63, hobbled by a pair of bum knees that she got from years as a letter carrier, had a little more food around the house because she was eligible for a monthly allotment of $168 in food stamps. But when she moved into subsidized housing and her rent dropped dramatically, she lost virtually all of those benefits.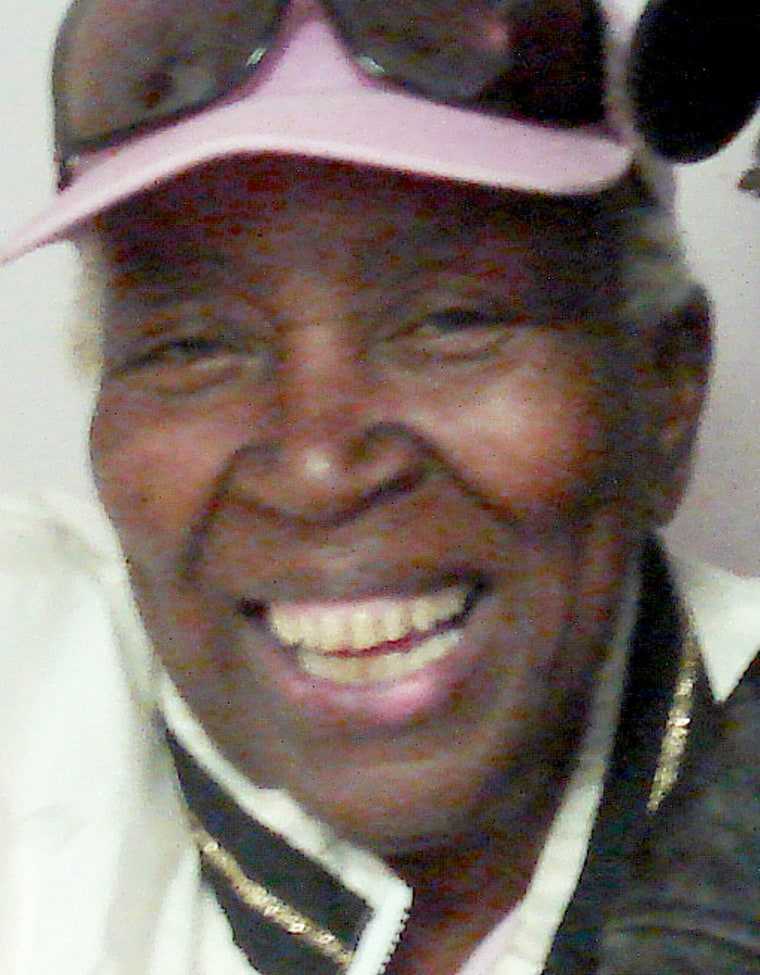 To many Americans, the food-stamp program is often little more than part of the entitlement debate between social-justice advocates and foes of big government. But to a record number of Americans — 29.5 million at last count and growing with the unemployment and foreclosure rates — the nation's largest domestic food assistance program is the difference between the misery of hunger and a manageable life.
Adell Davis is a living, breathing example of how poor one must be in these United States to receive help through the program run by the U.S. Department of Agriculture's Food and Nutrition Service: With her Social Security income of just $672 a month, Davis now qualifies for less than $20 a month in food stamps, which she declines as more trouble than it's worth and because "I thought somebody else could use it better than me."
In turning down the benefits, Davis joined many other older Americans who also are eligible for some assistance from the food-stamp program but simply don't apply for it. That's a segment of the population especially targeted for assistance in these hard times by groups like Feeding America, the nation's largest network of food banks.
Barriers to benefits
Maura Daly, Feeding America's vice president for government relations and advocacy, said that as vital as the food-stamp program is to combating hunger, it has many barriers. Overall, just 67 percent of eligible recipients get food stamps, according to the USDA. Most who don't simply aren't aware that they are eligible, Daly said. Others "don't feel like the benefit is worth going through the process."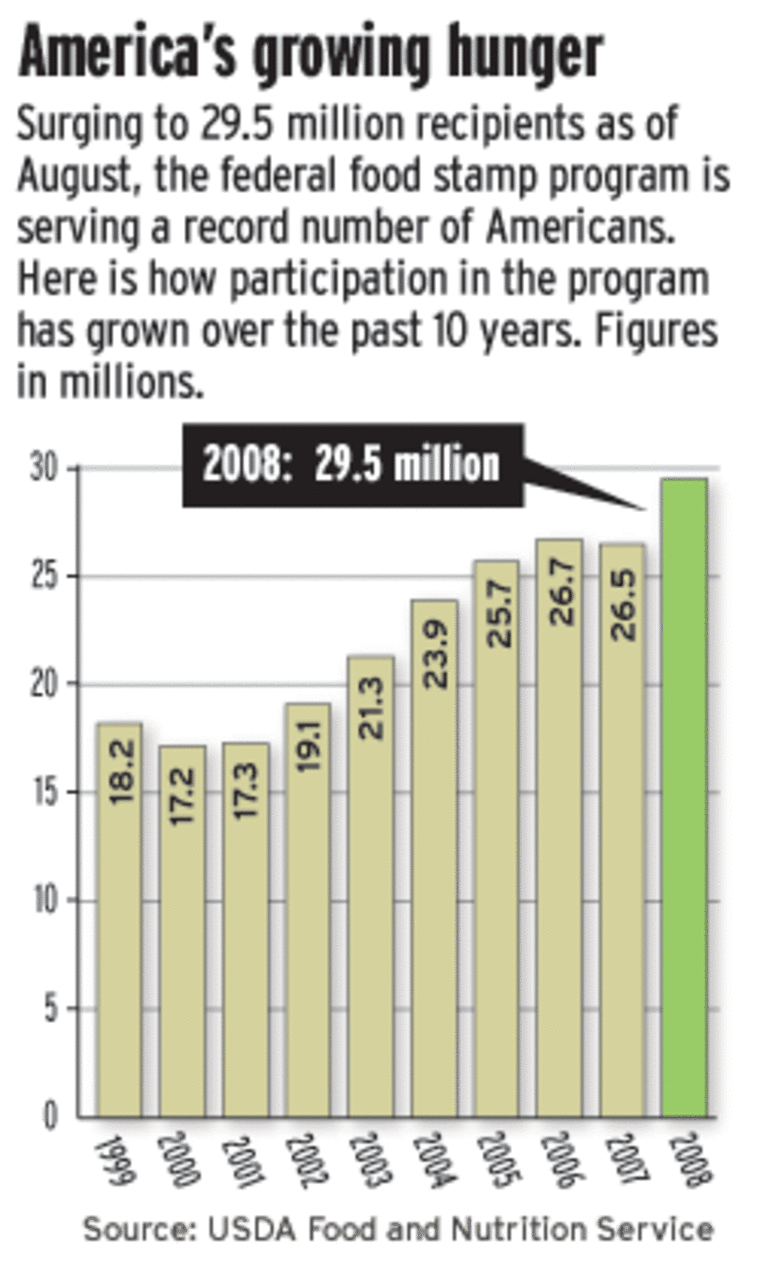 Still more are plagued by "inaccessible offices," Daly said, and a trend in some states to push more of the application process online, which is unhelpful to poor people without computer access. USDA spokeswoman Adriana Zorrilla added that "some people may also face transportation or language barriers."
And then there is the stigma often attached to receiving food-stamps, Daly and Zorrilla said, some of which comes from the public's misperceptions about who is eligible to receive the benefits and who actually gets them.
The 44-year-old food-stamp program, which was revised Oct. 1 and renamed the Supplemental Nutrition Assistance Program, in part to fight the stigma, has strict eligibility criteria. Benefits are intended to go only to households with net incomes at or below the federal poverty level, which ranges from $10,404 a year for single person to $35,604 for a family of eight. Income limits are higher in Alaska and Hawaii.
A household generally cannot have more than $2,000 in "countable resources," which includes cash and investments but excludes residences and some vehicles.
USDA statistics paint a stark picture of the financial status of food stamp recipients. Thirty-nine percent of households in the program have income of half or less of the poverty figure, while 15 percent have no cash income at all. Nearly half of recipients are children. Just 15 percent are working-age men. Only 5 percent receive general state welfare benefits. Seventy percent of households in the program have no "countable resources" and the average has just $143.
Average monthly benefit: $95 a person
A household's food-stamp benefit, which now comes in debit-card form, is calculated based on number of members, income and certain expenses. The maximum amount is $176 for a single person, $588 for a family of four and $1,058 for a family of eight. The minimum monthly benefit is $14. Nationwide, the average monthly benefit per person is $95. But the median U.S. household spends nearly twice that on food per person — $184 a month.
The program is not without problems typical of many entitlement programs and bureaucracies. The USDA says that fraudulent claims account for "less than 2 percent" of overall benefits, but that is still about $600 million a year. Administrative costs are high — more than 21 percent of total federal and state funding in 2007 — and they vary wildly from state to state. For instance, South Carolina spent $169 per household in 2007 on administrative expenses while California spent $1,169, a whopping 38 percent of the average $3,106 annual household benefit. The USDA is just beginning to examine the reasons for the disparities.
Feeding America's Daly expects the record number of recipients will swell as the economy worsens. Despite all the attention that dwindling 401(k) accounts and plummeting real estate prices are getting, "It's really the poor and the near poor who are least able to cope with economic changes," she said. "We have millions of Americans already living one disaster away from hunger."
She points to a recent acceleration in applications to the program: a 6 percent surge since the start of the year, a 10 percent leap from August 2007 to August 2008. Another increase is expected when September numbers are released in two weeks.
Anti-hunger activists are heartened by the campaign pledge of President-elect Barack Obama, who once trod the streets of Adell Davis' Chicago neighborhood as a community organizer, to end childhood hunger by 2015. They emphasize that the food-stamp program is a direct economic stimulus with each dollar of benefits generating nearly twice that much of a return to local economies, as the money spent at grocery stores helps pay salaries of everyone from clerks and truckers to farmers.
For many of those whose finances have deteriorated sharply due to the economy, the activists say, help can't come soon enough.
Food banks feel growing pressure
"Food prices have dramatically risen … millions more people are having a hard time making ends meet," Daly said, noting that Feed America's member food banks have reported an average 20 percent increase in demand.
Davis said food banks and relatives keep her from starving, because once she gets her Social Security check, "after rent, phone and lights, I usually end up with $200 a month. Basically, by the second week of the month, I'm flat broke. When I was getting food stamps, I was able to last maybe until the last week of the month.
"Some of the food pantries are really, really good and they give you enough food to have balanced meals for a week or two," she said. At one near her apartment, "They have name brands. You always get some fresh vegetables. They always have salad. You get some nice stuff. I have some gourmet salad dressing up there. If it wasn't for the church and the food pantries, there would be a lot of hungry people and the morgue would be full. There would be a lot more crime."
Davis helps stretch the donations by frequently eating meals with her mother, brother and three daughters, all successful businesswomen who are the pride of her life. Raising them as a single mom, Davis relied at times on food stamps and focused on making sure they got a good education. Now, "They would never apply for food stamps, they will just make it on their own," she said. "I am so proud of that."
So Davis is not starving, but like many people who have to worry about where the next meal is coming from, a lot of her thoughts revolve around food.
"I can't remember the last time I had bacon and eggs at my house. I cannot afford bacon, I cannot afford eggs. I haven't had an orange or a piece of fruit in years. I … eat meat maybe three times a week," almost always chicken.
Silver-haired and quick to laugh and smile, Davis wants to clear up one misconception about food-stamp recipients: They are not whiners. "I'm not complaining. I'm not in a dirt blanket. It's not anybody's responsibility or anybody's fault that I'm in this situation. … I walk into my apartment and say, 'Thank you, God, thank you, God,' for having my own place."
'Give us enough to eat'
But if she could give the powers that be a suggestion to improve the food-stamp program, it would be to loosen eligibility requirements and increase benefits. "Give us enough to eat off of for the whole month and stop penalizing us and looking over our shoulders and asking us, 'Do you eat with anybody? Is anybody giving you anything?' It's a very depressing thing when you go in there and they want to know your life history."
With her $672 monthly income the equivalent of a car payment or a night out for many of the Wall Street bankers whose livelihoods were saved by the recent $700 billion bailout by the federal government, that begs a question. "Since the government is giving away all this other money, why can't they give us enough to eat for a month, especially the seniors and the poor people?" Davis asks.
"They're not helping us to live. All we are doing is barely surviving."