Want a digital TV this holiday season? You can get one pretty cheaply, without changing your set.
You don't have to buy a new television — although some of you may want to; prices will certainly be low enough in hopes of spurring sales. But if you'd rather not splurge, you can spend around $50 for a converter box to take your TV from analog to digital. It's a switch you're going to need to make before Feb. 18, when television broadcasts around the country go completely digital.
"Because of the downturn in the economy, we are seeing that consumers are more comfortable with buying a converter box rather than purchasing a new TV, despite aggressive pricing," said Riddhi Patel, iSuppli Corp.'s principal analyst for television systems.
Best Buy spokesman Brian Lucas said the company is "seeing a lot of interest in converter boxes. But it's hard to draw a correlation to the economy, really. Converter box interest was strong through most of the summer and into fall. It's hard for us to know if people are deciding on a converter box when originally they were thinking new television … or the other way around."
"Our advice to consumers has been they should look at converter box options first," said Joel Kelsey, policy analyst for Consumers Union, which publishes Consumer Reports. "It's the least-cost path to switch to digital television.
"If you don't have a huge amount of disposable income to spend, the $40 converter box is a real viable option. It's one that mitigates the cost of this transition for people who are most unlikely to fork over the hundreds of dollars it could cost for a new TV, even at a dramatically lowered price."
A federal government coupon program provides each household with two $40 coupons toward the purchase of two converter boxes. That $40 will cover most of the cost of a box, with prices generally ranging from $50 to $70.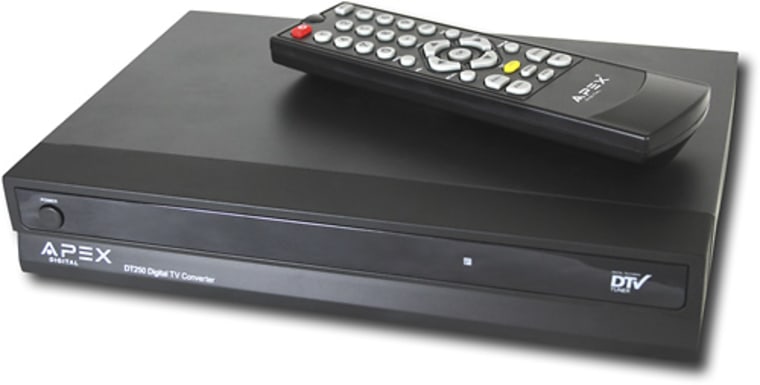 It takes several weeks to receive the coupons. Consumers should try to apply by Dec. 31 in order to make sure they receive the coupons in time to buy and install the box before the digital transition, said Todd Sedmak of the National Telecommunications and Information Administration, which oversees the coupon program.
Since the coupon program began this year, 35 million coupons have been requested, and there are another 15 million available. However, less than one-third of those who have asked for the coupons have redeemed them, said Sedmak. The coupons are only valid for 90 days from the time they're issued.
"There are still millions of households across America that have yet to prepare for the digital transition, and we're only about three months out," said Kelsey.
Consumers Union also is concerned that the "number of boxes on store shelves is going to come up short in terms of what consumers expect," he said.
Converter boxes should be in plentiful supply at stores like Best Buy, Wal-Mart and Radio Shack, said Sedmak. What isn't known, he said, is whether Congress will approve more funding for additional converter box coupons in January or February.
Are you already digital?
If you already have a TV with a built-in digital tuner, or if your television sets are hooked up to cable or satellite, you won't need a converter box.
If you're not sure whether your set is digital or analog, check your owner's manual. If you do decide to buy a new TV, make sure the label and packaging on the box say the television has a built-in digital tuner.
Since March 2007, all televisions imported into the United States or shipped in interstate commerce have been required to have digital tuners. The wording you'll want to see on the set's box or instruction manual is "ATSC tuner," which is a digital tuner, vs. an NTSC, or analog tuner.
TVs with analog tuners can still be sold, but are supposed to be labeled prominently for buyers because of the switch to digital.
"You might get a great price on an analog television — either from retailers or people in your community who are selling them — but every analog set — including small and battery-powered televisions and televisions in your RV — will need a converter box to get a digital picture," the Federal Trade Commission said in a consumer alert issued earlier this year.
Bargains should be plentiful
If you are going to buy a new TV, you'll see some excellent prices.
"Retailers may be forced to make sure inventory doesn't get held over to the first quarter, so you may see a highly charged promotional atmosphere through the holiday period," said Paul Gagnon, DisplaySearch director of North American TV market research.
The most popular screen size for buyers now is 32 inches, he said, and prices on "32-inch LCD and plasma TVs should be under $500 pretty easily for most of the holiday season, especially during promotional periods like Black Friday or the week before Christmas." 
On Black Friday, the day after Thanksgiving, "you should see 32-inch LCD TVs as low as $400, and maybe even slightly lower, while 42-inch plasma TVs could go for between $600 and $700," Gagnon said.
While those are drool-alicious prices, remember that digital TV does not mean high-definition TV. HDTV is one kind of digital TV (generally the most expensive kind). Other types of digital TVs are enhanced-definition TV (EDTV) and standard-definition TV (SDTV).
"You don't have to have a high-definition television in order to get the digital signal," said Kelsey of Consumers Union.
"And in some cases, you may not want HDTV, because not all of the broadcasts that are free, over-the-air broadcasts are high-definition. They're digital broadcasts.
"You need to make sure you get a TV with a digital tuner in it. But it doesn't have to be high-definition."
Screen downsizing
The consumer momentum toward 32-inch screens is a shift from the allure, prestige (and cost) of 40-inch and larger screens, which "had been the trend over the past two years," said Gagnon. "That's where the industry was looking for the best growth and most profitable growth."
LCD remains "the dominant screen technology because it's the most broadly available on a wide range of screen sizes," he said. "You can get LCD TVs down to 15 inches and all the way up to 70 inches. On the other hand, plasma TVs are generally only available at 42 inches and larger, although this year we do see some smaller screens."
There are plenty of smaller digital TVs this year, many of them high-definition, with 19-, 20- and 26-inch screens. Nineteen-inch screens, in particular, will appeal to buyers looking to replace older and secondary TVs in their bedrooms and dens, said Patel of iSuppli.
"I think you'll see many 19-inch LCD TVs available for about $200," Gagnon said.
Top-brand leaders such as Samsung and Sony each introduced more value-oriented lineups of flat-panel TVs this year. Samsung's line is its "3 series" and "5 series" of TVs; Sony's is the "L series" and "S series."
For example, Samsung's LN32A330 32-inch, 720p LCD HDTV was recently priced at $600 on Amazon and at Circuit City, considered a good buy for a top-quality make.
"What Samsung and Sony have done is put a lot of pressure on the more value-conscious TV brands in terms of narrowing the price gap," said Gagnon.
Whether you go with LCD or plasma is largely personal taste. LCD screens "tend to offer a little better brightness (overall), and generally consume a little bit less power, although technologies for both have been improving quite a bit," he said. "LCD TVs, on the whole, offer a little bit lower power consumption."
Plasma screens "are known for having a little bit better picture performance, particularly when viewed from an angle. You don't have as much of a loss of color and contrast as LCD TVs do. Plasma TVs also generally produce better contrast levels, with blacker blacks and brighter brights."