/ Source: The Associated Press
The prospect of encountering polar bears, cracking ice and frostbite doesn't horrify Arctic explorer Eric Larsen.
Neither does going nearly 60 days without a shower.
Putting up with team members who chew with their mouths open?
That's a hardship he doesn't want to handle when he attempts to ski to the North and South Poles and climb Mount Everest — all within 365 days.
Larsen says the trio of endeavors has never been accomplished in one year. To improve his chances of success he's assembled a crack crew: explorers who won't wither in whiteouts, won't panic if they fall through thin ice into bone-chilling water, won't munch too loudly on energy bars.
"Imagine 60 days with somebody who chews with their mouth open or snores,'' Larsen said, smiling. "When you're stuck in a tent, scared, hungry and cold, it's easy to see the bad side come out.''
Larsen's adventure will begin when he heads for the South Pole with Hernan Maquieira in November 2009. Next up will be the North Pole with Darcy St. Laurent, Mark Wood and Lisa Strom.
For the Mount Everest excursion, he's enlisted Aron Ralston, the mountaineer renowned for amputating his right arm with a dull blade in 2003 after it was pinned by a half-ton boulder at the bottom of a canyon in Utah.
Ralston said that ordeal has made him a more focused climber — and person.
"This trauma has turned into such a blessing for me in my life,'' said Ralston, who gives motivational speeches between rafting trips and climbing expeditions. "It's been the biggest miracle of my life. It's the transformation of my life — from being this fun-seeking kid in my 20s, my life and happiness all built around my self-centered desires. Now, my fulfillment comes from causes.''
Larsen's undertaking fits that description. He wants to raise awareness of global warming and the effects it's having on melting ice caps.
His motto? Think snow.
His mission? Saving the last frozen places left on the planet.
Larsen isn't content with just trekking to the world's top, bottom and highest summit. He wants to film and blog about every frozen step. He's bringing video cameras, digital recorders, satellite phones, a palm pilot and a computer, which will help him tell his tale — and add 25 pounds to his load.
"I feel like the job of an explorer in the 21st century is not going out to conquer these places but protecting them and telling a story,'' Larsen said. "They are going to be forever changed unless we act now.''
Putting his plan in motion will cost nearly $750,000, and Larsen is still scrambling to find backing in a troubled economy.
65-day South Pole trek?
The adventure will start at the South Pole with Maquieira, an Argentinian-born explorer who lives in Switzerland. Each will pull a sled loaded with 300 pounds of food, fuel and supplies on a journey across nearly 733 miles of tortured ice that Larsen predicts could take up to 65 days.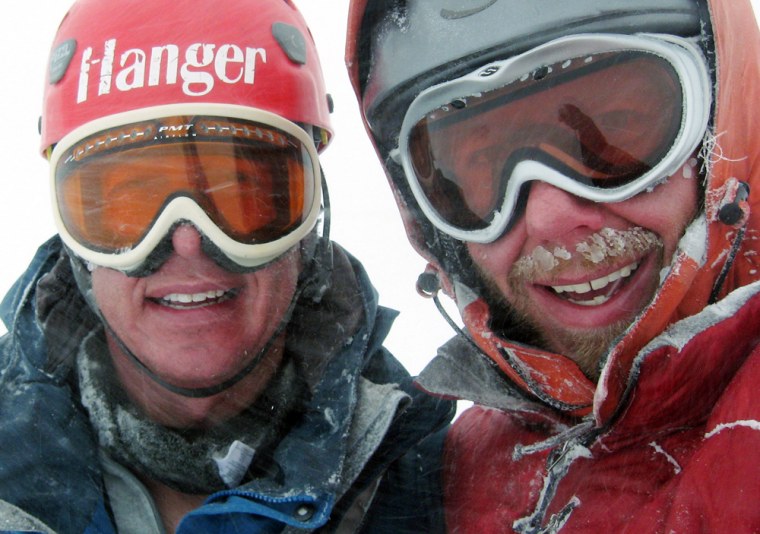 Antarctica is home to some of the nastiest conditions on the planet. Even though it will be summer there, temperatures of minus 31 degrees Fahrenheit and wind gusts of 100 mph await.
The biggest fear is frostbite to the face, fingers and toes. That and going crazy while wandering into whiteouts.
So, how does an explorer prepare for such vast whiteness?
"Sit in a bathtub full of ice and stare at a white sheet of paper for 10 hours, that would help,'' said Larsen, who hopes to have reached the South Pole by January 2010. "You can ultimately never really prepare.''
But he can get ready for the physical demands. Larsen has been dragging tires hooked up to a harness down a gravel road to simulate pulling a sled. He used to get stares in his small town of Grand Marais, Minn.
Not anymore.
"People used to think, 'That guy is weird.' Now, they just wave,'' Larsen said.
After all, this isn't his first extreme adventure. He's already reached the North Pole, falling through cracks in the ice and coming dangerously close to an encounter with a polar bear.
"He was stalking me,'' said Larsen, whose partner fired a flare to scare the bear away. "That was a nerve-racking experience.''
North Pole goal of Feb. 2010
Now he's headed back.
Larsen will make his return to the North Pole some time around the end of February 2010 to begin a nearly 550-mile trek with Wood, a former member of the British Army turned outdoor guide; St. Laurent, a search-and-rescue technician from Winnipeg, Manitoba; and Strom, a dogsled and Arctic guide.
"I'm going through scenarios and possible obstacles in my mind, and I am thinking about the trip every day,'' Strom said in an e-mail from Sweden. "How it will be, how the weather will treat us, how difficult will it get and so on.''
A few hazards are certain: the risk of hypothermia, heavy fog that makes navigating a challenge and those pesky polar bears.
Then there's the drifting ice. Unlike the South Pole, which is on a continent, the North Pole is reached by crossing the frozen ice of the Arctic Ocean. The shifting ice can make the journey much longer. Larsen had to scrap a trip to the North Pole in 2005 because his group traveled for two weeks and ended up farther south than where they started.
A year later, starting from a different point, he succeeded in crossing the ice and reaching the North Pole.
Larsen and his brigade will leave from a similar spot in the vicinity of northern Ellesmere Island, weaving their way toward the North Pole, going to bed each night hoping the ice doesn't crack underneath their tent. They're hoping to be across by early May 2010.
To pass the lonely hours, Larsen will bring an iPod loaded with music like Modest Mouse, U2 and Death Cab for Cutie. He may even download some language lessons, learning Spanish along the way.
"Why not? I've got the time,'' he said.
No logistical support along the way
Both polar expeditions will be unsupported, meaning help is a long helicopter ride away.
That's why Larsen carefully chose his team, making them fill out a 50-question survey to see how they handle stress and solve problems.
"Whether you live or die depends on how well you can communicate and cooperate,'' Larsen said. "On Day 45, you can't be arguing about where the tent should go. You need to be able to make a decision quickly — someone might have fallen through the ice and be soaked and need to get in the tent now.''
The last stage of his journey will be to Mount Everest. If everything goes as planned, that leg should begin in September 2010 and end in late October.
Ralston was recruited as a guide because of his mountaineering experience. The two recently climbed a peak in Argentina, and another just outside of Aspen, Colo.
"He's a great travel companion - very safety conscious, very levelheaded,'' Larsen said.
Trustworthy. Steady. Reliable.
That's Ralston these days. He's careful and cautious on his climbs.
All because of those days spent trapped in the desert, pinned by the boulder.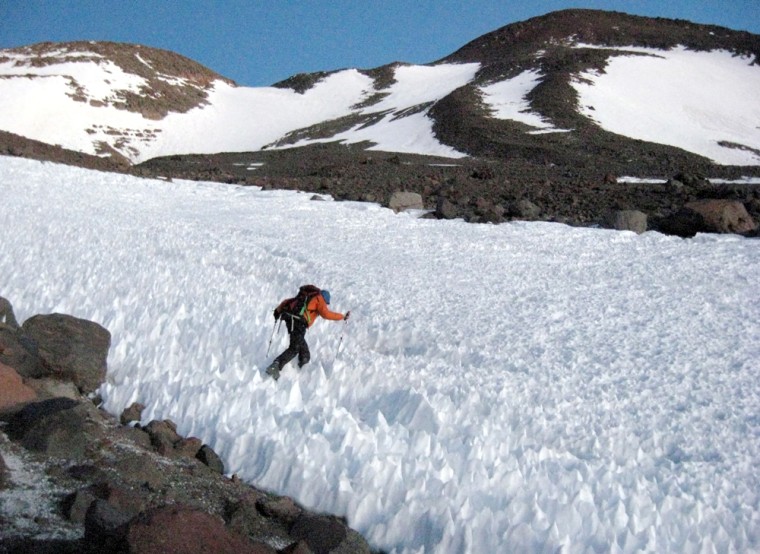 Ralston retells his tale quite often, recruited by corporations to give motivational speeches about his harrowing ordeal. He's currently turning his book, "Between a Rock and a Hard Place'', into a docudrama.
"What I've found is that in situations of acute awareness, you really appreciate your life more,'' Ralston said.
Larsen has learned similar lessons from his Arctic explorations.
Not to mention gaining an appreciation for people who don't chew with their mouths open.
The explorers' Web site is www.savethepoles.com