/ Source: The Associated Press
Venezuelan President Hugo Chavez's allies have won a majority in Venezuela's state elections. But the opposition has made important gains, winning two of the most populous states and the mayor's post in Caracas.
Venezuela's electoral agency says with more than 95 percent of votes counted, opposition candidates won at least three states, while Chavez's allies had won 17 in Sunday's vote.
Election chief Tibisay Lucena said the opposition won in the two most populous states — Miranda and Zulia, as well as Nueva Esparta. The Caracas mayor's office also shifts to the opposition.
Chavez's brother, Adan, won the governor's race in the president's home state of Barinas. The results of two states were too close to call.
The vote could have handed President Hugo Chavez his second straight electoral setback or given his leftist government a new mandate.

He faced an emboldened opposition aiming to break his dominance and win back power in key states and cities.

"We're prepared to recognize any result," Chavez said after voting in Caracas.

The vote could force Chavez to deal with more hostile opponents at the local level, or help him lay the groundwork to extend his rule beyond 2013, when his six-year term ends.

Chavez said the elections — held one year after voters defeated his attempt to abolish term limits — could decide "the future of the revolution, the future of socialism and also the future of Hugo Chavez."

Still enjoys solid popularity
Chavez's brother, Adan, was trying to succeed their father as governor of Barinas state. The president's ex-wife, Marisabel Rodriguez, running as an opposition mayoral candidate in one district of Barquisimeto.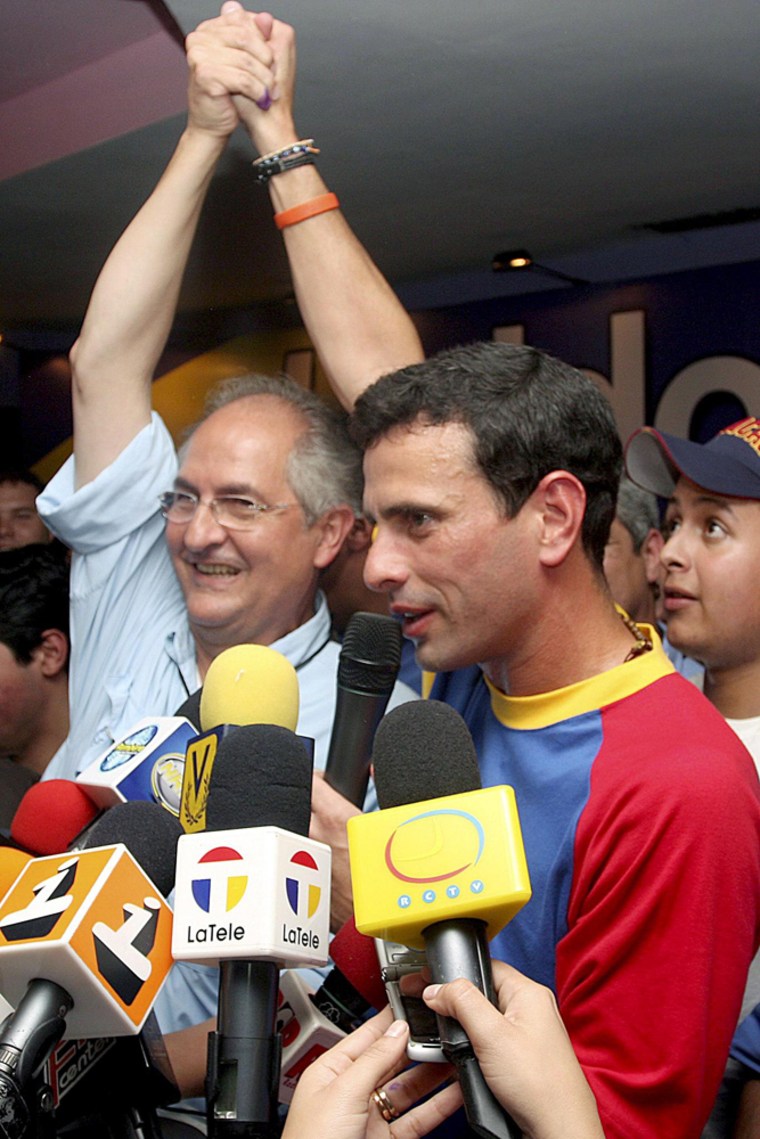 After a decade in office, Chavez still enjoys solid popularity and has maintained control of most local posts. But last year's defeat energized the opposition, which has also sought to capitalize on complaints about rampant crime, corruption and inflation.

Chavez said Venezuela's automated voting system is one of the most "transparent, quickest, most secure in the world." He urged all to respect the outcome.

Electoral officials said turnout was high as Venezuelans formed long lines to cast ballots.

Pre-election polls showed Chavez's candidates leading in a majority of races, while the opposition was ahead or in tight races in several of Venezuela's most populous states.

Aquiles Vera, a 47-year-old construction worker who voted in a Caracas slum, said he supported Chavez's candidates and believed the president's ability to stay in office was at stake.

Vera said he fears a loss for pro-Chavez candidates could mean "all the president's plans would collapse — like the missions (social programs), cheap food, medicines."


Fed up with corruption, trash
But in the second-largest city of Maracaibo, Isabel Cepeda said she was fed up with corruption and trash-strewn streets, and planned to vote for opposition challenger Manuel Rosales for mayor. Cepeda, 52, said it was also a vote against Chavez.
"We want democracy to continue in our country, and it's now held hostage," Cepeda said. "If we stay on this path, we're headed toward being a second Cuba."
Chavez supporters already control congress and critics say the Supreme Court is in his pocket. The president campaigned hard to keep his allies in state houses and city halls.

Voters in parts of Caracas were awakened before dawn with a noisy get-out-the-vote tool: fireworks and recordings of reveille blaring from loudspeakers.

Polls to say open until all cast ballots
Electoral agency chief Tibisay Lucena said polling stations with long lines would stay open until all had cast ballots.

In 2004 state elections, Chavez allies swept all but two of 23 governorships and a majority of local offices. This year, 22 governorships, 330 mayoral posts and other offices are at stake.

A list of 272 would-be candidates, including some prominent Chavez opponents, were disqualified earlier this year by the country's top anti-corruption official, who said they faced corruption accusations. The Supreme Court upheld the move despite opposition protests.